United States ALT Alumni: Composers & Librettists in Concert: Various artists, Brian Fletcher (percussion), James Lowe (music director and piano), Merkin Concert Hall, New York, 14.1.2018. (RP)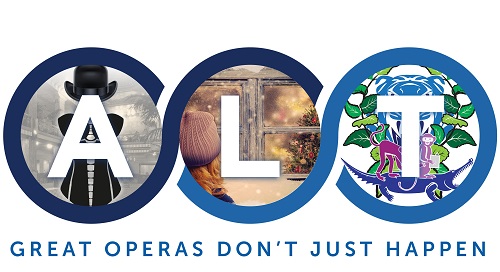 Featured artists:
Daniel Belcher, baritone
Daniel T. Curran, tenor
Jennifer Panara, mezzo-soprano
Elise Quagliata, mezzo-soprano
Adrian Rosas, bass-baritone
Patricia Schuman, soprano
Lauren Snouffer, soprano
Katrina Thurman, soprano
Program:
Patrick Souluri – Albert Nobbs (excerpts)
Deborah Brevoort – Librettist
Pellicciotti Opera Composition Prize Finalist
Ricky Ian Gordon – The House Without a Christmas Tree (excerpts)
Royce Vavrek – Librettist
Based on the original story by Gail Rock. Commissioned by Houston Grand Opera.
Kamal Sankaram – Monkey and Francine in the City of Tigers
David Johnston – Librettist
Commissioned by Houston Grand Opera; Developed in partnership with American Lyric Theater
On a windy, bitterly cold January evening on the Upper West Side, a new opera was performed by four singers on a bare stage and it was just fantastic. Monkey and Francine in the City of Tigers was commissioned by the Houston Grand Opera with developmental support by the American Lyric Theater for the HGOco Opera to Go! program. The plan is for it to tour schools, entertaining children and introducing them to opera. Houston might just have to think twice about that.
This little gem may have been composed with children in mind, but its creators, composer Kamal Sankaram and librettist David Johnston, know that being kid-friendly doesn't mean dumbed-down. Drawing from sources that range from Indian and Chinese mythology, William Blake and Bollywood to Ethiopian jazz, the libretto was sophisticated and fresh, while the music was witty and eclectic. You tapped your toes and found yourself singing along whenever 'Crocodile Crunch' or 'Monkey Royal Family' was reprised. Sets and costumes would have been great, but who needed them with this great cast and a cool bongo player.
Sibling rivalry simmered, with the proud, boastful Monkey dismissing his sister Francine as just a girl who reads books. With her glowing soprano, Katrina Thurman was wonderful as that spunky, resourceful princess. Daniel T. Curran as the Monkey was just as brilliant, his bluster melting into fear as he faced the crocodiles and tigers. Their 'Anything you can do, I can do better!' face-offs were a riot: Thurman, the model of poise and confidence, while Curran was puffed-up, indignant and red-faced.
As the Monkey Queen and Lord Tiger, Jennifer Panara got music and lines into which she could sink her teeth, a completely different persona than that of the closeted Albert Nobbs in which we first heard her. Adrian Rosas was a proper royal father and chomped away with panache as a crocodile, but his Lady Tiger almost stole the show. With a toss of the head, a shake of his hips and snappy arm movements, all worthy of Carmen Miranda or maybe even Bette Midler, he was both understated and outrageous at the same time. He's a fine bass-baritone too.
In introducing the work, Lawrence Edelstein, the Founder and President of ALT, said that the opera had everything, including 'bongos and a drag queen'. He was right, but kids shouldn't have all the fun. A dream triptych of American opera would be Menotti's The Old Maid and the Thief and Bernstein's Trouble in Tahiti with Monkey and Francine in the City of Tigers sandwiched between them. That would be a night at the opera to remember.
The evening had opened with the first three scenes from Albert Nobbs with music by Patrick Souluri and a libretto by Deborah Brevoort. It is based on a short story by the Anglo-Irish writer George Moore, published in a collection entitled Celibate Lives in 1927 as 'The Singular Life of Albert Nobbs' and was made into a movie in 2011 starring Glenn Close. The creative team was quick to add that their source was the book, not the film.
Set in the Morrison Hotel in Dublin in 1860, it is the tale of a waiter with a secret: he's a she. Impoverished, with her only options being the workhouse or the whorehouse, the young woman chose another path. It's been a lonely, paranoid existence, until Nobbs is forced to share a bed with an out-of-town laborer, Hubert Page. As it turns out Page has been playing the same game, but he isn't frightened or lonely.
In the first scene, the hotel's staff counted down the minutes until quitting time in a tuneful chorus bubbling with excitement and anticipation over the objections of the rich baritone of Daniel Belcher as their boss, who wanted to squeeze every last second of work out of them. He later turned his powerful voice on Nobbs, steamrolling over his objections and forcing him to take in the stranger.
With a glint of Irish laughter in her deep mezzo-soprano and a twinkle in her eye, Elise Quagliata as Hubert Page tells Nobbs of the simple joys of marriage (yes, to a woman) and the freedom to love and be loved. Jennifer Panara as Nobbs, who up to then had been skittish as a colt and desperate to avoid detection, sat listening in awe. That's where the music stopped.
Albert Nobbs is an opera without a home. It deserves to find one.
Ricky Ian Gordon and Royce Vavrek's The House Without a Christmas Tree was commissioned by the Houston Grand Opera and premiered there this past November. In search of a family-friendly story, they landed upon a television movie of the same name by Gail Rock, which apparently aired regularly on CBS between 1972 and 1977. I seem to have missed it.
Set in Nebraska in 1946, the story is in equal parts the Midwestern grit of a Willa Cather novel and The Grinch Who Stole Christmas. Addie Mills is a bright and energetic only child, who thinks her father doesn't love her because he wanted a boy instead of a girl. The reality is that every day she looks more and more like the mother she never knew and from whose death her embittered father has never recovered. The memories of their last Christmas together are so painful that he refuses to have a tree in the house. Needless to say, by the end of the story there is a tree in the house, and the wounds are more or less healed.
Lauren Snouffer, Patricia Schuman and Daniel Belcher were on hand from the original cast. With her sparkling soprano, Snouffer almost made you believe that she was a ten-year-old girl; in the prologue and epilogue that frame the story, she was wistful and wise as the gown-up Addie, displaying a fuller lyric voice. Schuman was stoic as the girl's grandmother, chagrined that her son has turned so cold and cruel to his daughter. Belcher fumed and raged, until his heart melted and he became the Spirit of Christmas. They sang their hearts out, but it didn't amount to much.
The music is tuneful, with a crowd-pleasing carol, 'Gather Round the Christmas Tree', and waltzes, but that is about it. Gordon doesn't get under the skin of his characters, and it's all pretty flat. The dysfunctional family seemed to be sleepwalking through the story, rather than living it. There is sentiment, but no emotion. It's hardly fair to judge an opera on excerpts performed on a bare stage with piano, but that's the breaks. I just don't see Gather Round the Christmas Tree the opera becoming a Christmas classic.
Rick Perdian