United States Karlsson, The Echo Drift: Blythe Gaissert and John Kelly (singers), Aaron Likness (pianist), International Contemporary Ensemble / Nicholas DeMaison (conductor), Mallory Catlett (director), Elle Kunnos de Voss and Kathryn Walat (libretto), Elle Kunnos de Voss (environment designer), Simon Harding (projection designer). PROTOTYPE Festival. Baruch Performing Arts Center, New York. 13.1.2018 (DS)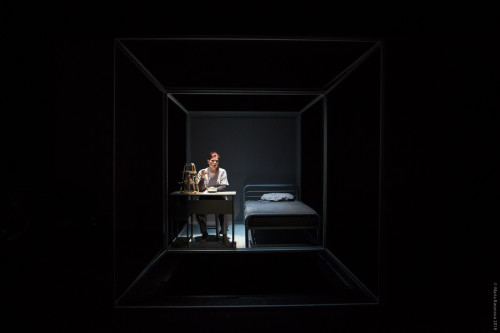 Mikael Karlsson – The Echo Drift (2014)
A one-act opera for two singers and small chamber ensemble, The Echo Drift did not need a large space to share its grand scale, and thrived at the Baruch Performing Arts Center. As with other productions at the fifth annual PROTOTYPE Festival, creative staging of small-scale operas and theater performances is part of the appeal, and this was no exception.
Blythe Gaissert robustly sang the part of Walker Loats, a female murderer in solitary confinement. Her cubicle was stunningly recreated by an open-sided, free standing cube that housed a bed, table, mechanical clock, and raised platform from which she sang out to the audience. The expanse of the prison itself was dramatically projected at various moments by black-and-white films of hand-drawn architectural renderings that flew by Loats' cell, cleverly placing her three-dimensional environment into a two-dimensional perspective drawing. John Kelly performed the second role of Governor and Moth (as in, an insect), and also acted as stage hand. At times he turned Gaissert's open cube to face different directions of the theater, fostering a visceral relationship between audience and performers.
The libretto, by Elle Kunnos de Voss and Kathryn Walat, evoked an unexpected blend of styles – think Ingmar Bergman meets The Matrix – while following a rather typical trope of how humans deal with isolation, the passage of time, and self-reflection. Though not groundbreaking in itself, the opportunity it provided for the score, composed by Mikael Karlsson, stole the show. Performed fluidly by the International Contemporary Ensemble under the baton of Nicholas DeMaison, The Echo Drift struck an admirable balance between evocative score and creative composition, and is easily worthy of a pure listen without the staging. Karlsson's subtle but crucial electronic elements were particularly noteworthy, threading through the live performers with magnetic textures.
Much of the beautiful balance was due to DeMaison's unwavering ability to connect singers, staging, film, and score. No one sound was either overbearing or too weak – singers and musicians alike made this small chamber opera a grand production.
Daniele Sahr