United Kingdom Puccini, Tosca: Soloists, Chorus and Orchestra of the Royal Opera House / Dan Ettinger (conductor), Royal Opera House, London, 24.1.2018. (JPr)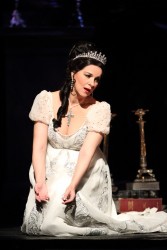 Production:
Director – Jonathan Kent
Revival director – Andrew Sinclair
Designer – Paul Brown
Lighting designer – Mark Henderson
Cast:
Floria Tosca – Angela Gheorghiu
Mario Cavaradossi – Joseph Calleja
Baron Scarpia – Gerald Finley
Spoletta – Aled Hall
Cesare Angelotti – Simon Shibambu
Sacristan – Jeremy White
Sciarrone – Jihoon Kim
This Tosca production was a highlight of Covent Garden's 2005/06 season, since after some four decades during which Franco Zeffirelli's famous production had returned time and again for 242 performances, a new version was sought from British director, Jonathan Kent, who commented at the time that 'Each generation has to reinvent these classics or they become museum pieces'. I had seen that previous staging possibly ten times over the years and so for people like me a new Tosca was overdue, though I did not welcome this new one at first. I have now seen Kent's Tosca a few times since 2006 so it is perhaps high time now to consider whether it has been a worthwhile reinvention, or become a 'museum piece' itself. The jury remains out, but if Covent Garden could cast every revival with such excellent singers as we saw at this performance then there is no reason why this Tosca should not last another twenty years at least.
Seen and Heard readers are a sophisticated group and should need no introduction to the story of this opera nor its background. However, something new could be gleaned from an interesting essay in the programme by Linda Fairtile entitled 'The Birth of an Enduring Favourite'. She recounts how Tito Ricordi – the son of Puccini's publisher – was put in charge of the premiere and he 'had "modern" ideas, barring the press from rehearsals and insisting that singers act as realistically as possible. For the crucial title role, Puccini chose the beautiful Romanian soprano Hariclea Darclée, whose acting abilities were perhaps more celebrated than her singing.' This ninth revival – overseen by Andrew Sinclair – has differing casts and conductors but I cannot remember a better Tosca at Covent Garden and it was a privilege to be at. The acting was definitely as realistic as you will ever see for Tosca and – paying homage to her Romanian compatriot who sang in that first 1900 performance – there was a sensational performance of acting and singing from Angela Gheorghiu as the heroine of perhaps the original #MetToo opera.
A man abuses the power of his position to threaten and blackmail a beautiful woman in show business to give in to his demands for sexual favours. Sounds very 2018 doesn't it? As the predatory male's advances grow more menacing, the desperate 'star' kills him, only to discover they have been lied to and it leads to their suicide. Though the stories in today's media are often very distressing, thankfully most do not have this unfortunate conclusion. Puccini and his librettists have Tosca jumping to her death from the ramparts of Castel Sant'Angelo after she discovers her lover has really been killed by a firing squad.
Over the years I have got used to all the clambering up ladders, hasty entrances from the back of designer Paul Brown's split-level stage, as well as, all the walking up and down the arching staircase that there is in Act I. Yet never has it all seemed quite so 'natural'. Amongst all of Tosca's jealous tantrums there was a delightful intimacy to the scene between Cavaradossi and Tosca over the eyes of his painting. The singers always benefit from being thrust to the front of the stage with their voices thrown forward by the semi-circular church setting.
In Act II it is all replaced by a monumental library with a large central statue of a mythical figure with a sword. There are two prominent candlesticks of course, very handily placed side-by-side on a table where Scarpia is eating his meal. It was during this act that Gerald Finley showed that this role debut as Scarpia was a triumph. Although clearly a thoroughly nasty piece of work, he was able to downplay the evil. To his usual mellifluous baritone, Finley added a sardonic, lascivious edge. By retaining an air of civility, we see clearly it is only all pretence and deep down he is a true sadist. Angela Gheorghiu swept in wearing a beautiful white evening gown with a long train, looking wonderful and portraying – here as elsewhere – the 'diva' for all she was worth. Her total identification with Tosca was sensational and over three acts, we saw all her character's arrogance, flirtation, desire, passion, doubt, envy, anger, drive, resignation, and more. 'Visse d'arte' was deeply moving and created a palpable frisson throughout the Royal Opera House. The stabbing was impeccably carried out and, of course, Gheorghiu found a use for those candlesticks which were placed 'traditionally' on either side of Scarpia's corpse.
Act III has a whole new vista with a long, curved wall with four execution posts across the front of the stage and we first see the gaoler (John Morrissey) performing his ablutions. Up to this point in the opera – which begins with its famous doom-laden 'Scarpia' chords – conductor Dan Ettinger and the splendid orchestra were somewhat restrained and too respectful, almost as if in awe of the 'star power' on stage. It all changed in Act III and there was now considerably more light and shade and a wider palette of sound. The cowbells accompanying Edward Hyde's plaintive utterances as the shepherd boy were positively Mahlerian. Cavaradossi entered to sing his heartfelt aria of farewell to Tosca and 'E lucevan le stelle' was certainly one of the highlights of Joseph Calleja's performance in a role he has only sung once before (for Grange Park Opera last summer). At the moment Calleja's Cavaradossi is too well-meaning and 'nice'; we see the artist but not the republican sympathiser.
I contend that his character accepts he will not survive to walk hand-in-hand into the sunset with Tosca who he knows to be deluded. Gheorghiu's Tosca clearly showed she believed there would be a happy ending and Calleja's ingenuous expression on his face suggested he did too. What was not in doubt was the genuine sense of chemistry between Angela Gheorghiu and Joseph Calleja and it is to be hoped that they can be persuaded to sing together again at Covent Garden in something that is as worthy of them as this Tosca.
Puccini gives little to anyone else in this opera, though Jeremy White was a typically bluff and grumbling Sacristan; Jetta Parker Young Artist Simon Shibambu proved a redoubtable Angelotti; and the always reliable Aled Hall was a suitably conniving and creepy Spoletta. Credit also goes to the singing boys from the Cardinal Vaughan Memorial School who joined the resonant Royal Opera Chorus for a potent Te Deum which accompanied Scarpia's chilling 'Va Tosca' and was such a potent ending to Act I.
Jim Pritchard
Tosca continues at the Royal Opera House until 3 March and can be seen in cinemas on 7 February for more details click here.