Germany Strauss, Salome: Orchestra of the Deutsche Oper Berlin / Evan Rogister (conductor), Deutsche Oper, Berlin, 28.1.2018. (JMI)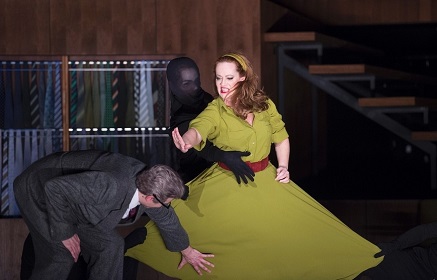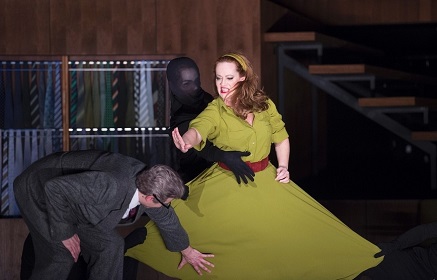 Cast:
Salome – Catherine Naglestad
Jochanaan – Samuel Youn
Herodes – Burkhard Ulrich
Herodias – Gabriele Schnaut
Narraboth – Attilio Glasser
Page of Herodias – Annika Schlicht
First Soldier – Andrew Harris
Second Soldier – Tobias Kehrer
First Jew – James Kryshak
Second Jew – Gideon Poppe
Third Jew – Jörg Schörner
Fourth Jew – Clemens Bieber
Fifth Jew – Stephen Bronk
First Nazarene – Derek Welton
Second Nazarene – Philipp Jekal
Production: Berlin Deutsche Oper
Director – Claus Guth
Sets and Costumes – Muriel Gerstner
Lighting – Olaf Freese
I had the opportunity to see this production once before, in March 2016. Mark Berry wrote a review of it at the time, and there is really nothing that I would add to his comments. (review)
Evan Rogister's conducting here was generally convincing and energetic (sometimes too much so). He drew an excellent sound from the Deutsche Oper's orchestra, which was much more impressive than they were the night before in Carmen.
Salome was sung by soprano Catherine Naglestad, a consummate performer of this role which she has been singing for more than a decade. She's an outstanding Salome, an appealing interpreter with no vocal problems. Ms. Naglestad did not perform the 'Dance of the Seven Veils' herself here.
Baritone Samuel Youn and his attractive voice gave life to Jochanaan, and it was a compelling performance. However, I do prefer Michael Volle in this role; he sang the part when this production premiered two years ago.
Herodes was played by tenor Burkhard Ulrich, who did well on stage, as did veteran Gabriele Schnaut as Herodias. Attilio Glasser gave a good interpretation of Narraboth, although in this production one does not find out if he commits suicide. Annika Schlicht was correct in the role of Herodías' Page.
The two Soldiers were Andrew Harris and the powerful Tobias Kehrer, a luxury in the part. Both the Jews and the Nazarenes were well served.
José M. Irurzun