United Kingdom Beethoven, Simpson: Gould Piano Trio (Lucy Gould [violin], Benjamin Frith [piano], Alice Neary [cello]), The Dora Stoutzker Hall, Royal Welsh College of Music and Drama, Cardiff. 12.1.2018. (GPu)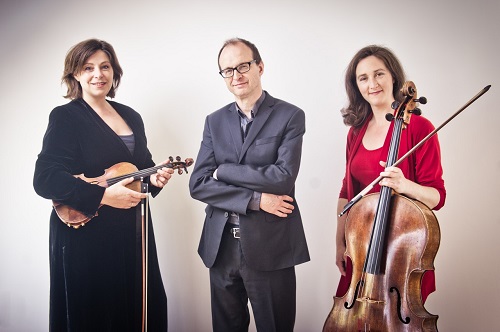 Ludwig van Beethoven – Piano Trio in C minor Op.1 No.3
Mark Simpson (b.1988) – After Avedon
The Gould Piano Trio has been working together for more than twenty years. Based in Cardiff, they are Artists in Residence at the Royal Welsh College, where students they work with praise them highly. They have performed, to much acclaim, around the world, as well as in many other parts of the UK. Their website currently quotes a review by Robert Battey from The Washington Post: 'what they produce, after playing for 20 years together, is simply extraordinary. The only comparison that comes to mind is the old Beaux Arts trio … Though three musical personalities come through, the melding of the minds (and fingers) is on a plane one rarely hears today'. Being based in South Wales I have had the chance to hear the Gould Trio on many occasions and I don't find the comparison with Beaux Arts trio in any way fanciful. Throughout their career the Gould Trio has played (and recorded) the historical repertoire for piano trio, such as the trios of Beethoven, Brahms, Mendelssohn, Dvořák, Hummel etc, as well as the later British music of Ireland, Stanford, York Bowen and Scott. They have also played (and recorded) significant trios of our own time, by composers such as Sally Beamish, James Macmillan and Peter Maxwell Davies. In this lunchtime concert the two works they chose to play represented very different areas of the piano trio repertoire, being by Beethoven and Mark Simpson, the latter's 'After Avedon' being a work the Gould Trio commissioned, and premiered in July 2017 and which they have included in several concert programmes since. (Their 'live' recording of the work is available on an NMC CD [NMC DL201709].)
Beethoven went to some trouble to make sure that the three piano trios which were published in 1795 were clearly designated as his Opus 1. This was music by which the young Beethoven wished to announce himself, works by which his becoming a mature composer should be marked. However Haydn, then teaching Beethoven, didn't feel that his highly promising student should represent himself by these works; in particular he felt, apparently, that the Trio in C minor should not be published, since it was a work which would not easily be understood or appreciated by the Viennese audience. Certainly, it is a work which must have been startling for many of its first hearers. In sheer scale and in emotional range and intensity it does things no piano trio had done before. Where the first two trios in the set have something of Haydn's unassuming geniality and/or Mozart's astonishing grace, the third is instantly recognizable as something new, something we can now call Beethovenian. The tradition was being radically revised. So much so that, in hindsight, we can see / hear this Trio as one of the works in which Beethoven announced (in potentia at least) much of what he would go on to do. In a sense it (not of course alone) heralded a whole new era in Western music. That the work is in C minor now appears almost prophetic, given the importance (one might say the centrality) of this key to so many of Beethoven's major works, including, for example, the Fifth Symphony, the Pathétique sonata, the fourth of the Opus 18 string quartets and Piano Sonata No.32, Opus 11, as well as many individual movements elsewhere, such as the second movement of the Eroica and the scherzo of String Quartet No. 10 (Op.74).  We can too easily 'label' the 'meaning' of individual keys, but it is hard to disagree fundamentally with what Charles Rosen writes in his book Beethoven's Piano Sonatas (2002, p.134): 'Beethoven in C minor has come to symbolize his artistic character. In every case, it reveals Beethoven as Hero. C minor does not show Beethoven at his most subtle, but it does give him to us in his most extrovert form, where he seems to be most impatient of any compromise'.
A convincing performance of this early trio needs to recognize, and articulate, this 'heroic' dimension in the work, while also remembering that this is a very early work. (Some of the material in the Trio may, indeed, belong to Beethoven's years in Bonn, before he moved to Vienna.) It is a long way from being a fully mature or, as it were, a fully 'Romantic' work, but it certainly points in those directions. The Gould Trio's reading of the work captured its status as a transitional work, and its implicit 'heroism' perfectly and vividly. The first movement (Allegro con brio) opened quite 'broadly', with the writing for piano, in particular, sounding somewhat Haydenesque, but tempo and intensity soon became more rapid and powerful. But the temptation to rush this movement in ¾ was resisted and the passion of much of the writing was allowed the room to breathe, as it were. The second movement, actually in E flat major and marked Andante cantabile con Variazione, opened with a theme statement of great lyrical beauty, the strings of Gould and Neary ravishingly exquisite. The ensuing variations have a weight and profundity not normal in earlier classical sets of variations; in the words of Donald N. Ferguson (Image and Structure in Chamber Music, 1964), 'The variations … are no mere ornaments of the theme, but are imaginative transformations of it, whether of its actual line or of its harmonic substratum. They indicate a fact which will become more apparent … that Beethoven is the most imaginative variationist of the great composers'. Again, this Trio from Beethoven's Opus 1 set, points forward to a major characteristic of the 'great' Beethoven. The instrumental interplay of the Gould Trio in this movement was exceptionally impressive and beautiful, with Alice Neary's marvelously expressive cello complementing Lucy Gould's sweet-toned violin, and Benjamin Frith's work at the piano providing ideal support and balance throughout. A relatively conventional Minuet (in C minor) and Trio (in C major) is succeeded by a wonderful finale (Prestissimo); the dramatic (and almost ferocious) opening was played here with an attack in which precision and passion complemented one another, while the long pianissimo conclusion was delineated with hushed, yet forceful, intensity. In the tonal and emotional complexity of this Trio (especially in its first and last movements) one can almost visualize the young Beethoven bursting out of the conventions of classicism. This performance happily made clear what was avant-garde about this Trio without inflating it or making it overly portentous.
Perhaps because I find this early Beethoven Trio so fascinating, I found the second work on the programme, Mark Simpson's 'After Avedon' less exciting than I had expected. 'After Avedon' is made up of four movements – the second and third of which are played without a break – each movement written in response to a photograph by the great photographer Richard Avedon. The starting point for the first movement was provided by Avedon's famous post-abdication image of Wallace Simpson and Edward VIII (as he had recently been); the stimulus to the second movement was Avedon's image of the bee-keeper Ronald Fischer, bare-chested and partly covered in bees, while the third is Simpson's musical response to Avedon's portrait of the painter Francis Bacon; the fourth movement balances the first by being a different image of love – as captured in Avedon's photograph of a passionate kiss and embrace between the poet Allen Ginsberg and his long-term partner Peter Orlovsky. (All these four photographs by Avedon can readily be found by an image search on the internet.) Simpson's music is, as Lucy Gould said in her brief spoken introduction, 'thickly-scored' and much of the writing has a fierce angularity to it.
The first movement responds to the undemonstrated pain and yearning evident in the rather forced decorum of Wallace and Edward. The weight of unspoken emotion, and the consequences it has had and will have, is felt in Simpson's music. The second movement explores the space between stillness and energy. Ronald Fischer's apparently calm demeanour and posture, with just a little anxiety in his face – I suspect that he was more anxious about being photographed than about the bees! – stands in contrast to the potentially lethal energy of the bees. The third movement responds, I'd suggest, more to the paintings of Francis Bacon than to Avedon's photograph of the painter. The visceral blood and flesh of Bacon's representations of the human body, and his paintings' frequent dissolution of that body are very much present in the thick texture of Simpson's writing, as is a degree of horror. The work comes to a calmer conclusion with Simpson's evocation, in a musically ekphrastic response to Avedon's photograph, of the love and sexual passion shared by Ginsberg and Orlovsky.
Having heard the Gould's recording of 'After Avedon', I expected a greater dynamic range than I heard in this performance, though the Gould Trio's understanding of the work is undoubted, and I was still grateful for the opportunity to hear this interesting work in concert. If I had heard it in isolation, rather than after the Beethoven trio, I may well, I suspect, have been more 'satisfied' by it.
Despite this slight reservation about part of the concert, this was, taken as a whole, yet another valuable and stimulating concert by the Gould Piano Trio and, like many music lovers in Wales (and beyond, the people sitting next to me had driven over from Bristol) I regard myself as very fortunate to have so many chances to hear such a fine Trio.
Glyn Pursglove