United States Schubert: Jonas Kaufmann (tenor) and Helmut Deutsch (piano), Carnegie Hall, New York, 20.1.2018. (RP)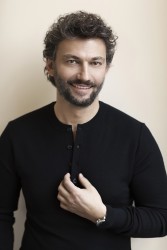 Schubert – Die schöne Müllerin D.795
I have an indelible memory from a decade or so ago of Jonas Kaufmann in the Zurich Opera's production of Humperdinck's Königskinder. That is when he was garnering praise from every corner; the Financial Times gushed that he was 'young, reckless, beautiful'. He and soprano Isabel Rey were downstage on their knees, exhausted from their wanderings and just about to eat the magical bread of death. I don't remember a set in the final scene of the opera, if indeed there was much of one, only Kaufmann kneeling, his face etched with despair.
He had sung magnificently throughout, but it was his connection with the role and his innate simplicity, honesty and dignity that moved me so. Those attributes were crystallized in that one moment. I have heard him since and at times felt that those qualities may have faded with time and fame, but not on this occasion. Kaufmann is no longer either young or reckless, but his voice is still beautiful and, as Schubert's ill-fated miller, I was again stirred by the raw emotion of his singing and his innate naturalness on stage.
That is not to say that that everything was perfect. He struggled vocally at times, especially early on, in negotiating the passaggio of the voice, fudged some high notes, and the bottom of his range was barely audible. In his final encore, 'Der Lindenbaum' from Schubert's other great cycle, Die Winterreise, his low notes had to be taken as a matter of faith.
What does that amount to? Just a few seconds of singing, but this was a song recital and the devil does rest in the details. Would I be as forgiving if he were not still so handsome and the voice perhaps even more burnished and beautiful?
It was in 'Die liebe Farbe', when he sang of the maiden's love for the color green, that I again experienced an artistic moment of truth with Kaufmann. Love had transformed the naïve young man into a suitor brimming with confidence; however, after an outburst of jealousy, he once again was humbled and turned inward. When Kaufmann sang of a grave covered with green grass, it was with tears in his voice. The ebullience, even defiance, that had been there just seconds earlier was gone, the miller's fate was clear.
There were other moments, such as a turn deftly executed in 'Wohin?' or the lovely sotto voce at the end of 'Der Neugierige', that just took your breath away. I have perfection scrawled across the texts of 'Morgengruss' and 'Pause' in my program. In the final song, 'Des Bachs Wiegenlied', the brook's admonition that the maiden, the hunter and even the flowers dare not gaze upon the forlorn lover was rendered by Kaufmann as a benediction upon the man now in its watery keep.
Helmut Deutsch was Kaufmann's partner in this dialogue between voice and piano. No technical mishaps marred his playing: his consummate artistry was on display throughout. Their first three encores were his moment to shine — the delicacy and sparkle of 'Der Jüngling an der Quelle', the quicksilver mood changes in 'Der Musensohn' and the freedom and fancy of 'Die Forelle' — and Kaufmann seemed to accede in that. In 'Der Lindenbaum' the eloquence of Deutsch's playing was equaled by Kaufmann's poignant singing. The promise of rest was their farewell to Kaufmann's New York fans who had not heard him in four years.
And so, do those few smudged passages and vocal glitches matter? Most certainly, but I will trade technical perfection for honest and direct communication any day. The former is commonplace enough, but the latter is increasingly rare. Kaufmann is such an artist, and a few slips are easily forgiven.
Rick Perdian