United States Puccini, Tosca: Soloists, chorus and orchestra of the Metropolitan Opera, New York / Emmanuel Villaume (conductor). The Met Live in HD broadcast to Cineworld Basildon, Essex, 27.1.2018. (JPr)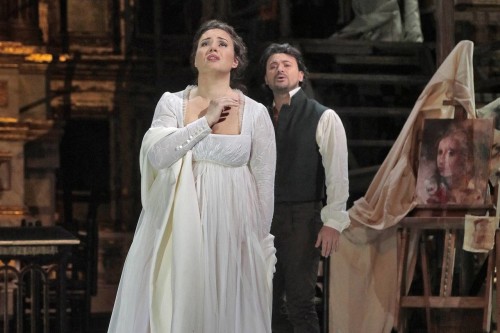 Cast:
Tosca – Sonya Yoncheva
Cavaradossi – Vittorio Grigolo
Scarpia – Željko Lučić
Sacristan – Patrick Carfizzi
Spoletta – Brenton Ryan
Angelotti – Christian Zaremba
Sciarrone – Christopher Job
Shepherd – Davida Dayle
Jailer – Richard Bernstein
Production:
Director – Sir David McVicar
Set and Costume designer – John Macfarlane
Lighting Designer – David Finn
Movement director – Leah Hausman
Live in HD Host – Isabel Leonard
Live in HD Director – Gary Halvorson
To paraphrase the famous saying about London buses: 'You wait for one Tosca to arrive, then two come at once.' No sooner had I recovered from Angela Gheorghiu enlivening Jonathan Kent's well-established version for Covent Garden (review click here) I was able to see Sir David McVicar's much-anticipated new production for the Met courtesy of its live cinema relay. McVicar and his team were the only people still involved in this new staging blighted by cancellations and other well-advertised issues that saw the originally advertised line-up lose Jonas Kaufmann, Kristīne Opolais and Bryn Terfel, as well as, two conductors, Andris Nelsons and James Levine.
A much-loved Franco Zeffirelli Tosca had been replaced by Luc Bondy's version in 2009 which was jettisoned for this new one. As I recall Bondy had only a few directorial divergences from a typically traditional Tosca of any time this – or last – century. Is there a recognisable church (yes, tick!); an office with adjoining torture chamber for Scarpia at the Palazzo Farnese (tick!); and a castle wall for Tosca to jump off (tick!). Admittedly his church was an austere work-in-progress with unfinished and unadorned brick walls and Cavaradossi's painting of Mary Magdalene – that he is famously working on at the start of the opera (cue 'Recondita armonia') – was a soft porn version with her left breast exposed! Regardless there was little else to object to, unless my memory is failing me.
McVicar's new Tosca is reverential and very traditional and continues to show that opera's former enfant terrible is morphing into the new Elijah Moshinsky, not that is necessarily a bad thing. His Scarpia, Željko Lučić, when interviewed, triumphed that 'grand opera is back' and how this Tosca is 'really something fantastic' because it is a throwback to 'the golden age of opera'. John Macfarlane's three opulent sets evoked the real Roman locations of the plot with some exquisite details. For instance, he revealed that 'the columns are absolutely the ones in Sant'Andrea della Valle. It's, I think, the only church in Rome that has columns like that … and the altarpiece is the chapel Tosca is meant to take place in.' I am (sadly) old enough to remember the broadcast in 1992 of Tosca with Catherine Malfitano and Plácido Domingo which was performed live in the actual Roman settings and at the appropriate times of day! This new Met production was like seeing that recreated on stage, and it should be able to be revived and accommodate different rosters of singers for decades to come.
Anna Netrebko will be Tosca in April, but for this first run of performances we had a vastly experience Scarpia and two singers making their role debuts as Cavaradossi and Tosca. Sonya Yoncheva's opinion of Tosca is that 'She is young, bold, passionate. She loves Cavaradossi, that's why she is jealous, and she is somehow defending her love till the end.' Yoncheva was pleased that her director shared her opinion of the heroine and together they brought this over best in Act I with a mixture of piety, flirtation, and temper tantrums over the painting and Cavaradossi's supposed infidelity. She overlooked some of the characterisation in the remaining acts due to their vocal demands, but there is no doubting Yoncheva is already a formidable Tosca. There were some lovely sounds, all supported by the richness of her Slavic chest voice. Her 'Visse d'arte' was particularly beautifully phrased.
Despite a lack of any obvious real chemistry with Yoncheva, Vittorio Grigolo's impetuous Cavaradossi was suitably romantic, artistic and full of revolutionary zeal. His robust tenor voice can produce some refined tones at times, and he was at his very best for an impassioned 'E lucevan le stelle'. I was delighted how clearly he showed in Act III that he expected to die and bade a fond, yet bittersweet, farewell to his deluded Tosca. Željko Lučić as Scarpia seemed to get vocally lost in the crowd during the Act I Te Deum but came into his own in the second act. Rarely has Scarpia's advances seemed so creepy, or Tosca appear in such genuine moral danger, as when he escorted her to his Chaise Longue. This Scarpia was a lascivious bully and a sadist with no redeeming features whatsoever.
To support the principals the Met fielded, as usual, an accomplished ensemble and showcased its magnificent chorus. Patrick Carfizzi was a more youthful than usual Sacristan, though still as grumbly and hungry; Christian Zaremba was a defiant Angelotti, the Act I fugitive; and Brenton Ryan's Spoletta was Scarpia's disdainful and conniving collaborator. (His Spoletta was so gaunt and sepulchral that Ryan reminded me of Nosferatu from F. W. Murnau's 1925 German film of the same name.)
Emmanuel Villaume began with all the crash-bang-wallop Tosca needs and maintained that intensity as the opera went on and he sounded as if he was wonderfully supported by an excellent Met Orchestra. It was the ideal accompaniment for what we saw on screen as it was the vocal and acting abilities of Tosca, Cavaradossi and Scarpia that brought the story to life. I doubt whether Puccini would be happy with this film score approach, but it certainly worked for me!
Jim Pritchard
Check out your local cinema listings as the Metropolitan Opera's Live in HD 2017-18 season continues: L'elisir d'amore is next on 10 February. For more information click here.