United States Beck, The Long Walk: Soloists, Pittsburgh Opera Orchestra / Glenn Lewis (conductor), Pittsburgh Opera, CAPA Theater, Pittsburgh, 28.1.2018. (RP)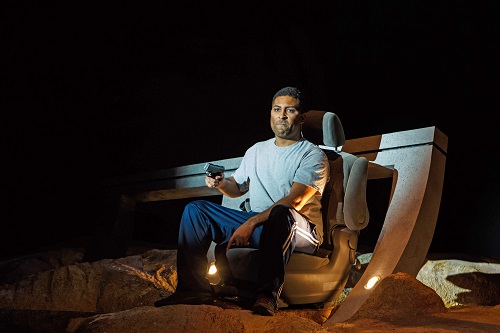 Cast:
Brian – Benjamin Taylor
Jessie – Leah de Gruel
Castleman – Martin Bakari
Ricky – Eric Ferring
Jeff – Thomas Shivone
Perneatha – Adrianna Cleveland
Samuel – River Beckas
Virgil – Simon Nigam
Martin – Harrison Salvi
Aunt Sarah/Shrink/Iraqi woman- Shannon Jennings
Yogini/Iraqi woman – Ashley Fabian
Production:
Stage Director – Frances Rabalais
Set Designer – Kathryn Fetrow
Costume Coordinator – Jason Bray
Lighting Designer – Tlàloc Lopez-Watermann
One of the most frequent criticisms that I hear, and often voice myself after a performance, is that it didn't move me. Technical perfection may awe, but the connection and the emotion are often just not there. Sitting in the Pittsburg CAPA School Theater during the second act of The Long Walk there was a lump in my throat and tears were welling up in my eyes. Bingo!
The Long Walk was commissioned by American Lyric Theater in 2012 and premiered at Opera Saratoga in 2015. Its composer is Jeremy Howard Beck, who writes on his website that his passions for roller coasters and gymnastics have lent his music an 'intense, visceral physicality and emotional immediacy'. His librettist was Stephanie Fleischmann, an award-winning playwright and librettist, who makes the claim that her texts 'serve as blueprints for intricate three-dimensional sonic and visual worlds'. Neither seem prone to understatement, but their words aren't all hype.
Their opera is based on The Long Walk: A Story of War and the Life that Follows by Brian Castner. He wrote of his time in Iraq as an officer in an Explosive Ordnance Disposal Unit and his struggle to reintegrate himself into American society and, more crucially, his family. When he deployed the first time, his wife Jessie asked her grandmother, whose husband had served in World War II and later died of a heart attack in their living room, 'How do I live with him being gone? How do I help him when he comes home?' The older woman's response was whether he died there or survived, 'He won't come home'. It is a theme that Fleischmann returns to repeatedly in the opera.
Saratoga Opera's original production was presented by the Utah Opera in 2017, but Pittsburgh Opera mounted its own. Kathryn Fetrow's shell of a honey-combed, concrete structure dominated the sand-strewn stage. With just a few pieces of furniture, props that were buried in the sand and effective lighting, the rituals of family life and the battle against counter insurgency in a hostile environment played out. It was a perfect backdrop for Frances Rabalais' cogent, uncluttered concept that focused all attention on the characters and their stories. Pittsburgh Opera proved once again that imagination trumps budget every time.
It was a young cast playing other all-American kids. Benjamin Taylor's cool exterior belied Brian Caster's inner turmoil and the ever present potential for spontaneous combustion, but his beautiful baritone seethed with emotion. Leah de Gruyl's Jessie was as heroic as she was stoic – just another multi-tasking supermom for whom a vow of for better or worse means extraordinary levels of human endurance. Her rich mezzo-soprano poignantly captured Jessie's profound sorrows and the simple joy of playing with her boys, as well as her steely determination. Jessie was no quitter, but then neither was her husband.
'The Long Walk' is the term for when a bomb disposal expert puts on a special suit and walks towards an Improvised Explosive Device (IED) which must be disarmed. It's a private journey, but he is not alone, as his comrades' hopes and prayers are with him. This serves as the other recurrent theme in the opera, 'Greater love hath no man than this, that a man lay down his life for his brothers'. As they explain, when a man volunteers to take the walk he takes it so you don't have to; he does it for their wives, their children and the line unborn. In the opera, it is Castleman who takes the walk.
Brian was initiated into the Brotherhood of the Crab during his training prior to his service in Iraq, as were Castleman, Ricky and Jeff. Tenor Martin Bakari was Castleman, a misfit at home, who found a home, a purpose and peace of mind in Iraq. Ricky, who ran with Brian to help keep the Crazy at bay, was a fresh-faced, eager guy, embodied by tenor Eric Ferring. (The real Ricky died when his brain exploded on an airplane while on vacation in the US, two months before Brian went Crazy.) Rounding out the quartet of brothers was bass-baritone Thomas Shivone, whose resonant voice made one want to stand up and salute.
If there was an opportunity missed, it was in portraying these men as GI Joe action figures, not real flesh and blood soldiers. They were young men in their twenties living on the edge. In the book Castner doesn't pull any punches: to blow off steam there is alcohol, tobacco and sex, and they risk their lives haggling over the price of a watermelon. A few expletives, of which an audience must be warned in advance, were more of a cop-out than daring.
Brian and Jessie's three sons were played by a motley trio of rough and tumble boys – River Beckas, Simon Nigam and Harrison Salvi – each with distinct personalities and crystalline voices. The emotional weight they had to carry was no less than that of anyone else on stage. Shannon Jennings and Ashley Fabian played multiple roles ranging from shrink to yogini, but together were overwhelming as two niqab-clad Iraqi women wailing wildly above the din of the orchestra.
The first act had its problems. It is heavy on narrative or, as a friend put it, 'like listening to Mozart with only the recitatives and no arias'. I get it. These people are hurting, and they don't know how to deal with it or express it, but this an opera and you want to know what they are thinking and feeling. That's what arias are for. It didn't help that their voices were all but inaudible much of the time.
Beck's score is loud and jagged, effectively capturing Castner's writing style and jiving with his story. He calls for a seventeen-piece orchestra that includes two electric guitars, an electronic keyboard and lots of sound effects. In the first act, conductor Glenn Lewis let the orchestra bury the singers much of the time. Maybe if I could have heard the voices and made out the words, instead have having to read them projected above the stage, the first act would have left me more satisfied. As it was, I went into the intermission frustrated.
The second act was a different show. The orchestral textures thinned and you could hear the singers. Then the electrifying Adrianna Cleveland as Perneatha started to wail a gospel-tinged, soul-infused lament at her husband's funeral. Her pain was so raw that it just drew you into her private sphere of grief. She was joined by Jessie, who for the first time gave vent to her emotions.
One by one, the characters stopped sleepwalking and began communicating with each other and the audience. The imagery also got crisper: the flag-draped coffin, Castleman being dressed in twenty-first-century armor for the walk, Brian girding his son for a hockey match as if for battle. The punches to the gut came fast and furious. It was opera.
The wars of the twentieth century brought PTSD (post traumatic stress disorder) into our vocabulary. Since the invasion of Iraq in 2003, a new condition has been identified, bTBI (closed head non-impact blast-induced traumatic brain injury) in soldiers whose brains have been damaged by blast waves. There is no cure for either.
The Long Walk ends as it begins with Brian pounding the pavement, trying to suppress the Crazy even if he can't heal his shattered psyche or his brain. An ambiguous ending for a society that values closure, but the only possible one for an opera about those who make it home from war in the twenty-first century.
Rick Perdian