United States Brahms: Seattle Symphony Orchestra / Thomas Dausgaard (conductor), Benaroya Hall, Seattle, 27.1.2018. (ZC)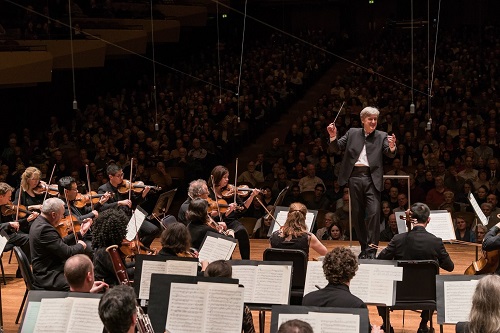 Brahms – Variations on a Theme by Haydn, Op.56a; Liebeslieder-Walzer Nos.1-9; Hungarian Dances Nos.3, 10, 1; Symphony No.2 in D major, Op.73
'Brahms' music resonates with something vibrant inside me. With his music I can feel exhilarated one moment, melancholic the next and everything in between as Brahms unfolds his musical storytelling. I feel alive.'
Thomas Dausgaard's thoughts perfectly framed this all-Brahms program with the Seattle Symphony — the conductor's first concerts since being announced in October as the orchestra's incoming music director. He will take over for Ludovic Morlot, who steps down from the position in 2019. As the symphony's principal guest conductor since 2013, Dausgaard's programs have not been heavy with Austro-German repertory. There have been promising glimpses, however—a monumental Richard Strauss Alpine Symphony in June 2017, and a persuasive Mahler Tenth Symphony in November 2016. But these were closer to curiosities than the 'meat and potatoes' offerings that audiences expect with at least some regularity.
This concert gave audiences anything but curiosities, and showed Seattle how its incoming maestro will handle staples when he picks up the reins. And if these programs are any indication, when Dausgaard raises his baton, he will likely deliver crowd-pleasing performances that are both innovative and rousing.
Instantly noticeable was the size of the orchestra — smaller, since some members were playing across town, as the Seattle Opera wrapped up a run of Così fan tutte. The trimmed-down ensemble aided Dausgaard's approach, particularly with works that spanned the length and breadth of the composer's orchestral repertoire.
Though the Variations on a Theme by Haydn is ubiquitous, it is frequently an afterthought. The concise length makes it an ideal filler — fertile ground for a conductor who relishes its multiple moods and inventive manipulations. Fine playing from the orchestra, guided by a committed Dausgaard, elevated the performance and held interest, though this will never be my favorite Brahms work, and didn't leave an enduring impact. However, the conductor's other efforts did leave an impression.
It is easy to dwell on the composer as a gruff, bearded scold. But Dausgaard's innovative wedding of selections from the Liebeslieder Waltzes and Hungarian Dances was a reminder that for all of his allegiance to the symphonic tradition, Brahms was still a Romantic at heart.
Dausgaard's reading of the Symphony No.2 was more restless than some, with quick tempos matched by supple phrasing. The first two movements often come across as beautiful but ponderous — the shading and melancholy lingering almost a bit too long — but Dausgaard made them lean and propulsive. Fewer strings and separated violins allowed a natural bloom. Abundant horn and fine woodwind solos were refreshing and vivid, revealing inner tension that can get lost in more robust, burnished performances.
The third and fourth movements were just as wonderful. The third movement is too short, but Dausgaard's command added much-needed weight, which propelled the orchestra into a triumphant, deeply satisfying finale.
Zach Carstensen