United Kingdom Beethoven, Shostakovich, Schumann, Mendelssohn: Janine Jansen (violin); Mischa Maisky (cello); Martha Argerich (piano). Barbican Hall, London, 6.2.2018. (CC)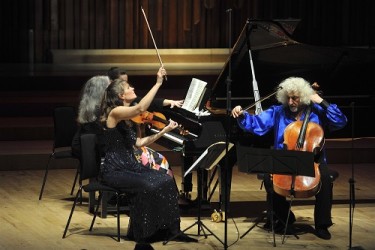 Beethoven – Cello Sonata in G minor, Op.5/2
Shostakovich – Piano Trio No.2 in E minor, Op.67
Schumann – Violin Sonata No.1 in A minor, Op.105
Mendelssohn – Piano Trio No.1 in D minor, Op.49
A sold-out hall is an inevitability when Martha Argerich is part of the equation. Here, in her element in chamber music, she joined forces with long-term musical partner, cellist Mischa Maisky, and a new entrant, Janine Jansen. The results were frequently electric and near-miraculous, the magic climaxing, perhaps, in the encore, the sinuous 'Duett' from Schumann's Op.88 Phantasiestücke of 1842, where Argerich's magical bed of sound provided the fertile earth beneath two slowly unfolding, echt-Schumann melodies.
Beethoven's G minor Cello Sonata (1796) initially foregrounds the piano, but one appreciated Maisky's lines as much as Argerich's confident contributions: the latter were a bit too confident in this early stage, as her projection of melody seemed to threaten towards the over-enthusiastic. In the second movement Allegro, it was Argerich's articulation that was simply jaw-droppingly good. It is, it seems, impossible not to notice her masterly excellence. The time-honoured combination of Argerich and Maisky certainly results in a palpable feeling of trust between the two instrumentalists; it was nice to see the relatively new kid on the block in Janine Jansen in Shostakovich's masterly Second Trio of 1944. The first movement is, characteristically, marked Andante-Moderato. Maisky's masterly control of high harmonics in this first movement was remarkable, Argerich's piano grumbling ominously below. Jansen has an incredibly sweet high register; all of this combined to provide maximal contrast to the electric Allegro non troppo. But the real triumph of this performance was the rapt intensity of the Largo, the piano chords blackest of black, stark against Jansen's achingly powerful line.
Chamber music provided some of Schumann's most powerful scores. The First Violin Sonata (1851) has had a mixed critical reception. Argerich has long been sovereign in Schumann, and her passionate playing matched her perfectly judged tone and balance, both within the piano writing itself and between herself and her colleague. With Jansen playing at her finest in this reviewer's experience, this was an unforgettable account, passionate and forceful. Both gave a phenomenal mezza voce in the central Allegretto, a movement of pure magic; the finale was almost sylph-like at times.
It was wonderful to end with Mendelssohn; and big, dramatic Mendelssohn at that in the muscular first movement. In contrast comes the outpouring of the Andante con molto tranquillo, bit it was the virtuoso sense of leggiero touch in the Scherzo that provided the highlight. Argerich's nimble playing seemed to confirm no lessening of powers.
A phenomenal evening of chamber music; true, chamber music in a large space (the Barbican Hall), but no less entrancing for that. Three such big personalities meeting with such wondrous unanimity of vision was a life-enhancing thing indeed.
Colin Clarke