United Kingdom Puccini, Tosca: Soloists, Chorus and Orchestra of Welsh National Opera / Carlo Rizzi (conductor), Wales Millennium Centre, Cardiff, 9.2.2018. (GPu)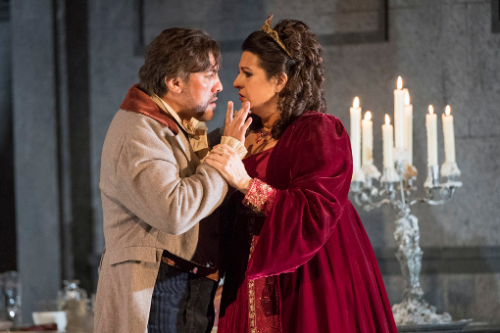 Cast:
Floria Tosca – Claire Rutter
Mario Cavaradossi – Hector Sandoval
Baron Scarpia – Mark S. Doss
Cesare Angelotti – Daniel Grice
Sacristan – Donald Maxwell
Spoletta – Michael Clifton-Thompson
Sciarrone – George Newton-Fitzgerald
Gaoler – Jack O'Kelly
Production:
Original director – Michael Blakemore
Revival director – Benjamin Davis
Designer – Ashley Martin-Davis
Lighting Designer – Mark Henderson
The two operas/productions which opened Welsh National Opera's Spring Season this year could hardly have been more of a contrast. Verdi's La forza del destino (review click here) is something of a rarity in production (though it is not quite so rare as it once was); Puccini's Tosca has held the stage ever since it was first produced in January 1900 and remains a staple of the operatic repertoire. It follows that in the average audience there will be relatively few already familiar with La forza del destino, while the audience for Tosca will contain few who don't already know the opera.  La forza is very loose in structure and its action wanders across a number of years and a large part of southern Europe; Tosca is very tightly constructed and effectively obeys the unities of time and place, as generally understood, being set in three specific locations (a different one in each act) in Rome and with a narrative that is conducted in rather less than twenty-four hours – Act I takes place at noon, Act II. In the evening of the same day and Act III at dawn the next day. These details of place and time underlay the TV production, directed by Brian Lang in the early 1990s, with Catherine Malfitano as Tosca, Plácido Domingo as Cavaradossi and Ruggiero Raimondi as Scarpia.
 La forza and Tosca require very different directorial approaches. David Pountney took some very perceptive and far from excessive freedoms in La forza, with the aim of giving to the opera a rather greater sense of coherence than its actual libretto has; Michael Blakemore's production of Tosca (now twenty-five years old, having been first seen in October 1992) is traditional, one might even say old-fashioned (an epithet I use in a purely descriptive and non-judgemental sense). It is faithful to what is, after all, a libretto very well designed in terms of the theatre. The three sets, one per act, by Asley Martin-Davis, are more naturalistic than symbolic. There is, indeed, a degree of historical /archaeological accuracy involved. Puccini was a driving force in the concentration of the libretto, insisting that his librettists, Giuseppe Giacosa and Luigi Illica, prune Victorien Sardou's 1887 (La Tosca) ruthlessly, in terms of characters (Sardou's play has 23 characters, the opera fewer than 10), text and incident. As a result, where La forza is rambling and centrifugal, Tosca is concise and centripetal. It is worth reminding oneself of an observation of Benjamin Britten's on Puccini: 'What makes Puccini a greater composer of operas than (in my humble opinion) a great composer is that he knows how long it takes a person to cross the room'. That knowledge (Puccini's sense of theatre) is respected in Blakemore's production. Narrative and emotional plausibility as delineated in the libretto (and the music) are put before directorial invention and originality. The result is not challenging, nor, except on Puccini's own terms, exciting. But it does serve the opera well, in allowing it to communicate very directly with an audience. It allows the singers to explore and articulate their roles undistracted by irrelevancies.
The cast in this particular revival of a much-revived production was good rather than great. Claire Rutter's Tosca was at its best in Act II (as the production as a whole is). In Act I she didn't quite convince in terms of Tosca's emotional volatility, as much, surely, a frequent Italian trait as a fact of individual psychology. 'Vissi d'arte' was particularly fine, moving and thoroughly idiomatic, perhaps the single most memorable moment of the evening. The interaction between her and Hector Sandoval's Cavaradossi in Act III was generally convincing, though I would love to be able, once again, to see the opera's conclusion for the first time, not weighed down with knowledge of the outcome. The plunge from the battlements of the Castel Sant'Angelo always feels almost as risible as terrifying to me, I'm afraid, and things were no different on this occasion. Sandoval was a strong stage presence, quite charismatic, but not especially beautiful of voice. Even 'E lucevan le stelle' didn't move one greatly. The Scarpia of Mark S. Doss was another forceful stage presence, without the character becoming a mere bully. Doss's characterization was too subtle for that, his ability to lighten his naturally dark tone making one see (hear?) why his hypocrisy could often be effective. All three of the principals worked well together, successfully articulating Puccini's dramatic imagination. Such articulation was profoundly assisted by the work of Carlo Rizzi and the WNO Orchestra. Rizzi's intimate familiarity with the work was frequently evident and he drew some magnificent playing from the orchestra, with some exquisite colours or some almost raw power, as needed. If there was a performer of absolute 'star' quality here, I think it was Rizzi. It was striking that at the final curtain he (and though him the orchestra) seemed to be applauded even more loudly than any one of the fine singers.
The production was also graced by some suggestive touches in the lighting designed by Mark Henderson, from the way the shafts of Roman sunlight (the events are happening, very specifically in June 1800) pierce the semi-darkness of Sant'Andrea della Valle whenever the door is opened, to the gradual growth of dawn in Act III, counterpointing the deepening moral and emotional darkness of the events. Other delights included the Sacristan of Donald Maxwell, perfect emblem of the ignorantly conservative church against which figures such as Angelotti were, in part, rebelling.
In short, Michael Blakemore's production, given an assured cast (as here) and an outstanding conductor continues to ensure the kind of excellent night in the theatre which Puccini had in mind.
Glyn Pursglove