Canada Morlock, Lalo, Schumann: Alexandra Soumm (violin), Vancouver Symphony Orchestra / Perry So (conductor), Orpheum Theatre, Vancouver, 5.2.2018. (GN)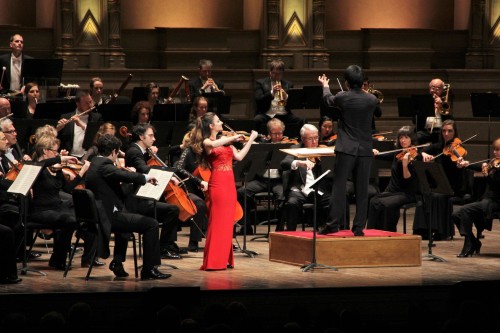 Morlock – Earthfall
Lalo – Symphonie Espagnole, Op.21
Schumann – Symphony No.4 in D minor, Op.120 (1841 version)
 I have always been impressed with the orchestral control of young Hong Kong conductor and inaugural Dudamel Fellow, Perry So. He arrived on the Vancouver stage almost accidentally, deputizing for an indisposed John Storgårds in 2014, and led a stirring performance of Sibelius' First Symphony. He has now performed with a number of major orchestras and released a disc that includes Prokofiev's Chout with BBCNOW in 2016. In his third appearance here, he was joined by the sparkling 28-year-old Moscow violinist Alexandra Soumm in Lalo's Symphonie Espagnole. Equally intriguing was the conductor's adventure into the earlier 1841 edition of Schumann's Fourth Symphony, previously championed by John Eliot Gardiner and Roy Goodman, and actually preferred by Brahms. I was impressed with the tight-knit music making throughout, and the orchestra displayed fine cohesion and discipline.
We are becoming used to VSO concerts starting with a work by Composer-in-Residence Jocelyn Morlock, now regarded as one of Canada most esteemed young composers. Morlock has always tried to distill the essence of specific psychological or naturalistic events – to bring out their many-sided shimmer and portent – and here it was Earthfall. Perry So's preparation of this score was estimable (one often fails to record how little rehearsal time is given for these new compositions), and it gave the work a very secure line. Starting from a tonally-stable musing on the lower strings, the work builds with unusual rhythmic frenzy and increasing chaos in the upper registers. Strong punctuations from the piccolo/flute and trumpet appear early on, ultimately to be followed by an arresting response from the very high violins.  The piece eventually winds down to a chorale of poignant and artfully-structured legato strings, yielding a feeling of resolve but possibly emptiness too. The work offers many cue-points for terminating, and I did feel that it would have a better overall balance if it had concluded slightly sooner. It is a nicely-varied, yet cohesive, journey.
One often looks to Spanish sensuality and colour – and fragrant ardour from the violinist – to carry Lalo's most popular work, but this performance of Symphonie Espagnole offered a useful corrective. It was tightly spun, rhythmically cogent and finely detailed, with a stronger focus on the interplay between orchestra and soloist.  I found it refreshing. Sometimes the rhythmic insistence of the orchestra, combined with its strong string accents, almost took me to Stravinsky, and in many passages the tight integration with the soloist perhaps hinted at that composer's Violin Concerto and other neoclassical works. Alexandra Soumm has a wonderful sinew in her tone, and certainly does not lack for sharp attack, and she did a fine job in articulating within this tighter texture. Sometimes she might have been given more room to expand to lustrous and dreamy contours (e.g., in the Intermezzo and later), but there was still enough of a sentient response to suggest the colour we are used to, and the avoidance of sentimentality was appealing. I enjoyed learning more about the internal structure of this work, its power and integrity, even if some might have wished the performance to be more conventionally fragrant.
A good number of critics have preferred the resilient energy and transparency of the 1841 edition of Schumann's Fourth Symphony to the safer, more upholstered, 1851 version that is normally heard. The most obvious differences are in the first movement, where eager string sforzandi appear before the Allegro gets underway; in the transition to the finale, which has more punctuating detail; and in the telling orchestration and tempo variations later in the finale. Somehow this earlier edition of the work hints back more strongly to Beethoven's energy and force.
Maestro So approached the symphony in his characteristically disciplined way, favouring relatively quick speeds. Being used to the romantic expansiveness of many traditional performances of the 1851 edition, my first response was that this was too fast and insistent. But my view changed fairly quickly:  certainly historical performance advocates would likely be attracted to this quicker tempo and, besides, it is not really the same symphony. Its motion is more energetic, mercurial and jagged, and even the movement markings are different. One still may have wished for a little more lyrical flowering in the Romanze and slightly less drive in the Scherzo (there could have been more weight given to the second note of its opening figure) but, after hearing the finale, I was convinced that this earlier version did have an attractive organic unity. The movements are indeed marked attaca, and as the maestro so kindly pointed out after the concert, 'it makes sense to play the work as if it follows a single dramatic arc'. Again, this was a fine learning experience.
Geoffrey Newman