United Kingdom Puccini, Tosca: Soloists, Chorus and Orchestra of the Royal Opera House / Dan Ettinger (conductor), Broadcast from the Royal Opera House to Cineworld Basildon, Essex, 7.2.2018. (JPr)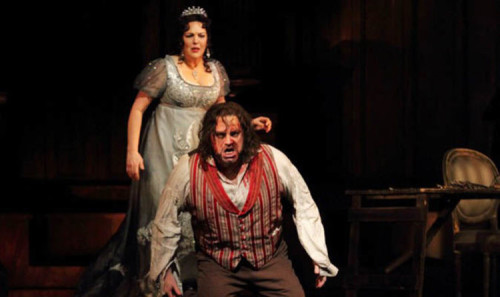 Production:
Director – Jonathan Kent
Revival director – Andrew Sinclair
Designer – Paul Brown
Lighting designer – Mark Henderson
Cast:
Floria Tosca – Adrianne Pieczonka
Mario Cavaradossi – Joseph Calleja
Baron Scarpia – Gerald Finley
Spoletta – Aled Hall
Cesare Angelotti – Simon Shibambu
Sacristan – Jeremy White
Sciarrone – Jihoon Kim
This was my third Tosca in two weeks, and you may wonder what especially has brought me back to see this revival of Puccini's 'shabby little shocker' – as musicologist Joseph Kerman called it – at Covent Garden as I had already seen it in January (review click here). Well firstly I like the opera; but it was also interesting to juxtapose two very different approaches to opera and their cinema transmissions (from Covent Garden or click here for the Met), as well as, comparing the three very different singers who have sung Tosca.
Pleasantly introduced by Clemency Burton-Hill the presentation of this Tosca was well-schooled and very familiar from BBC Radio 3 and the Proms on TV. At the Met it is usually a singer doing the interviews and that is more of 'I wish you a great opera' affair with microphones trust under the noses of those involved when they are either preparing to go on stage or are just coming off it. Like sports' people after their race or game, they often haven't enough time to collect their thoughts to give any real insight into what you are seeing. For the Covent Garden broadcasts there is much more welcome detail offered to cinema audiences who could be watching their operas (and ballets) for the first time. There was a fascinating video of Gerald Finley reflecting on his preparation of his role debut as Scarpia and suggesting that it takes anything from 100-150 repetitions of the words and music before he can set aside the score. Only then does muscle memory kick in and his mouth forms the words before his brain thinks about them!
Also, the 'real world' didn't impinge on anything we heard at the Met and it was as if #MeToo had never happened. As early as Burton-Hill's conversation with the director Jonathan Kent about his Tosca – apart from discussing the 'great romantic set' of the late Paul Brown – we were reminded how the abuse of power inherent in the plot of the opera is 'appallingly relevant', and the name Weinstein was soon mentioned of course. Later Adrianne Pieczonka (who was singing Tosca on this occasion) reminded us in another filmed insert how 'timeless' are the themes of the opera: 'Scarpia is a sexual predator, he is doing a lot of horrible things. We are living now in 2017/18 with all these issues coming out. It's more relevant than ever; the misuse of power, how women are vulnerable. And Tosca […] is flesh and blood and she suffers, but she does her best, she is an admirable character'. She is also driven to murderous revenge and suicide of course, though perhaps we can leave debating this to another time?
Obviously, I have little more I can add about the Met's IMAX-like production or Covent Garden's more intimate 2D one (revived by Andrew Sinclair), but how did the two experienced Toscas at Covent Garden (wearing two different Act II costumes) compare to Sonya Yoncheva's role debut at the Met? The winner – pace Ms Pieczonka – was Angela Gheorghiu who brought the character to real life and – as I wrote previously – 'we saw all her character's arrogance, flirtation, desire, passion, doubt, envy, anger, drive, resignation, and more'; the younger Yoncheva brought 'flirtation and temper tantrums' but not a rounded heroine; and Adrianne Pieczonka – who sounded  more like Turandot at times than Tosca – showed little more than a steely resolve and a haughty diva-ish demeanour. For her Cavaradossi appeared to be a dalliance rather than the love of her life.
In Jonathan Haswell's close-up camera work, Gerald Finley's Scarpia seemed more of a scenery-chewing two-dimensional bully than were my first thoughts when seeing him in the theatre. Nevertheless, it was still a notable role debut and more compelling than Željko Lučić's bluffer – though clearly equally sadistic – police chief in New York. Finley was often reminding me of someone else; part the great John Tomlinson in recent roles on the opera stage, part – the equally great – Orson Welles as Long John Silver. Nevertheless, from his first sniff of the perfumed Attavanti fan in Act I, or his lascivious fondling of Tosca's red hair ribbon, to his chilling and hushed 'Eh bene?', this was a very intelligent, enlighteningly nuanced, and smoothly-sung portrayal.
It was a close-run thing between the tenors and Vittorio Grigolo gained the edge over Joseph Calleja when I saw his Cavaradossi (another role debut) on screen recently. I described him then as 'impetuous', 'romantic', and 'full of revolutionary zeal'. In hindsight there was a bit too much 'Can Belto' from Grigolo, though understandably he had a bigger opera house to fill. I was stunned now by Calleja's easy conviction, good-nature and open-faced charisma, as well as, the Pavarotti-like honeyed tones he brought to this demanding role. His Cavaradossi remains more the artist than freethinker, though I am now ready to believe – more than previously – that he knows he will be executed, since he appears to throw aside Scarpia's safe-conduct pass. Calleja's powerful Act II cries of 'Vittoria! Vittoria!' had a visceral effect and his Act III 'E lucevan le stelle' was perfectly crafted, as he modulated his voice with great care to express a full range of emotions. This remained the highlight of his performance.
There was little to choose between the supporting ensembles for the various sets of protagonists, but at Covent Garden Aled Hall's Spoletta once more caught the eye and there was a hint of the Machiavellian creepiness of Peter Lorre – another Hollywood great – as if he was angling for Scarpia's job, or Hall was looking for more opportunities on the Covent Garden stage!
Through the cinema loudspeakers it sounded very much as if Dan Ettinger – like Emmanuel Villaume at the Met – conducted a blood and thunder orchestral performance. Ettinger was clearly capable of luxuriating in the lyrical moments, especially in support of his singers who looked as if they wanted to 'do their own thing' at times.
Who won the battle of the Met v Covent Garden Toscas? A difficult choice ('Ein saures Amt, und hart zumal!' as Beckmesser sings in Wagner's Die Meistersinger), though because of Gheorghiu and Finley (in the theatre) and Calleja (on screen) – to use a sporting parlance – the Royal Opera win on points!
Jim Pritchard
For more about what is on at the Royal Opera House, in your local cinemas (Carmen is next on 6 March) and on the BP Big Screens click here.