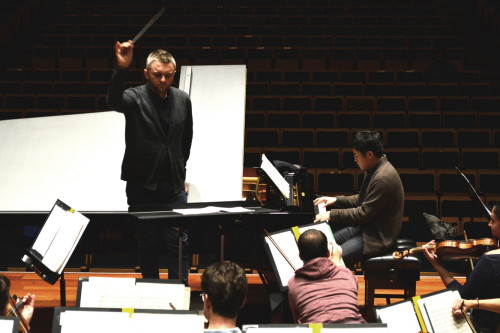 United Kingdom Brahms and Lyatoshinsky: Sunwook Kim (piano), Bournemouth Symphony Orchestra / Kirill Karabits (conductor), The Lighthouse, Poole, 31.1.2018. (IL)
Brahms – Piano Concerto No.1 in D minor
Lyatoshinsky – Symphony No.3 (UK premiere)
This season marks the Bournemouth Symphony Orchestra's 125th  anniversary. And this concert was a rather special part of the celebrations: it marked the debut of the Bournemouth Symphony Orchestra's new grand piano, a Steinway 'Model D'. BSO Artist-in-Residence Sunwook Kim, this concert's soloist, selected this particular piano. He commented: 'For a pianist, a Steinway of this quality is incredibly exciting. This piano is very special. It is full of personality and complexity, not only is it beautiful but it is also bright in sound. …The Brahms First Piano Concerto showcases the rich colour and tone of this remarkable new instrument.'
The new piano sounded well on its debut. As promised, its tone was full and bright. No doubt it will attract the world's first class pianists.
Sunwook Kim is no stranger to the Brahms First Piano Concerto. His recording of it with the Hallé Orchestra under Sir Mark Elder on that orchestra's own label received a generous review on our MusicWeb International associate site.
Last night with Sunwook Kim at the new piano and Karabits's highly charged orchestral accompaniment, the epic opening movement of the Concerto was quite riveting. Kim's insightful reading was gloriously nuanced and shaped, its delivery based on a strong, long-held affection for the work yet with a seemingly spontaneous immediacy. The only carp I would make, and it is a small one, is that that marvellous first movement coda, such a wonderfully inventive ending to such a monumental movement sounded limp—it could have done with more snap and bite. But that small grouse was soon forgotten when I listened to Kim's achingly beautiful rendering in the beguiling tranquil Adagio.
The Ukrainian composer Boris Lyatoshinsky (1895-1968) was probably unfamiliar to most of the audience. His Symphony No.3, premiered in the UK last night, was a revelation. It is scored for large orchestra including a wide range of percussion and an enlarged brass section with augmented trumpets; its theme is war and peace. Kirill Karabits has taken a special interest in Lyatoshinsky not the least because his mother is the leading Ukrainian authority on the composer. He delivered an enthralling and compelling reading of this powerful work, which should be far better known. Events of World War II clearly influenced its composition—the Ukraine suffered tremendously during the Nazi occupation.
The opening movement, grindingly cruel, moved in a brooding atmosphere of oppressive violence with snarling brass and hammering percussion. At times, its unresolved tensions reminded me of the music of Bernard Herrmann. The Andante, signifying peace, begins magically with its gentle rocking ostinato on harp and celeste supported by violas and flute. This material is simply exquisite and its orchestration inspired. The Scherzo is savage, reminiscent of the 'hell's kitchen' that is Vaughan Williams's Sixth Symphony Scherzo. In fact, both symphonies, as a whole, are remarkably similar in spirit. The super-charged finale marked Allegro risoluto… celebrates victory and peace with jubilant brass and bells, so much so that it might be regarded as an updated 1812 Overture! With Naxos having already recorded this and other Lyatoshinsky symphonies, perhaps another label might be persuaded to record Karabits and the BSO performing this Third Symphony?
A truly memorable evening with the BSO.
Ian Lace
For more about the BSO click here.