Switzerland Mozart, Idomeneo: Soloists, Chorus of the Zurich Opera, Orchestra La Scintilla Zurich / Giovanni Antonini (conductor), Zurich Opera, Zurich. 4.2.2018. (JR)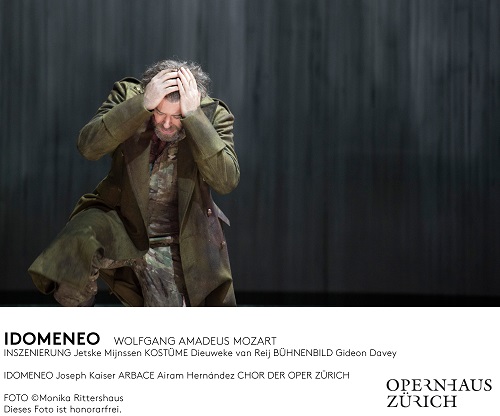 Cast:
Idomeneo – Joseph Kaiser
Idamante – Anna Stéphany
Ilia – Hanna-Elisabeth Müller
Elettra – Guanqun Yu
Arbace – Airam Hernandez
La Voce – Ildo Song
Production:
Director – Jetske Mijnssen
Set – Gideon Davey
Costumes – Dieuweke van Reij
Lighting – Franck Evin
Chorus-master – Ernst Raffelsberger
Dramaturgy – Kathrin Brunner
Mozart's Idomeneo was written when the composer was 24 years old and tiring of Salzburg. He had just been to Paris and had Vienna in his sights. The work is by no means a Jugendwerk, as the conductor points out in the programme, but many agree that it is one of his less accessible operas. It paves the way, in the form on an opera seria, for his later, more famous opera giocosa works, and can be viewed as some form of threshold. The opera can seem dull as there are only a handful of singers involved, with a chorus, and little action.
The story hails from ancient Greece: Ilia, a Trojan princess and prisoner of war on the island of Crete, falls in love with Idamante, son of the Greek King Idomeneo. Ilia has lost her entire family in the Trojan Wars. Along comes Electra (in Italian Elettra), daughter of Agamemnon; Electra has fled from Argos to Crete, after her whole family was slain (rightly, as it happens) by her brother Orestes. Electra also falls in love with Idamante. Idomeneo, after many years away, returns from the war, but because of a huge storm at sea narrowly escapes death. As thanks for his salvation, he swears to the god Neptune that he will sacrifice the first person he meets on shore. Murphy's law: it's his son on the beach, Idamante. The story unfolds from there, with Idomeneo agonizing over whether or not to kill his son. A voice from the deep steps in at the last minute and Idamante is saved, free to marry Ilia, leaving a bitter Electra to slope off. A sort of happy ever after ending.
It is a story which Handel used to great effect in his lovely oratorio Jephtha (with an angel taking the place of the voice from the deep), and Euripides in Iphigenie in Aulis. Dutch producer Jetske Mijnssen portrays Idomeneo as a suitably wracked individual, with his head in his hands, hallucinating about Neptune. There is much anguish, many pointed (but never fired) guns, a dagger, a fight, the slitting of throats (we see Electra witnessing the slaughter of her family by her brother). The set is grey, with some blackness beyond. The only visible colour is red, some bloodstained clothes and faces. Costumes are fairly modern, mainly grey: the chorus is supposed to represent the waves washing up on the shore, as they emerge from the back of the stage to withdraw after singing their fairly short contributions. There is, however, more chorus in this Mozart opera than in his other operas (but considerably less than in Jephtha).
The scene opens with Ilia bewailing her fate, in front of six grey coffins of varying sizes (representing her dead family). Idomeneo appears at first in bedraggled (but not wet) clothes (he has just been washed ashore) and changes onstage into suit and tie and long dark overcoat. Ilia is in a smart grey suit, as is Idamante (a trouser role). Electra wears black (as does the rest of her evil family), but it is slinky malevolent – yet alluring – black silk, Electra showing a strange penchant for luxury shopping (designer handbag, wedding gown in box with ribbon). I failed to find much sympathy for the characters, perhaps because Idamante was a dead ringer for Hugh Grant, perhaps because there were too many pointed guns, perhaps due to the absence of a sea serpent or monster ravaging the streets. The production was politely but not ecstatically received, but there were no boos. The production team still managed to look unsure and nervous as they emerged for their curtain call.
The singers all impressed to some degree. Canadian tenor Joseph Kaiser was the best of the bunch – in Mozart's time this role was sung by a castrato. I would like to hear Kaiser's Lohengrin in Brussels, his next main role. He displayed authoritative tone and plenty of volume, with some gorgeous top notes. His coloratura passages in his major aria 'Fuor del mar' were brilliantly dispatched. Anna Stéphany, in the trouser role, was a regular in Zurich until a few years ago, but I have seen and heard her better suited in other roles. Nevertheless she sang and acted well, as did Hanna-Elisabeth Müller (one horrid swoop apart). Guanqun Yu displayed venom and charm as required, her high but slightly thin voice perhaps more suited to her usual role of Liù in Turandot than Electra. Airam Hernandez was a sturdy Arbace, his coloratura however had him stretched.
Antonini in the (raised) pit did not relax for a second, helping the singers, urging on the opera house's excellent period band (La Scintilla) to some fast tempi, certainly making the case that Idomeneo is an important work in Mozart's repertoire.
John Rhodes