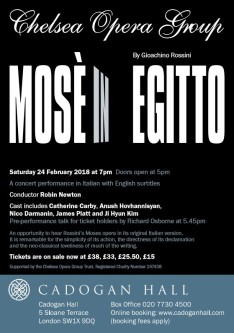 Chelsea Opera Group present a concert  performance of Rossini's Mosè in Egitto (1818-19) at the Cadogan Hall, Saturday 24th February 2018

First performed in the Teatro San Carlo, Naples in 1818 and revised in 1819.  Written as an azione tragico-sacra to be played during the season of Lent, the opera tells the story of the love of a young Jewish girl for the son of the Egyptian Pharaoh at the time of the enslavement of the Israelite minority in Egypt. As with Aida and Radames in Verdi's celebrated opera, it is a tale of disputed homelands, of the tension between love and duty, and the counterpointing of the bonds of family and country.
Though the opera was written at a time when Rossini was expanding the orchestral and choral scale of his often highly innovative serious music dramas, Mosè in Egitto is remarkable for the simplicity of its action, the directness of its declamation and the neo-classical loveliness of much of the writing.
Among its highlights are the superbly atmospheric opening 'Scene of the Shadows', an unforgettable portrait (much admired by Wagner) of an entire people plunged in the deepest misery, and the closing scene whose celebrated 'Prayer' prefaces the parting of the waves, as Moses leads the Israelites to freedom and their own.
Rossini's opera opens with a plague of darkness and ends with the parting of the Red Sea and is perfect for concert performance where these ambitious scenic demands can be fulfilled in your mind's eye. With its Egyptian setting and love story across a racial divide, the opera anticipates the plot of Verdi's Aida.
The conductor will be Robin Newton, who has given several successful performances of Italian repertory with us in recent years and the cast will include Catherine Carby, who was Romeo in our Capuleti e i Montecchi, as Mosè's follower Elcìa. She will be joined by Anush Hovhannisyan fresh from a personal triumph as Violetta at Scottish Opera, singing Pharaoh's wife Amaltea. Mosè and Aronne will be played by former members of the Jette Parker Young Artists' Programme, James Platt and Ji Hyun Kim. Rossini's tenor is Pharaoh's son Osiride, who is in love with Elcìa and will be sung by Nico Darmanin.
Richard Osborne will give a pre-concert talk for ticket holders in the hall at 5.45pm.
Tickets for the concert are now available from Cadogan Hall.
CAST:
Moses – James Platt
Aronne  – Ji Hyun Kim
Osiride – Nico Darmanin
Amaltea – Anush Hovannisyan
Farone – Daniel Grice
Elcia – Catherine Carby
Mambre – Christopher Turner
Amenofi – Eirlys Myfanwy Davies
The Chelsea Opera Group Chorus
The Chelsea Opera Group Orchestra
Conducted by Robin Newton