Dartington International Summer School & Festival Announces its 70th Anniversary Programme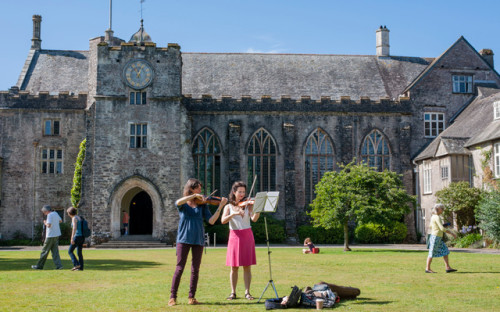 Internationally-renowned Dartington Summer School & Festival has released the course programme for its 70th Anniversary Summer School and Festival, curated by the pianist Joanna MacGregor, that will run from 28 July to 25 August, 2018. As usual, the Festival will be centered around Dartington Hall, the 14th century Grade1listed country estate located in Totnes, Devon.
The Summer School & Festival is well known for its extraordinary courses, providing a unique and immersive experience for musicians of all levels of learning, talent and skill. It is renowned for offering amateurs, students and young professionals a unique opportunity to play with the world's leading musicians – and offers the space to established artists to experiment, and explore new collaborations.
MacGregor has invited prominent names from the classical music world, and luminaries from other genres, from jazz to folk, and the wider arts, in an outstanding four-week programme of masterclasses, workshops and performance. Highlights include appearances by  Alfred Brendel, Ex Cathedra, Imogen Cooper, Jane Glover, Felicity Lott, Tom Randle, Freya Waley-Cohen, Adrian Brendel and Oliver Knussen. They will teach courses and perform alongside coaching premieres, new collaborations and a carefully curated selection of non-musical events including, poetry readings, films, art installations and yoga. Choral projects include Bolivian Masses, Bach's St Matthew Passion, Haydn's Creation and Verdi's Requiem. Mozart's The Marriage of Figaro will be performed by students of the advanced opera course, and Byron Wallen will present an exclusive jazz project, that honours Martin Luther King and the Harlem Renaissance. Latin American music will be celebrated by Adriano Adewale and Luiz Morais and a special flamenco performance will take place.
Dartington offers a bursary scheme to help students, graduates and young musicians attend advanced courses. Bursary applications will be accepted from December 2017 and applied for via https://www.dartington.org/whats-on/summer-school/.
A full programme and general booking is available on the Festival website.