LA OPERA IN 2018/2019
The season opens with a revival of Verdi's Don Carlo, conducted by James Conlon and starring Plácido Domingo as Rodrigo. This is followed by the company premiere of Satyagraha by Philip Glass, conducted by Grant Gershon; a revival of Hansel and Gretel, conducted by Mr. Conlon and featuring Susan Graham as the Witch; the company premiere of Mozart's La Clemenza di Tito in a new production conducted by Mr. Conlon and directed by Thaddeus Strassberger; a production (new to Los Angeles) of Penella's El Gato Montés: The Wildcat starring Mr. Domingo in the title role and conducted by Jordi Bernàcer; and a revival of La traviata, conducted by Mr. Conlon and starring 2017 Operalia winner Adela Zaharia.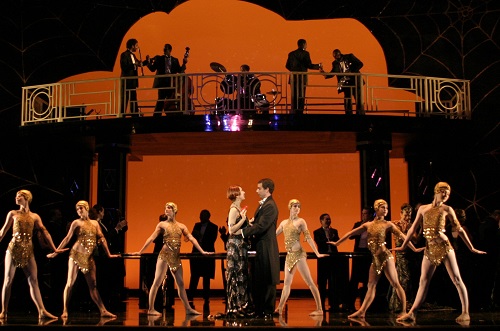 MAINSTAGE PRODUCTIONS (presented at the Dorothy Chandler Pavilion)
Don Carlo (Verdi)
22.9 through 14.10.18; revival
James Conlon conducts a cast led by Ramón Vargas in the title role, with Ana María Martínez as Elisabeth de Valois, Anna Smirnova as Princess Eboli, Ferruccio Furlanetto as King Philip II and Plácido Domingo as Rodrigo. The production by Ian Judge returns to Los Angeles for the first time since 2006.
Satyagraha (Glass)
20.10 through 11.11.18; company premiere
Following the success of Einstein on the Beach (2013) and Akhnaten (2016), LA Opera completes the Philip Glass operatic trilogy about great thinkers who changed the world. Satyagraha (Sanskrit for 'truth force') is inspired by Mahatma Gandhi's early years in South Africa, where he developed the radical new idea of nonviolent political resistance. Grant Gershon leads a production created by Phelim McDermott (director of Akhnaten) for the Metropolitan Opera and English National Opera, starring Sean Panikkar as Gandhi.
Hansel and Gretel (Humperdinck)
17.11 through 15.12.18; revival
James Conlon conducts Doug Fitch's dreamlike production, full of fantastical sets and elaborate special effects. Sasha Cooke and Liv Redpath sing the title roles, with Susan Graham as the uproariously wicked witch, eager to lure her young victims into a delicious trap.
La clemenza di Tito (Mozart)
2.3 through 24.3.19; company premiere; new production
James Conlon conducts La Clemenza di Tito, Mozart's final opera seria, written simultaneously with The Magic Flute in the last months of the composer's life. The new production is directed and designed by Thaddeus Strassberger, who previously staged LA Opera productions of The Two Foscari (2012) and Nabucco (2017). Russell Thomas stars as the imperiled emperor whose generosity and compassion point the way to a brighter future.
El Gato Montés: The Wildcat (Penella)
27.4 through 19.5.19; production new to Los Angeles

In one of the masterpieces of Spanish lyrical theater, a beautiful gypsy (Ana María Martínez) unwittingly inspires a fatal rivalry between a renowned bullfighter (Arturo Chacón-Cruz) and a bandit on the run (Plácido Domingo). Spanish conductor Jordi Bernàcer leads a production created by director José Carlos Plaza for Madrid's Teatro de la Zarzuela.
La traviata (Verdi)
1.6 through 22.6.19; revival
James Conlon conducts a revival of Marta Domingo's Art Deco-inspired update of the Verdi classic. Romanian soprano Adela Zaharai, the 2017 winner of Operalia, makes her company debut as the glamorous Violetta, with Rame Lahaj (a 2016 Operalia winner) and Charles Castronovo sharing the role of Alfredo.
OFF GRAND PRESENTATIONS (presented in various venues)
Vampyr (Joby Talbot)
27.10 through 31.10.18; world premiere
The annual Halloween mash-up of opera and cinema returns to the spectacular Theatre at Ace Hotel with filmmaker Carl Theodor Dreyer's surreal 1932 masterwork, underestimated for decades but now regarded as an important landmark of the horror genre. Composer Joby Talbot creates a new score for chamber orchestra and singers, performed live with a rare screening of this cinematic gem, and conducted by Matthew Aucoin, LA Opera's Artist in Residence.
Presented at the Theatre at Ace Hotel
Prism (Ellen Reid and Roxie Perkins)
29.11 through 2.12.18; world premiere
A mother and daughter lock themselves away from the world to protect themselves from the dangers lurking outside. Prism explores the viscosity of memory after trauma, and the lengths one will go to feel better—no matter the cost. Marking LA Opera's fifth season of collaborations with Beth Morrison Projects, the Los Angeles world premiere presentation of Prism will be followed by performances at the Prototype Festival in New York.
Presented at REDCAT
the loser (David Lang)
22.2 and 23.2.19; West Coast premiere
Two piano prodigies at a master class encounter an even greater talent: the virtuoso Glenn Gould, on the cusp of superstardom. The devastating realization that they will never approach their new rival's level of artistry changes their lives forever. A painful meditation on dreams forsaken and hopes unrealized unfolds, starring Rod Gilfry.
Presented at the Theatre at Ace Hotel
For more information visit LAOpera.org.