Kokoschka's Doll and The Art of Love, incorporating Einsamer Gang will be performed in Oxford and Newbury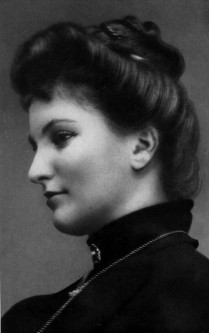 It is well known that in addition to the fourteen songs by Alma Mahler published in her lifetime, several dozen more – perhaps as many as one hundred – were written and have been lost or destroyed. One of those 'lost' songs, Einsamer Gang (Lonely Walk), has recently been discovered and will be given its UK premiere performances by Rozanna Madylus and Counterpoise at the Wagner 1900 conference in Oxford (April) and at the Newbury Spring Festival (May).
Einsamer Gang is one of three songs composed by Alma Mahler in 1899–1900 and was written before her lessons with Alexander Zemlinsky and before her introduction to Gustav Mahler. The other two, Leise weht ein erstes Blühn and Kennst du meine Nächte?, were published by the American scholar Susan Filler in 2000, but Einsamer Gang was tracked down by Deborah Calland and Barry Millington in the Kislak Center for Special Collections, Rare Books and Manuscripts, at the University of Pennsylvania. They have made a performing edition of the song for these concerts and plan to publish it in The Wagner Journal later in the year.
Einsamer Gang, a touchingly evocative and personal setting of a poem by Leo Greiner, expressive of Alma's almost suicidal loneliness and depression at this period, will form part of the sequence The Art of Love: Alma Mahler's Life and Music, which features also music by Gustav Mahler, Zemlinsky and Wagner. In the second part of these concerts, Counterpoise will perform Kokoschka's Doll with Sir John Tomlinson, for whom it was written last year by John Casken. The painter Oskar Kokoschka had a brief but tempestuous love-affair with Alma Mahler, following which he commissioned a life-size doll of her which he took to parties and other public events. The text of this new work describes the events as seen through the eyes of Kokoschka as an older man, evoking the passions unleashed by the affair, against the background of the physical and psychological traumas suffered by Kokoschka in the First World War. The score weaves the texts into a musical fabric that references fin-de-siècle Vienna (including the music of Wagner and Alma Mahler) while being of our own time.
Kokoschka's Doll and The Art of Love, incorporating Einsamer Gang, will be performed at:
Holywell Music Room, Oxford, Tuesday 10 April, 8.30pm
Corn Exchange, Newbury, Wednesday 16 May, 7.30pm
The press on last year's performances of Kokoschka's Doll:
'Tomlinson's titanic, heart-rending performance' (Daily Telegraph), 'the incomparable John Tomlinson', 'a compelling dramatic presence' (Guardian), 'magnificent' (Opera), 'riveting' (Seen and Heard International for review click here)
For further information see also www.counterpoise.org.uk/projects.php www.music.ox.ac.uk/wagner-1900 www.newburyspringfestival.org.uk .