In Cincinnati, a New Crop of Musical Entrepreneurs
Among Cincinnati's established musical organizations, some trace back their roots a century or more: Cincinnati Symphony Orchestra (1895), Cincinnati Opera (1920), Cincinnati Matinee Musicale (1912), and the Cincinnati May Festival (1873). Two other venerable organizations combined in 1955, to create the newest of these: The College of Music (1878) and the Cincinnati Conservatory of Music (1867) became the College-Conservatory of Music (CCM) at the University of Cincinnati, one of the top music schools in the nation and a presenter of over 1,000 musical events each year.
With all of these older organizations vying for the time of the classical music public in a city with a population of slightly under 300,000, is there room for any more? Ask any of a new crop of musical entrepreneurs, and the answer is a resounding yes.
LeAnne Anklan does not conduct a note, but as Managing Director of the Cincinnati Chamber Orchestra she conducts business, works long hours with a skeletal staff, oversees the complex counterpoint of administration, and in her own words, is 'constantly discussing ways to stay on the edge, to surprise our audiences, and engage them in new ways.'
In only a few seasons, the CCO has established a strong brand and inaugurated innovative programs that nurture a younger audience for the orchestra's annual Summer Musik. The orchestra's gifted conductor, Eckart Preu, has quickly become known around the city, while Anklan is still known primarily to insiders. But this powerhouse arts administrator—with a surname she constantly has to spell—is making a name for herself by getting things done.
A 20-something entrepreneur, Samuel Martin is hell-bent on changing the status quo by sharing the riches of the art song through his Cincinnati Song Initiative. An accomplished accompanist and vocal coach, Martin earned his graduate degree from CCM in 2016, while freelancing as a much-in-demand collaborative pianist. Restless and not busy enough, the young New York native was taught by his CCM mentors that 'in this classical music world we must become our own advocates.'
So he parlayed his restlessness into organizing concerts that feature early-career singers and pianists in intimate recitals. Commissions of new pieces by American composers are planned, as are new outreach efforts with other arts organizations.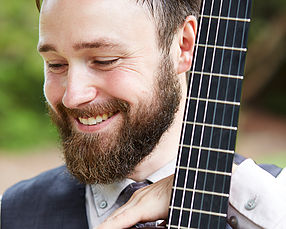 James Meade exudes the unabashed enthusiasm of someone relatively new to music, even though he has been playing and teaching guitar for many years. Most recently Meade started NoteAble, a program designed to teach kids to play the guitar.
After school, he gathers a group of young hopefuls for daily lessons in solo and ensemble playing. Tuition is free, and Meade gives freely of his time because he believes that 'part of my job is to not only give children the correct tools to use, but the belief in themselves to use those tools effectively, confidently, and unabashedly regardless of their background.' Whenever he is not doing his work with beginners, James gives private instrumental lessons and plays every gig imaginable—a textbook case of 'have guitar, will travel.'
With youth, a suitcase full of degrees from prestigious music schools, and the ability to pull up stakes and go after work anywhere, Isaac Selya chose to grow roots in Cincinnati, where he braved the odds and founded the Queen City Opera. Now in his sixth year, he has produced and conducted most of the company's offerings, casting and coaching young operatic hopefuls in repertoire that—given the budgetary constraints of his enterprise—would give pause to the bravest of impresarios.
Selya notes, 'For each of our productions, we try to collaborate with a non-musical partner organization, to help focus the narrative of the work on a social justice issue central to the plot of the opera.' He produced Siegfried, La Cenerentola, Don Giovanni, and Montemezzi's The Love of Three Kings, which helped develop a growing reputation and a loyal audience for the young company. Next up is Tchaikovsky's rarely-produced Iolanta.
Ask any one of these young firebrands why they do what they do, and the answer will be a simple one: because they want to carve out a place to work in the city in which they chose to live. They are 'giving back' to the place they call home.
Rafael de Acha