2018 Blossom Music Festival – 3 July to 2 September
This summer, the 2018 Blossom Music Festival will travel into its second half-century with concerts by the Cleveland Orchestra and others. The festival's open-sided pavilion, located adjacent to the Cuyahoga Valley National Park near Cuyahoga Falls, Ohio, provides a very different acoustic from the orchestra's regular season home at Severance Hall, and gives the ensemble a chance to work with a more expansive sound.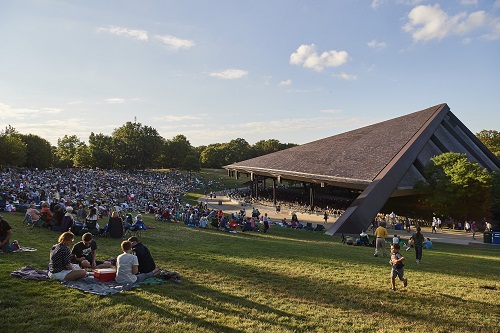 Current music director Franz Welser-Möst will lead only one concert this summer, an opening night event featuring the orchestra's own Stephen Rose, Mark Kosower, and Joela Jones in Beethoven's Triple Concerto, and Ravel's orchestration of Mussorgsky's Pictures at an Exhibition.
The festival will see several welcome returns, including conductor Vasily Petrenko, who made a triumphant debut last year, who will lead Prokofiev's Symphony No.5. Also returning are former festival director Jahja Ling with Mahler's Symphony No.1, James Gaffigan with the Symphony No. 2 by Sibelius, John Storgårds with Schumann's Spring Symphony, and Michael Francis with Dvořák's Symphony No. 7 and Janáček's Taras Bulba.
Maestro Herbert Blomstedt has in recent years been a treasured visitor to Severance Hall, bringing seventy years of conducting experience. This summer will mark his first Blossom concert, and with a typically classical program: Mozart's Jupiter Symphony and Brahms' Symphony No.4. Making his Cleveland Orchestra debut will be the young French conductor Adrien Perruchon, who made headlines in 2014 when he brilliantly took over a concert of l'Orchestre Philharmonique de Radio France on short notice. He will lead Orff's Carmina Burana, countered with a rare performance of Aaron Copland's Statements.
Other intriguing rarities on slate include George Antheil's Over the Plains (Storgårds), Vaughan Williams' Serenade to Music (Ling), Anatoly Liadov's Baba-Yaga (Petrenko), and Samuel Barber's Essay No.2 (Gaffigan).
Featured soloists include Vilde Frang in Britten's Violin Concerto, Simon Trpčeski in Rachmaninoff's Rhapsody on a Theme of Paganini, and the great Stephen Hough in Mendelssohn's Piano Concerto No.1. Vocal soloists for Carmina Burana will be soprano Audrey Luna, tenor Matthew Plenk, and baritone Elliot Madore—Luna in her Cleveland Orchestra debut, and the latter two making their first Blossom appearances.
A special non-orchestra event will take place when superstar cellist Yo-Yo Ma does a marathon concert performing all six of the suites for solo cello by J.S. Bach.
On the pop front, Roger Daltrey will bring members of The Who for a concert performance of the band's classic rock opera Tommy with Keith Levenson conducting. Audra McDonald will star in a concert of Broadway favorites including selections by Richard Rodgers, Stephen Sondheim, and Leonard Bernstein, conducted by Andy Einhorn. The songs of Frank Sinatra and Ella Fitzgerald will be performed by Tony DeSare and Capathia Jenkins with Randall Craig Fleischer at the helm of the orchestra. Traditional Americana band concerts will see the Blossom Festival Band led by Loras John Schissel.
The festival is expanding its hugely popular evenings of films with the orchestra performing soundtracks live, including Singin' in the Rain, The Little Mermaid, and Star Wars: A New Hope.
Fireworks will follow selected concerts, weather permitting. A complete calendar of festival concerts can be found here.
Mark Sebastian Jordan