Canada Beethoven, Prokofiev, Shostakovich, Brahms: Nikolaj Znaider (violin), Robert Kulek (piano), Vancouver Playhouse, Vancouver, 4.2.2018. (GN)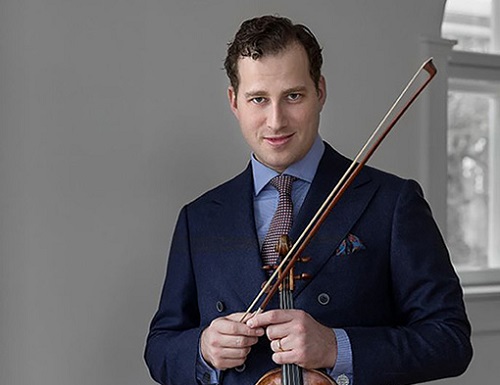 Beethoven – Sonata for Violin and Piano in G major Op.30 No.3
Prokofiev – Sonata for Violin and Piano in D major Op.94a
Shostakovich – Four Preludes for Violin and Piano from Op.34 (trans. Dmitri Tsyganov)
Brahms – Sonata for Violin and Piano in D minor Op.108
It is has been over a decade since violinist Nikolaj Znaider last performed for the Vancouver Recital Society, and he certainly returned as very much of a celebrity. In fact, this concert often seemed like a 'celebrity show', the violinist tossing humorous asides to the audience, taking the full house under his wing and then dazzling it with his stunning passage work, silken lyrical lines and passionate bursts of power. This could hardly fail to seduce. While Znaider has launched his conducting career in earnest these days, it is wonderful to be reminded of what a great violinist he is. I much enjoyed his recordings of the Elgar Violin Concerto (with Sir Colin Davis) and the Brahms Violin Sonatas (with Yefim Bronfman) but, in those instances, it was the purity of his tone and dramatic/lyrical line that was most noteworthy. This concert was more unbuttoned, more a study of 'the art of the violin', with Znaider consistently pushing his instrument to the extremes of both delicacy and romantic ardour.
Of the three violin sonatas performed with pianist Robert Kulek, the Prokofiev probably fared best, though all the readings had little indulgences that one might expect in a relatively casual concert of this type but not in the recording studio. The extra romantic adornment of the lovely cantabile theme that opens this sonata was probably not necessary, nor was the demonstrative surge of passion at its restatement – but what a glorious flow of lyrical beauty and strength. Such passages illustrated a characteristic Znaider trademark: seeking a very long lyrical line and pushing it out continuously through a carefully-judged crescendo. This worked quite well, ultimately, with the structural elegance displayed in between, and was aided by the alertness and precision of Kulek's piano. The detailing at the opening of the Scherzo was impressive, as was the natural ease in the violinist's playing later on. The Andante's presentation struck me as more on the public side, though the violinist's purity in the pianissimo passage at the end was striking. The finale found exactly the right energy at its close, even if it was somewhat emotionally overburdened earlier on. It was an enjoyable performance, yet if one believes that the composer's characteristic spikiness and sharpness of utterance underpin this work, then Znaider's desire to push to more fulsome terrain had its limitations.
The treatment of the Beethoven Sonata was slightly more controversial.  It had an appealing refinement at times but still remained a traditional big-boned treatment, like those from Perlman, Stern or Zukerman. The opening Allegro exuded a nice energy and ultra-clean attack from the violinist, though I thought Kulek was a little plain. What stood out were all the lyrical retreats to pianissimo, which might have been probing if fully invested emotionally, but came off more as 'effects' that altered the music's flow. One had to admire Znaider's immense skill in etching phrases at such soft volumes, yet this became sort of a recurring habit: the same type of prettification carried on to the following Tempo di Minuetto, typically contrasting with passages of strong romantic sentiment. Overall, this movement emerged as rather burdened, failing to sustain much natural motion. The closing Allegro, on the other hand, was thrilling at its quicker pace, full of energy and virtuosity, though not particularly subtle. I am not sure those who like authentic or more regally traditional Beethoven performances would warm to this approach, but those who have recently enjoyed Anne-Sophie Mutter and Lambert Orkis might.
After four brief transcriptions from Shostakovich's Preludes Op. 34 – little more than salon pieces in this form – the Brahms Third Violin Sonata closed the recital. The interpretation of this sonata was especially interesting because it bore so little resemblance to the violinist's highly-regarded RCA recording with Yefim Bronfman a decade ago. There, a wistful, restrained lyricism prevailed in a reading of notable sensitivity and beauty; in fact, some critics regarded it as too restrained. Perhaps as a corrective, this performance pushed demonstratively forward with great romantic ardour from the outset. In fact, the violinist opened out so many swells and bulges in the phrasing that the piece might have reached full emotional saturation before the opening movement had finished. The accent on emotional effects certainly increased the tangibility and force of the work and gave it a stronger luster, yet the obvious qualification was that it made the piece more structurally opaque and 'over the top'. The same approach was carried through the middle movements too: the violinist's massive outpouring in the middle of the Adagio had to be heard to be believed. The duo then launched into the finale with great gusto and brought down the house with their tremendous drive and fire.
Now, this is what a celebrity concert is all about: here was a great violinist and his partner at full throttle – for all to see! Perhaps one might ponder how Znaider changed his thinking on this sonata so radically in a decade, but one should not be fooled: the performance was mainly an 'art of the violin' show, possibly giving vent to the violinist's secret desire to let it all out with an audience thousands of miles from the musical capitals, free from recording companies and (hopefully) nasty music critics. It was indeed an unforgettable experience: the violinist revealed a much stronger tonal and expressive palette – and more sheer 'wildness' – than I had previously seen. It is redeeming to see a violinist known for such fastidious taste and tonal purity having a little extra fun. London audiences would likely never receive such a performance.
I thoroughly enjoyed witnessing another side of this wonderful and multifaceted artist. The Hungarian Dances began, a sentimental Heifetz miniature wafted through the air – and the lights slowly went out, leaving only the residual haze from the Brahms sonata. If only it were filmed…
Geoffrey Newman
Previously published in a slightly different for on http://www.vanclassicalmusic.com.