United States Donizetti, L'elisir d'amore: Soloists, Chorus and Orchestra of the Metropolitan Opera, New York / Domingo Hindoyan (conductor), Met Live in HD broadcast to the Cineworld Basildon, Essex, 10.2.2018. (JPr)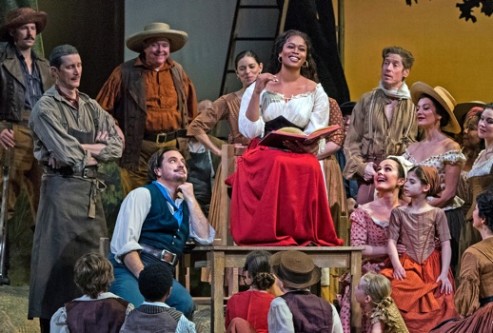 Production:
Production – Bartlett Sher
Set Designer – Michael Yeargan
Costume Designer – Catherine Zuber
Lighting Designer – Jennifer Tipton
Revival stage director – Gina Lapinski
Live in HD Director – Matthew Diamond
Live in HD Host – Susanna Phillips
Cast:
Adina – Pretty Yende
Nemorino – Matthew Polenzani
Belcore – Davide Luciano
Dulcamara – Ildebrando D'Arcangelo
Giannetta – Ashley Emerson
Donizetti's L'elisir d'amore has the thinnest of plots and basically – as Matthew Polenzani (Nemorino) described it in his interview – it is a rom-com.  It has loads of charm with smiles throughout, and at its centre is the 'love triangle' of the flighty Adina, her love-sick admirer, Nemorino, and a womanising soldier, Belcore. After Nemorino hears Adina read about the apparent effects of Isolde's love potion on Tristan he wants some to help him woo her. It is a timeless operatic tale about gullible people who can be made to be believe anything by a 'snake oil salesman' like Dulcamara, as well as, that wealth is attractive in its own right. The sun only goes behind the clouds when Nemorino is so strapped for the cash to buy another bottle of the supposed elixir, that he enlists in the army and is prepared to die in battle. In Bartlett Sher's deeply traditional 2012 production we also see Nemorino getting roughed up by the soldiers at the end of Act I and this heralds a different mood to the otherwise all-pervading jollity.
It remains a little strange how Adina eventually warms to him, having seemed rather fickle with her affections for most of the opera. It usually seems to work and does again here, especially since Sher gives Adina genuine feelings throughout for Nemorino, even though she appears rather wilful whilst toying with his genuine fondness for her. These are just two young(ish) people who already have a mutual attraction, but – in the way of a typical rom-com – are incapable of declaring their love for each other; though a happy ending is a given.
Michael Yeargan's sets were influenced by Oliver Messel (one of the foremost stage designers of the twentieth century) and Catherine Zuber's costumes are typical of the 1830s when Donizetti composed the opera. (To be honest the staging now looks as if it is much older than its six years.) Nemorino – here a more Byronic figure than the usual simpleton – seems to be writing himself into his own romance at the start. He is jotting things into a notebook and this is hinted at during Act I as Adina takes it to remove something that probably reveals the depth of his feelings for her. With this subtly different version of the story, if Nemorino had made a grand romantic gesture sooner rather than later, the story could have been all over before it had really begun. Nevertheless, through this Adina gets the motivation for her subsequent behaviour which is not always apparent in other productions.
We are in a picturesque – rather two-dimensional – European village; Catherine Zuber provides flouncy pastel-shaded gowns and blue uniforms and Jennifer Tipton's lighting is often suitably sunny. There was one ridiculously extended scene change that virtually stopped the show almost before it had started. We did not really need to see the vast numbers of those labouring away backstage at this point in the act as it diminishes the 'magic' of live theatre. Whether here -or when seen during the cinema interval – the joke 'How many does it take to change a light bulb?' comes to mind.
As always it is difficult to review the opera in detail from the musical point of view because the sound as broadcast might not be what those in the theatre were experiencing. Nevertheless, it seemed a fairly refined and spirited account of the bucolic score from Domingo Hindoyan and his fine Met orchestra. Hindoyan was a careful accompanist to what was happening on stage and slowed down when the principals were singing and sped up again during the ensembles. Matthew Diamond's camerawork followed Pretty Yende whenever she was on stage, whether she was smiling, gambolling and sashaying like Carmen in her fancy riding habit (en amazone) with a top hat for emphasis, or just nibbling some tasty looking chicken at the Act II pre-wedding feast. Yende was even more at ease in the role than when I saw her at Covent Garden (review click here). There was an infectious glee in her acting, and her bright, creamy timbre was employed in a performance of quick-witted verve and bounce, supple coloratura and sunlight. It was a delight to hear – when she was speaking to Susanna Phillips – how Yende's very first experience of opera was the Lakmé duet in the famous British Airways advert and this inspired her career in opera.
I hope Matthew Polenzani will forgive me mentioning the age gap between himself and the much younger Yende. However, on stage – through that 'magic of theatre' – they were a perfectly matched pair, and this was quickly forgotten. Nemorino wanders into a cornfield for his much-anticipated Act II aria 'Una furtiva lagrima' and it was a flawlessly idiomatic interpretation that included sublime diminuendos and a melting mezza-voce. Rarely do a tenor and soprano have such chemistry on stage and radiate a genuine joy in performing together as Polenzani and Yende did.
Ashley Emerson attracted attention – in the little Donizetti's gives her to do – as a perky Giannetta and she was entertainingly supported by the women of the Met Opera chorus in their big Act II scene when they discover Nemorino has inherited a lot of money. Davide Luciano was a fine Belcore and was full of brash braggadocio. I would have much preferred him to have been singing Dulcamara because he had all the excellent comic timing and charisma the rather dour Ildebrando D'Arcangelo lacked in this role. On stepping down from his gypsy caravan his ''Udite, udite, o rustici' did little to erase the memory of the great Dulcamaras of the past. He seemed inordinately concerned with trying to keep his hat on his head, though I did like the way he relished the freshly-made tagliatelle he gets to eat in Act II. (Literally, music is the food of love and for famed chef's Lidia Bastianich's 'Pasta d'Amore' recipe click here!)
L'elisir d'amore's shorter second act is the better of the two and did seem more coherent than usual; this is to Bartlett Sher's credit and only the hardest of hearts could have been unmoved when Adina finally confesses she has loved the ecstatic Nemorino all along. She gives him a lingering kiss before the couple sink to the floor to consummate their relationship al fresco in that cornfield which unfortunately looked as if a tornado had passed through it. Fortunately, for any younger viewers in the cinema audience they are interrupted by the entry of Belcore and Dulcamara to herald the happy ending to the opera we all knew was coming.
Jim Pritchard