Switzerland Shostakovich, Mahler: Gilad Karni (viola), Tonhalle Orchestra Zurich / Robert Trevino (conductor), Tonhalle Maag, Zurich, 8.2.2018. (JR)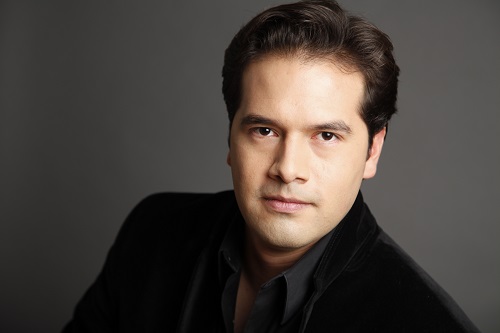 Shostakovich –Sonata Op.147 for viola, strings and celeste (arr. Vladimir Mendelssohn)
Mahler – Symphony No.5
It's the chance many a young conductor hopes for, a recognised conductor falls ill at virtually the last moment and they are invited to step in to conduct a top flight orchestra. So Donald Runnicles being indisposed (the events section on his own website is entirely empty, worryingly), and in stepped one Robert Trevino, not a name I must admit I knew. He turns out to be American and Principal Conductor of the Basque National Orchestra (based in San Sebastian and Bilbao).
Former Tonhalle Chief Conductor David Zinman appears to have first spotted 'Aspen Conducting Fellow' Trevino; he then became Ozawa's 'conducting fellow' in Tanglewood and has also worked with Michael Tilson Thomas. Trevino burst onto the international stage at the Bolshoi a few years ago when he led a new production of Verdi's Don Carlo, substituting for Vasily Sinaisky. Trevino's biography shows a distinct penchant for Mahler. He conducted the Munich Philharmonic in Mahler's Fifth a few years ago and will conduct the London Philharmonic in the same work in April and May (London and Norwich). You can also hear him with the Bournemouth Symphony Orchestra in Poole and Bristol in April, with Mahler's Sixth in Milan in May, and Mahler's Seventh in Malmö and with the Tonkünstler Orchester of St. Pölten (Austria). Still in his mid-thirties, he is clearly a name to watch, as he moves from the musical fringes to the mainstream.
But before the Mahler symphony, the Tonhalle Orchestra's principal viola Israeli Gilad Karni brought us a work of not inconsiderable interest and appeal, Shostakovich's sonata for viola and string orchestra, a work written just months before Shostakovich's death in 1975. It proved to be his 'opus ultimum', he never heard it performed. The performed version was an arrangement by one Vladimir Mendelssohn, a Romanian viola player and composer (no relation to Felix, as far as I can determine). The work is not as austere and bleak as I had expected, despite generally slow tempi.  Karni was simply outstanding; the Tonhalle Orchestra Zurich is extremely fortunate to have a Principal viola of this calibre. His instrument helps him: not an antique, but a 1982 Hiroshi Iizuka viola with splendid warm tone. The wooden box concert hall provided perfect acoustics for the piece. The piece has been recorded an amazing 22 times, probably due to the limited repertoire for solo viola. Any Shostakovich lover who does not know the piece would do well in acquiring a recording. The work quotes, with tiny ingeniously inserted snippets, all fifteen of the composer's symphonies, but they are very hard to detect. Easier to spot are references to Beethoven, particularly his 'Moonlight Sonata'. The celeste adds some exotic appeal to the work. The work has some agitation in the central Allegretto, but ultimately comes to rest in an air of resignation, reflection and sorrow for the past.
Mahler's Fifth symphony is difficult to perform live by almost all orchestras without brass fluffs, and so it was at the Tonhalle with the Fifth symphony at their first performance, the evening before I attended. Their second performance was better, one could say perfect, glitch-free. This was no ordinary run-through from a conductor who had stepped in at the last minute (programmes had already been printed with Runnicles conducting). Trevino shaped phrases carefully, brought out passages which other conductors do not reach, this was a clear and intelligent interpretation. His conducting style may be Old School, but no worse for that. The orchestra, who all played magnificently, were clearly impressed.
The brass were on top form, simply glorious. Ivo Gass and Mischa Greull (horn principals), Philippe Litzler (trumpet) and Seth Quistad (trombone) deserve special mention. For this monumental work, the strings could benefit from more body and more sheen, but make no mistake, this was a fine team performance. The audience yelped with delight at the end and we hope Trevino will be back some day, not as a replacement this time, perhaps with Mahler's Sixth.
The concert hall's electronic wizardry, attempting to create reverberation, was a distraction with its high-pitched whine. Older members of the audience are clearly unperturbed by it, but I am relieved I still can. However, I wish it would disappear.
John Rhodes