United Kingdom Various Composers, Russian Ballet Icons Gala 2018: Dancers and English National Ballet Philharmonic / Valery Ovsyanikov (conductor). London Coliseum, 26.2.2018. (JPr)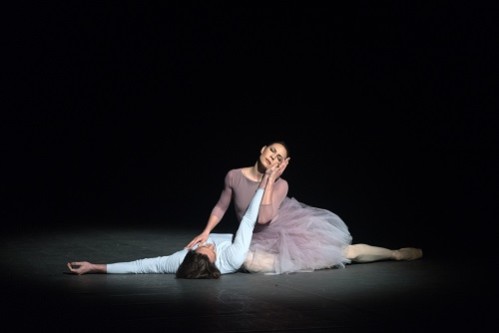 Duets and solos from Coppélia, Giselle, Don Quixote, Swan Lake, La Sylphide and Le Corsaire; more recent choreographies, La Rose Malade, Cello Duet, The Legend of Love, The Swan; and new works, A Flashback (world premiere), Warrior of Light (world premiere), and Nureyev (UK premiere).
Dancers: Maria Alexandrova (Bolshoi Theatre), Roman Belyakov (Mariinsky Theatre), Sergio Bernal (Ballet Nacional de España), Federico Bonelli (The Royal Ballet), Claudia D'Antonio (Teatro di San Carlo), Francesca Hayward (The Royal Ballet), Maria Sascha Khan, Nadia Khan (Teatro dell'Opera di Roma), Kimin Kim (Mariinsky Theatre), Ekaterina Kondaurova (Mariinsky Theatre), Ekaterina Krysanova (Bolshoi Theatre), Vladislav Lantratov (Bolshoi Theatre), Nicholas MacKay, Mayara Magri (The Royal Ballet), Fernando Montaño (The Royal Ballet), Alexei Orlenco (Staatsballett Berlin), Artem Ovcharenko (Bolshoi Theatre), Xander Parish (Mariinsky Theatre), Giuseppe Picone (Teatro di San Carlo), Vladimir Shklyarov (Mariinsky Theatre), Polina Semionova (Staatsballett Berlin), Viktoria Tereshkina (Mariinsky Theatre), Anna Tikhomirova (Bolshoi Theatre) and Stanislaw Wegrzyn (The Royal Ballet).
Every year since 2006 Ensemble Productions have presented their Russian Ballet Icons Gala and getting all these talented dancers from the world's leading ballet companies out on a chilly Sunday February evening remains an amazing achievement. Olga Balakleets, Ensemble's founder and artistic director, deserves the highest possible praise for all she has achieved and for a very slickly presented evening of ballet. For each of the 'party pieces' or less familiar works the stage was mostly bare; there were exquisite costumes, very few props, and only some scene setting back projection and mood changing lighting from Rafael Porzycki (creative director) and Nina Kobiashvili (set designer).
My one major criticism is that the names of the dancers should have been shown before they danced. I was left wondering whether my eyes were deceiving me when I had Natalia Osipova – who I was looking forward to seeing – in my programme and it was clearly Viktoria Tereshkina in The Legend of Love, and surely that was The Royal Ballet's Fernando Montaño as the Warrior of Light and not Julian MacKay?
Clement Crisp in his informative essay in the programme about Marius Petipa included the wonderful sentiment about how 'Ballet is, sadly, an impermanent art, written on air, dependent upon fallible bodies and fallible memory'. Filling some of the other pages were illustrations and reminiscences of dancers of previous generations including –  along with many others – Maya Plisetskaya and Rudolf Nureyev. I never saw the former dance, yet I saw Nureyev several times and – hopefully it is not 'fallible memory' – to write it was only Vladislav Lantratov in the Don Quixote grand pas de deux and – most appropriately – in the Adagio from Yuri Possokhov's very controversial 2017 Nureyev who had anything of the stage presence of his great late compatriot. While there were many fine performances from the women it was Maria Alexandrova – partnering Lantratov in those same two excerpts – who shone and celebrated the legacy of all the celebrated ballerinas who had come before her, including Plisetskaya.
There was some recorded music heard but more often than not it was played live by the English National Ballet Philharmonic under the baton of the Mariinsky's Valery Ovsyanikov. This is always a very fine ensemble, though considering it was such an eclectic assortment of scores, I doubt I have ever heard them play better than this. Ovsyanikov sped through all the bravura leaping and spinning music but accompanied with greater care more refined passages or any demanding steps and balances.
Young dancers from The Royal Ballet rose to the challenge of going first and Mayara Magri and Stanislaw Wegrzyn seemed initially a little apprehensive but ultimately gave an utterly charming interpretation of the wedding pas de deux from Coppélia. It will be interesting to see what the future hold for both of these young talents. A new work A Flashback came next from Ilya Zhivoy described as 'a young award-winning dancer and choreographer from the Mariinsky Theatre' whose concept for the work 'is the perception of unique thought processes which can transport us into the depths of our collective conscience, where most intimate memories remain hidden. A retrospective sequence will consist of emotional fragments and outbursts which occur in the mind of the main character. Harmony, passion, indifference, anger, reconciliation'. It began with Ekaterina Kondaurova with her back to the audience – and with gloriously fluid arms (a feature of most Russian-schooled dancers) – seemingly plucking random thoughts from the air – or were they musical notes? – she is soon joined by Roman Belyakov to go through a gamut of emotions mirroring Arvo Pärt's schizophrenic score. Giselle's Act II pas de deux featured The Royal Ballet's Francesca Hayward and Federico Bonelli, though redolent of the deep love their characters and both fine dancers, the big London Coliseum stage seemed to swallow their performances up. La Rose Malade was new to me and danced to the very recognisable Adagietto from Mahler's Fifth Symphony. Roland Petit's inspiration was William Blake's poem The Sick Rose and this is the antithesis of Spectre de la Rose yet there was a palpable connectedness and passionate rapport between Claudia D'Antonio and Giuseppe Picone before a very affecting denouement. Nacho Duato's Cello Duet came and went as Alexei Orlenco in wig and frock coat 'played' the acrobatic Polina Semionova like a 'cello'. I would have liked to have seen her in something a little more substantial. Concluding the first half Alexandrova and Lantratov flirtatiously strove to outdo one another or show each other off as they fizzed through the Don Quixote pas de deux. He brought élan to his steps and her fouettés were a masterclass.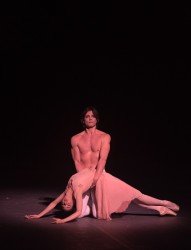 The second half began with Theatrum Vitae Cultural Platform's Warrior of Light and although this was another world premiere it looked quaintly old-fashioned. Hewn from a full-length ballet about the life and works of Russian painter and philosopher Nicholas Roerich – in the excerpt we saw – three of his paintings 'come to life'. There was more than a hint of orientalist ballets such as La Bayadère, through Nadia Khan's Indian Maiden, Maria Sacha Khan's Veiled Beauty and especially, Fernando Montaño's athleticism as the Warrior of Light. Next was the Black Swan pas de deux and the evilly seductive excellence of Viktoria Tereshkina was somewhat diminished by the underpowered performance and tentative partnering of Xander Parish. Alone on stage Sergei Bernal's embodiment as 'The Swan' of masculine loneliness 'at the time of his death' in Ricardo Cue's 2000 choreography was trenchant and deeply moving. From perhaps the oldest ballet still in the repertory, La Sylphide, we were brought the Act II pas de deux with Anna Tikhomirova perfectly capturing the romantic spirit of the Sylph and the fleet-footed Artem Ovcharenko perfectly embracing the Bournonville style to excel as James. A duet from Yuri Grigorovich's 1961 The Legend of Love proved to be some more exotic hokum presumably not helped by being wrenched free from the three-act original and danced to recorded music from Arif Malikov. Nevertheless. Vladimir Shklyarov skulked about and Tereshkina was suitably sultry. Suffering postponements and rescheduling Yuri Possokhov's Nureyev has struggled to get onto the Bolshoi stage and so far has only managed two performances. Like a homage to Ashton's Marguerite and Armand – which also uses some musical romanticism by Liszt – Lantratov and Alexandrova showed some of the intensity and ambiguity of the Nureyev/Fonteyn partnership and made me eager to see the work in its entirety. Despite the whoops and hollers of some well-dressed audience members another very familiar showpiece – the Le Corsaire pas de deux – was not the exultant conclusion the gala needed. Kimin Kim seemed overeager to please, though – to his credit – he recovered admirably after stumbling when landing a jump. Compared to him Ekaterina Krysanova sparkled due to her unstrained classicism.
Jim Pritchard