United Kingdom Mark-Anthony Turnage, Greek: Scottish Opera / Finnegan Downie Dear (conductor), Theatre Royal, Glasgow, 3.2.2018. (SRT)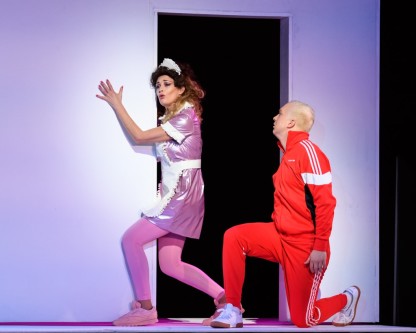 Cast:
Eddy – Alex Otterburn
Wife – Allison Cook
Mum – Susan Bullock
Dad – Henry Waddington
Production:
Original director – Joe Hill-Gibbons
Revival director – Daisy Evans
Set designer – Johannes Schuuuutz
Lighting designer – Matthew Richardson
Until tonight I knew Turnage's Greek only by reputation, but that's still quite a reputation for a contemporary opera. Turnage and Berkoff's modern re-telling of the Oedipus myth is now thirty years old (!) and if it still packs a mighty punch in 2018 then I can only imagine how it must have sounded when it first burst onto the stage three decades ago.
The first thing that strikes you about Turnage's score is its rawness. There is a raucous, in-your-face quality to the music that hits you between the eyeballs and still sounds completely new. Yes, it's challenging sometimes, but more than anything else Ifound it refreshing and exciting. It's the music of a young man who is bursting through the boundaries of the genre – before Greek Turnage says he very much shared Boulez's philosophy of burning down all the opera houses – and the excitement of something taking mould-breaking form before your ears is pretty hard to resist.
After the initial thrill subsides, though, the thing most hit me was the sheer variety of what was on offer in the score. There's everything from the raw jungle rhythms of the police scene, through to some Lambeth-Walk-style parody in the duet for Mum and Dad, and even a description of death by drowning that recalls Peter Grimes. Some of the score is profoundly lyrical, such as Eddie's farewell to his parents towards the start of the opera, and I loved the love duet with his wife/mother which so beautifully evokes the physicality of their passion. To my virgin ears, it sounded as though conductor Finnegan Downie Dear was taking a fairly tentative journey through the score, but he understood it well and it came to life vigorously, helped by some exceptionally virtuosic playing from the twenty instrumentalists from the Scottish Opera Orchestra.
This production, a joint adventure between Scottish Opera and the worthy new charity Opera Ventures, first appeared, making quite a splash, at the 2017 Edinburgh International Festival, so I arrived expecting something good, and I wasn't disappointed. The minimalist set consisted of a revolving wall and an empty stage, occasionally enlivened by some video projections that were being created live in the pit. The references to Thatcher date the piece a little, but the newspaper headlines on the screen made reference to things like Love Island and Brexit, thus reinforcing the piece's contemporary overtones. They're also pointed up by the Arsenal fans, the tongue-in-cheek references to north London wine bars, and Eddy's reference to 'the British plague' in describing what was/is wrong with the country he lives in.
The quartet of singers were sensational too. Alex Otterburn bestrides the stage as Eddy. He embodies the character's myriad contradictions with vigour and restless energy, but also a humanity that endears him to us. Not only does he throw himself into the smut and the swearing, but he retains a distinctive lyricism and beauty to his voice that evokes sympathy for his plight, and he thoroughly deserved his roof-raising ovation at the end. As his wife, Allison Cook sings with beguiling beauty, and Susan Bullock tones down the shrillness in her voice to evoke a whimsical mother who rather suits her flowery apron! I loved the punky sphinxes that the two ladies depict, and there is a wonderfully warm humour to Henry Waddington's portrayal of what passes for the opera's authority figures.
At the opera's denouement Eddy wonders whether he really has to observe all the conventions of Greek tragedy, or whether he can play by his own rules. 'Why should I? Does it really matter?' He finally concludes, 'Bollocks to all that!' and I'm sure I wasn't the only one in the audience who felt like punching the air and agreeing with him.
Simon Thompson
For more about Scottish Opera click here.