United Kingdom Des Prez, Parsons, Rameau, Purcell, Debussy, Parry, Ravel, Vaughan Williams: Septura Brass Ensemble (How Morgan, Alan Thomas, and Simon Cox [trumpets]; Matthew Knight and Daniel West [trombones]; Peter Smith [tuba]) Dora Stoutzker Hall, Royal Welsh College of Music and Drama, Cardiff, 16.2.2018. (GPu)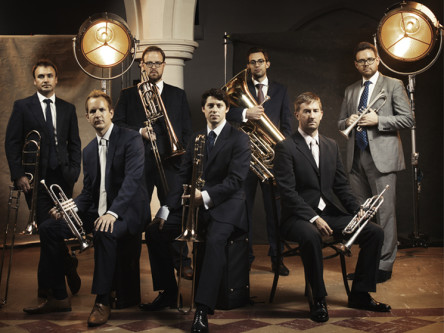 Josquin Des Prez – Ave Maria (arr. Simon Cox)
Robert Parsons – Ave Maria (arr. Matthew Knight)
Jean-Philippe Rameau – Suite from Dardanus (arr. Cox)
Henry Purcell – The Curious Impertinent (arr. Cox)
Claude Debussy – from Préludes (arr. Cox): 'La fille aux cheveux de lin' and 'Minstrels'
Charles Hubert Parry – from Songs of Farewell (arr Knight): 'There is an old belief'
Maurice Ravel – Trois Chansons (arr. Cox): 'Nicolette', 'Trois beaux oiseaux de paradis' and 'Ronde'
Ralph Vaughan Williams – 'The Turtle Dove' (arr. Knight)
Septura is a septet that brings together some of Britain's leading brass players, most (all?) of its members being orchestral principals and/or widely-heard soloists. The combination of three trumpets and three trombones, underpinned by the tuba, is not one for which very much music exists. The ensemble's current solution to this problem (one hopes that before too long they will be able to commission plenty of new works from contemporary composers) is what they themselves playfully define as theft. The ensemble's website (https://septura.org/) disarmingly proclaims 'We are Septura, and we are musical kleptomaniacs'. They explain that 'the brass septet is a brand-new invention, and therein lies our compulsion to steal. We have no canon of repertoire, no grand history of great composers.  And so we are inventing one. Like musical Robin Hoods we thieve from the richest ensembles to create a counterfactual history – a parallel universe in which, in the world of chamber music, the brass septet rules'.
The justification for such systematic 'thievery' lies primarily in the results, rather than in moral or theoretical discussion; and, on the evidence of this concert (which was the first time I had heard Septura live) and on their recordings for Naxos (5 of 10 projected CDs have already been issued) the best possible justification, musically speaking, can be offered – the arrangements made in the act of 'theft' are consistently accomplished and adroit, both respectful of their sources and (unsurprisingly) made with a real understanding of and sensitivity towards the combination of instruments on which they are to be played; in Septura's outstanding performances much of the resulting music is both dazzling and richly pleasure-giving.
Some of Septura's concert programmes are devoted entirely to music derived from a single kind of source, under self-explanatory titles such as 'Stolen Strings', 'Pilfered Piano', 'Borrowed Baroque' and 'Song Swag'. This particular concert, however, was themed rather differently, constructed as a kind of dialogue between the musical traditions of France and England, beginning with arrangements of choral works by Des Prez and Parsons, followed by theatre music by Rameau and Purcell; the third 'pair' juxtaposed piano pieces by Debussy and one of the items from Parry's choral sequence Songs of Farewell, the programme closing with versions of Ravel's Trois Chansons and Vaughan Williams' 'The Turtle Dove' for baritone and chorus. No major point about the relationship(s) between French and British music seemed to be intended (and I am determined not to use the concert as the occasion for any kind of crack about Brexit!). In any case, no sensible comment on the music of the two countries could be based on the evidence of such a small selection of works – so I shall resist that too, preferring just to enjoy the works on offer and to revel in the skills and insight of Septura.
For me, highlights included the dignified (but not over-solemn) reverence of Septura's versions of the two Ave Maria(s) by Des Prez and Parsons, the complex polyphony of the setting by Parsons, in particular, creating a rapt sense of praise, the shifts in texture and balance in Matthew Knight's arrangement being especially sensitive; the 'Ouverture' to Rameau's 'Suite from Dardanus' had a wonderful vivacity, full of colour and energy, the product both of Simon Cox's fine arrangement and the skill and perfect sense of ensemble which characterized the work of all seven instrumentalists.
In setting out to pick highlights, I find myself wanting to say something about every item on the programme – which is, in itself, eloquent testimony to how much I enjoyed the whole concert. But I cannot leave unmentioned the closing 'pair' of pieces, by Ravel and Vaughan Williams, all influenced, in differing ways, by folk traditions. In Ravel's 'Nicolette' the group's arrangers-in- chief, Cox and Knight, had their chance as soloists and took it admirably, playing with both precision and sensitivity. Elsewhere Huw Morgan's solo contributions were unsentimentally exquisite. Throughout these final stages of their programme, listening to Septura felt like listening to a kind of sublimation (in the alchemical sense of the word) of the whole brass-band tradition which I grew up listening to in South Yorkshire. I would be hard pressed to identify any area of weakness or inadequacy in this concert, unless perhaps my feeling that Debussy's 'La fille aux cheveux de lin' is so perfectly suited to the sonorities of the piano that there is inevitably some sense of loss when one hears it played by brass instruments, even in an arrangement as skilled as that by Simon Cox.
I must order more of Septura's Naxos CDs!
Glyn Pursglove