United States Mozart, Schubert: Ying Fang (soprano), Ken Noda (piano), Weill Recital Hall at Carnegie Hall, New York, 23.2.2018. (RP)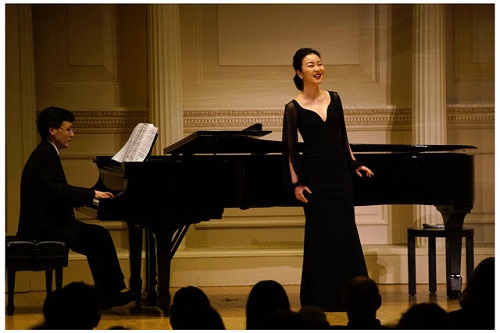 Mozart – 'Das Veilchen' K.476, 'Als Luise die Briefe' K.520, 'Abendempfindung' K.523, 'Ruhe sanft, mein holdes Leben' from Zaide K.344, 'Se il padre perdei' from Idomeneo K.366, 'Un moto di gioia' K.579, 'Deh vieni, non tardar' from Le nozze di Figaro K.492, 'Misera, dove son!' K.369
Schubert – 'Ganymed' D.544, 'Im Frühling' D.882, Die schöne Müllerin D.795 No.18 – 'Trockne Blumen', 'Viola' D.786, 'Im Abendrot' D.799, 'Nacht und Träume' D.827
Clear, limpid tone and refined musicianship were the hallmarks of Ying Fang's recital of Mozart and Schubert at Weill Recital Hall. A native of Ningbo, China, the soprano attended The Juilliard School and was a member of the Metropolitan Opera's Lindemann Young Artist Development Program. She has made her mark in Mozart at the Met and at Opera Philadelphia and the Zürich Opera, as well as in other roles suited for her pristine lyric soprano.
The lovely images of flowers in the first half of the recital, particularly the violet, were among the first harbingers of spring in Manhattan. Mozart's mini-dramas, 'Das Veilchen' and 'Als Luise die Briefe', were voiced to perfection, and Fang floated exquisite high notes in 'Ruhe sanft, mein holdes Leben' from his unfinished opera, Zaide.
Turning to Schubert, Fang captured Ganymed's ascent to the heavens with breathless excitement, and without undue sentimentality limned the lengthy ballad 'Viola'. Fifteen-minutes in length, the song prompted a particularly pithy, withering description of it: 'It is one thing to be presented with an exquisite flower; it is another to be inveigled into a tour of a horticultural show'. It is a garden of musical delights, however, especially the piano accompaniment.
Yet there was something lacking; Fang sang the songs rather than inhabited them. She kept the audience at a distance, never inviting them into her own sphere of make-believe. The emotions that darted across her face and the poses she struck were mechanical. But after the intermission, she was a different singer.
Perhaps having performed Ilia in Idomeneo and Susanna in Le nozze di Figaro on stage made the difference, and clearly she relishes singing in Italian. There was more to it than that, however, as there was a spontaneity and freedom of expression that had previously been missing. She was having fun, and it showed in her face, body and voice.
'Deh vieni, non tardar' displayed a singer at ease with Mozart's deepest expressions of love. Returning to Schubert, Fang spun out seamless legato phrases of absolute purity and beauty in 'Nacht und Träume'. There was a true depth to her singing.
Her final offering was Mozart's concert aria 'Misera, dove son', which she sang with urgency and passion. I overheard a woman say, 'She knocked that one out of the park!', and I have to agree. 'In trutina' from Orff's Carmina Burana and Rachmaninoff's 'A Dream' were her two encores, both sung with full, rich tone and emotional fervor. Fang's face glowed as she sang.
Ken Noda's playing was the epitome of classical grace and elegance in the Mozart songs. The final bars of Schubert's 'Ganymed', when the youth floats through the clouds, were pure bliss, while in 'Viola' the 'Schneeglöcklein' rang out in bronze-like tones. I had never before heard a piano sound so like bells. When called upon to do so, he conjured up all the depth of an orchestra. Noda is a pianist of the first rank and an especially sensitive accompanist.
The first great voice that I ever heard in recital was that of Leontyne Price in Pittsburgh. Robed in silver, she strode onto the stage and opened with 'Sommi Dei' from Handel's Radamisto. I have never forgotten the sound of her voice resonating through Heinz Hall as she sang the four notes that begin the aria. After a couple more Handel pieces, she moved on to quieter fare, but she had conquered from the start.
I venture to suggest that Ying Fang could be more that type of recitalist. Her program was perfect on paper, but that wasn't enough. She might take a page from Price's playbook and open her recitals with a gang-buster aria. Then she can charm and beguile. Rules, as they say, are meant to be broken, especially by sopranos.
Rick Perdian