United States Heggie, Bernstein: Soloists, Orchestra of Opera Parallèle / Nicole Paiement (conductor), SFJAZZ Center, San Francisco. 15.2.2018. (HS)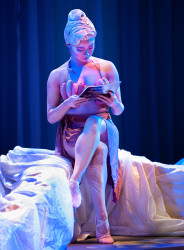 Heggie – At the Statue of Venus
Bernstein – Trouble in Tahiti
Cast:
Rose, Dinah — Abigail Levis
Sam — Eugene Brancoveaunu
Dancer — Steffi Cheong
Trio — Krista Wigle, Andres Ramirez, Bradley Kynard
Production:
Director — Brian Staufenbiel
Choreographer — Amy Seiwert
Projections — David Murakami
Scenic Design — Dave Dunning
Lighting — Matthew Antaky
Costumes — Christine Crook
Creative from start to finish, Opera Parallèle has combined Leonard Bernstein's one-act opera, Trouble in Tahiti, with contemporary composer Jake Heggie's song cycle, At the Statue of Venus, for an enchanting mashup. In the second of six performances at SFJAZZ Center in San Francisco, excellent voices, realistic portrayals, a whimsical and utterly charming human statue of Venus, and playful projections converged to emphasize the lighter side of Bernstein's seven scenes.
Rather than simply re-mounting a highly successful 2013 production of Trouble, the company created an Act I that uses a 'scene' by Heggie (whose operatic hits include Dead Man Walking and Moby Dick) for a mezzo-soprano awaiting a blind date in a museum. Originally written for voice and piano and premiered by Colorado Opera in 2005, the 24-minute Venus benefits from the extra colors of an excellent orchestration and the sassy presence of a dancer (the curvaceous and expressive Steffie Cheong), all pink marbleized skin and shell bra, attentive to the singer's words and actions. She even helps point out the arrivals of men who aren't the blind date. Oblivious to the 'live' statue, Rose frets about her clothing, the people around her, and worries about the pending arrival.
To set that up, pianist Keisuke Nakagoshi and drummer Nick Woodbury created a sense of anticipation with the prelude to Act I of Bernstein's West Side Story, and baritone Eugene Brancoveanu sang 'Something's Coming' from the balcony behind the thrust stage. That segued into a surprise respite, Charles Ives' The Unanswered Question, a moment of quieter unrest before Rose (in a bravura turn by mezzo-soprano Abigail Levis) arrived to worry about wearing slacks, swoon over the blind date's voice on the telephone, and tell her own back story, all cleverly delineated by Terrence McNally's libretto.
Act II is Bernstein's opera. The same singers (she's now named Dinah), now married, passive-aggressively bludgeoned each other from the angst of living in suburbia. Quadrants of a revolving stage delineated Dinah's kitchen, Sam's office, a psychiatrist's office, and the gym where Sam gloated over a handball trophy, instead of attending his son's play.
Throughout, a jazzy trio — Krista Wigle (soprano), Andres Ramirez (tenor) and Bradley Kynard (baritone) — functioned like a hepped-up Greek chorus to comment on the proceedings.
All seven scenes played out smoothly in front of projections, designed by David Murakami. As Monopoly houses dropped down and filled out a sketched empty suburban housing development, 1950s magazine advertisements turned into animated pumping barbells and cigarettes, wafting smoke.
The best, however, was the scene that gives the Bernstein opera its name. In 'What A Movie!' Dinah dishes on a what's she's seen alone, a South Seas epic called 'Trouble in Tahiti.' The projections superimposed Levis and Brancoveanu (appropriately costumed) over the scenes in the black-and-white stock footage (also the full cast and production names in the film credits) while Levis dissed everything about the movie, including the trite score.
Levis' creamy voice found point and vivid expression with the words while tirelessly spinning out Heggies' and Bernstein's melodies. Brancoveanu, admittedly enacting a character with personality, sang with polish.
Pulling this all together was the 22-piece orchestra, conducted with flair and appreciable precision by the company's music director, Nicole Paiement. She and the musicians caught Bernstein's jazzy side and the embedded wit in both the music and the libretto. Director Brian Staufenbiel (Paiement's husband) drew assurance and presence from the cast and seamlessly tied everything together.
Harvey Steiman