Spain Colomer, El Pintor: Orchestra of the Teatro Real, Chorus of the Comunidad de Madrid / Manuel Coves (conductor), Teatros del Canal, Madrid, 8.2.2018. (JMI)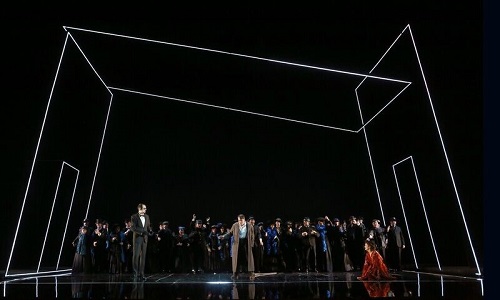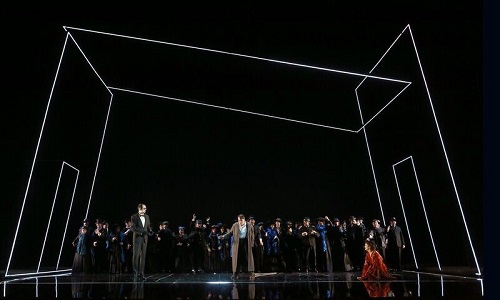 Cast:
El Pintor – Alejandro del Cerro
Mefistófeles – Josep Miquel Ramón
Fernande – Belén Roig
Apollinaire/Velázquez – Toni Comas
Gertrude Stein – Cristina Faus
Chief of the tribe – Iván García
New Production
Director – Albert Boadella
Sets – Ricardo Sánchez Cuerda
Costumes – Mercè Paloma
Lighting – Bernat Jansà
Choreography – Blanca Li
The Teatros del Canal together with Teatro Real are presenting this premiere of an opera by Juan J. Colomer. It's his first work in this field, although he has considerable experience in the cinema and in arrangement. Musically, the opera is respectable, if a bit monotonous: the composer does not appear to write especially well for the voices that are required, at least not for those who were on stage at this performance.
The more interesting part of this opera is definitely the libretto, whose author is Albert Boadella, the director of Teatros del Canal until a few years ago. El Pintor (the painter) is none other than Pablo Picasso, and the opera narrates the story of his career since his arrival in Paris in the early twentieth century. He has had difficulty achieving success and makes a pact with Mephistopheles, as if he were Faust, in order to be able to attain money and glory. In the last act (which is the least convincing one of the opera), we witness a meeting between Velázquez and Picasso, and the opera finishes with the latter waking up from what seems to have been a dream.
The stage production is by Albert Boadella and, for my taste, it is absolutely the most effective part of the performance. There is a single, almost empty stage with a few props and the presence of a screen, where Picasso's works are projected, as if they had just been made at that moment. The costumes are appropriate and the lighting is very good. Albert Boadella narrates the plot well, and he makes an excellent use of both choreography and the projections of the artworks. The movements of the actors and crowds are nicely handled, and the production succeeds in its simplicity.
The musical direction was entrusted to Manuel Coves, who has once again offered a very fluid reading, although you cannot judge too much without having earlier performances to which this one can be compared. He drew a fine sound from the orchestra, which was complemented by the strong performance of the chorus.
Unfortunately, the vocal cast was rather underwhelming. Picasso/El Pintor was played by tenor Alejandro del Cerro, whose voice can be tight at the top, although he did well from an acting point of view. Mefistófeles was sung by Josep Miquel Ramón, but his voice is too light for this Machiavellian character; he also had problems with the high notes. Soprano Belén Roig was Fernande, the model who is in love with the painter, and she made a better impression as a stage performer. Toni Comas doubled as Apollinaire and Velázquez and was adequate in the roles, while mezzo-soprano Cristina Faus did fine as Gertrude Stein. Finally, Ivan Garcia was correct in the episodic character of the chief of the tribe.
José M. Irurzun