Germany Verdi, Les Vêpres siciliennes: Bayerische Staatsoper Chorus and Orchestra / Omer Meir Wellber (conductor), Nationaltheater, Munich, 22.3. 2018. (JMI)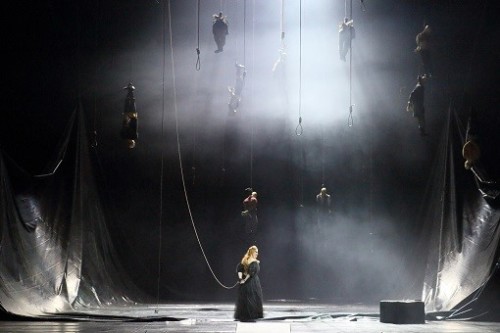 Cast:
Henri – Leonardo Caimi
Hélène – Rachel Willis-Sørensen
Procida – Erwin Schrott
Montfort – George Petean
Ninetta – Helena Zubanovich
Danieli – Matthew Grills
Robert – Callum Thorpe
Thibaut – Long Long
Mainfroid – Galeano Salas
Béthune – Alexander Milev
Vaudemont – Johannes Kammler
Production:
Director – Antú Romero Nunes
Sets – Matthias Koch
Costumes – Victoria Behr
Lighting – Michael Bauer
This is one of several new productions that the Bayerische Staatsoper has programmed for this opera season. Unfortunately, the staging leaves much to be desired, while the musical direction is uneven, and the vocal distribution offers little interest (and was burdened by last-minute cancellations).
Director Antú Romero Nunes had already presented Guillaume Tell here, and I had been unimpressed by it as well. The sets for Les Vêpres siciliennes are almost nonexistent – just some draped fabric and a few props on a bare stage, where only the lighting helps lend it a minimum of credibility. In Act III a sort of triptych or altar is added, which sports figures of submerged virgins that are particularly absurd. The soloists and members of the chorus have painted faces; the Sicilians wear skull masks.
The actors received practically no direction, and the four main soloists appear to have been abandoned on stage. The ballet is rather grotesque, not because of the dancers but for the disco-type sounds that accompany Verdi's music and make everything unrecognizable.
There were moments where Omer Meir Wellber's conducting offered strength and consistency and others where the tension obviously fell. I understand that it is not easy to conduct an opera when, as here, one has to look at the bizarre happenings on stage. He drew a fine performance from the orchestra, although there were a few instances of excess volume.
Henri was to have been played by tenor Bryan Hymel, but at the premiere he had to leave in the last act because of illness. His substitute was Leonardo Caimi who, as always, offered an attractive middle range. The problem is that his voice gets too thin at the top, to which one must add that he sings with a remarkable lack of expressiveness.
Duchess Hélène was interpreted by Rachel Willis-Sørensen, who replaced the initially announced Carmen Giannatasio. I think we benefitted from the change: her performance was the best of the cast. She has a powerful, well-handled voice, and was at her best in the latter part of the opera.
Procida was played by bass Erwin Schrott, who was a bit monotonous and almost boring, although his voice is well suited to the character. In general, there was too much shrieking, and he wasn't helped by the production. I had seen him earlier in this character in London, and I liked him then more than now. George Petean was correct, if not exceptional, as Guy de Montfort.
José M. Irurzun