Spain Verdi, Aida: Teatro Real Chorus and Orchestra / Nicola Luisotti (conductor), Teatro Real, Madrid, 7, 8 & 9.3.2018. (JMI)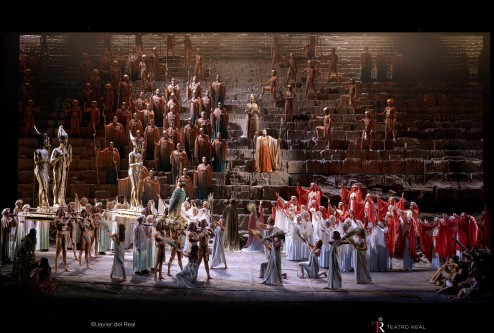 Cast:
Aida – Lyudmila Monastyrska/Anna Pirozzi/Csilla Boross
Radamès – Gregory Kunde/Fabio Sartori/Alfred Kim
Amneris – Violeta Urmana/Ekaterina Semenchuk/Daniela Barcellona
Amonasro – George Gagnidze/Gabriele Viviani/Ángel Ódena
Ramfis – Roberto Tagliavini/Rafal Siwek
King of Egypt – Soloman Howard
Messenger – Fabián Lara
High Priestess – Sandra Pastrana
Production:
Director, Sets and Costumes – Hugo de Ana
Lighting – Vinicio Cheli
Choreography – Leda Lojodice
Projections – Sergio Metalli
This Hugo de Ana staging premiered twenty years ago at the Teatro Real. It is a large and attractive production and well-costumed, but stage direction is generally lacking. It is as if the opera had been moved to Verona's Arena, where de Ana has done so many productions.
There are some changes from the original production, among them the use made of image projections that partly serve as sets, and which are particularly good in the last two acts. Of course, we are in the archetypal Egypt, with an obelisk in Act I and pyramids looming at the back of the stage. The Triumphal March takes place in a sort of Roman theatre with stands where the choir is placed, which makes it seem even more like the Verona Arena. There is a lot of dancing in the first two acts, but the choreography is not terribly convincing.
To the audience's surprise, the second performance was done in a semi-staged format, with the orchestra in the pit and the singers and chorus on stage, all of them in costume, but with no extras or ballet. The reason for the change, which took place at almost the last minute, was that it was impossible to put up and change the sets due to a general strike on 8 March in Spain.
Nicola Luisotti, associate conductor of the Teatro Real, is at his best in Verdi, but I wasn't convinced by the 7 March performance, particularly the first two acts. His conducting was much improved the day of the semi-staged opera. Perhaps the lack of a stage production made me focus more on the music, or perhaps the conductor focused better without the production in front of him. In any case, Luisotti's conducting was more in line with what I expected from him. The performance of the orchestra was very good overall, while the chorus was not at their best.
In the first cast, the protagonist who gives title to the opera was interpreted by soprano Lyudmila Monastyrska, who I thought was the best of that cast. Her voice is ample, powerful and attractive, and she sings with gusto, expressing and transmitting emotions. The peak of her performance came in the third act, especially the aria 'O, patria mía' and her subsequent duet with Radamès.
The second Aida was Anna Pirozzi, whose performance was brilliant and perfectly comparable to that of Lyudmila Monastyrska on the previous day. She is the best Italian spinto-soprano today, and certainly one of the most interesting worldwide in this repertoire. Her voice is attractive and powerful, and my interest in seeing her in a couple of months in Bilbao's Norma has definitely increased.
Lianna Haroutounian had been announced to play Aida in the third cast, but she cancelled and was replaced by Csilla Boross, although there was no information in the program and nobody came on stage to tell the audience. She fell short in vocal terms and had various problems, particularly with her high notes which were not always under her control.
Gregory Kunde as Radamès had been a draw, but in truth his performance was somewhat disappointing. 'Celeste Aida' is always a serious obstacle for any tenor, and in this case his voice did not run well; I was surprised that he did not end in piano. His performance did improve in the second half, and he was at his best in the last act.
Fabio Sartori in the second cast has a voice that is nicely suited to the character, but the part of Radamès requires more than a good voice. His phrasing leaves something to be desired, and his expressiveness is minimal. The third Radamès was tenor Alfred Kim; he has a pleasing voice, but his singing was short on nuance.
Mezzo-soprano Violeta Urmana as Amneris in the first cast gave a good performance. I found her better vocally than a couple of months ago in Valencia, but her voice is now smaller than in recent years. There was also a fine performance by Ekaterina Semenchuk in the second cast, who shone in her great scene of Act IV. Her voice has amplitude and is well managed. In the third cast, Amneris was sung by Daniela Barcellona; she too did well, but I prefer her in Rossini. Her best moment came in the last act.
There were three strong interpreters of Amonasro – George Gagnidze, Gabriele Viviani and Ángel Ódena. For my taste, Viviani and Ódena were excellent.
Ramfis was played by Roberto Tagliavini and Rafal Siwek. I preferred the former, who has an attractive voice, while Rafal Siwek was sonorous but offered little elegance in his singing.
Soloman Howard was a superb King of Egypt, as was Fabian Lara as the Messenger. Sandra Pastrana was correct in the role of the High Priestess.
José M. Irurzun