United States Chick Corea: Chick Corea (piano), Jazz at Lincoln Center Orchestra, presented by Cal Performances, Zellerbach Hall, University of California, Berkeley. 22.3.2018. (HS)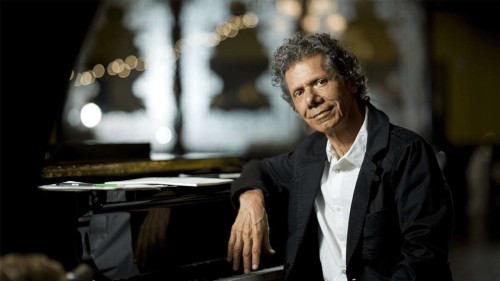 Chick Corea – Armando's Rumba (arr. Carlos Henriquez); Windows (arr. Ted Nash); Wigwam (arr. Ollie Jackson); Crystal Silence (arr. Marcus Printup); Tones for Joan's Bones (arr. Ted Nash); Humpty Dumpty (arr. Wynton Marsalis); Children's Song No.10 (arr. Wynton Marsalis); Matrix (arr. Vincent Gardner); You're Everything (arr. Ted Nash)
There were times during Thursday evening's concert by the Jazz at Lincoln Center Orchestra, fronted by the redoubtable pianist and composer Chick Corea, when a listener might have dropped in unawares and thought the music was by Poulenc or Ravel. Savvy students of both jazz and 20th-century classical music certainly recognize the influence of those composers on modern jazz, but these arrangements of Corea's tunes by members of the New York-based band made the connection unexpectedly explicit.
Windows, one of Corea's earliest compositions, was first recorded by the tenor saxophonist Stan Getz in 1967 with Corea on piano, but it made its case as a minor jazz standard in Corea's 1968 trio album Now He Sings, Now He Sobs. In woodwind star player Ted Nash's arrangement, inspired by a later Corea recording that featured flutist Hubert Laws, there's an extended moment when the shimmering up-tempo jazz waltz devolves into an unaccompanied flute-piano duet. Nash's lyrical flute goes staccato, in complex counterpoint with Corea's piano. Bach would have been dazzled.
In that moment the purpose of the evening came into focus. As Corea modestly pointed out in his introduction, he wrote 'songs' and these big-band arrangements created a whole new thing out of them. Jazz, after all, is all about improvisation that takes the original material and expands upon it — much like development by a classical composer, but on steroids (and different every time it's played). These went beyond simple settings of the tune, repeatedly creating musically arresting inventions of their own.
Corea's introduction of Matrix—one of his early tunes in a masterfully intricate modernist expansion by trombonist Vincent Gardner—put it in perspective. Corea took about 15 seconds to hum the entire thing. 'The tune is really short,' he pointed out. 'Vincent did all the rest of the stuff in there.' That included space for another moment of stunning counterpoint in alto saxophonist Sherman Irby's unaccompanied duet with Corea's piano.
Corea told the audience he had no input in the band's choice of his work to arrange and play on this program. He also noted that almost all came from the 1960s and 1970s, when he was still establishing his jazz credentials with avant-garde albums such as Now He Sings, Now He Sobs and gaining popularity with Return to Forever and Crystal Silence, the latter a a seminal duet with vibraphonist Gary Burton.
Viewing from a 21st-century perspective, these arrangements made full use of the sonic range possible. Trumpeter Marcus Printup applied an array of flutes, clarinets and saxophones to Crystal Silence, which Corea envisioned in 1971 with the chime-like sonorities of piano and vibes. It made this originally pristine music into something sultry. Children's Song No. 10, from a 20-part solo piano work inspired by Bartók's Mikrokosmos, dates from 1984. It emerged in Wynton Marsalis' jumpy arrangement as a joyride, with solo contributions from Walter Blanding on soprano sax and Mike Rodriguez on trumpet.
If there was a downside to all this, it was a certain sameness to the form of the arrangements. They all started with an extended solo improvisation by Corea, adding the rhythm section and a first statement of the theme by a small contingent of the orchestra, before opening up into solos by Corea and one or two of the band's personnel. In every solo the band's entry to accompany the last few choruses fooled the audience into thinking the solo was over.
The payoff came, however, from the arrangements using this material inventively, often to create counterpoint that was written-out or, in some cases, improvised.
Corea was almost always at the center of the action. Using no pedal, he managed to create crystalline pianistic lines, liquid when they needed to be, always propulsive with a sort of inner energy. At 77 his technique remains impeccable, his jazz inventiveness at a level matched by few other pianists—and distinctive. His music, both written and improvised, could only come through his fingers.
Although Marsalis, the leader of this ensemble, is not performing on this nine-city tour, other band members' solos reached a high level. Printup was especially rewarding whenever his trumpet was featured, as was Nash on both sax and flute. Carlos Henriquez delivered an astonishingly complete and rhythmically powerful bass solo on Matrix, and drummer Marion Felder maintained impressive discipline on his solo in the encore, You're Everything (another inventive Ted Nash arrangement).
Harvey Steiman