United Kingdom Verdi, La traviata: Soloists, Chorus and Orchestra of English National Opera / Leo McFall (conductor), 16.3.2018. (JPr)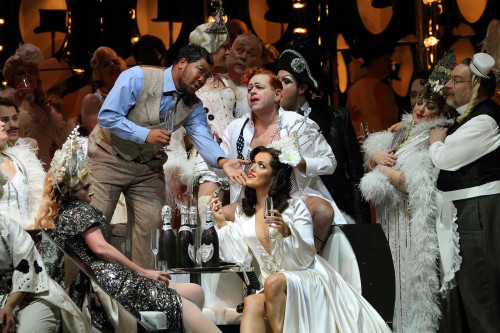 Production:
Director – Daniel Kramer
Set designer – Lizzie Clachan
Costume designer – Ester Bialas
Lighting Designer – Charles Balfour
Choreographer – Teresa Rotemberg
Translation – Martin Fitzpatrick
Cast:
Violetta Valéry – Claudia Boyle
Alfredo Germont – Lukhanyo Moyake
Giorgio Germont – Alan Opie
Dr Grenvil – Henry Waddington
Viscount Gaston – Aled Hall
Baron Douphol – Benjamin Bevan
Marquis – Božidar Smiljanić
Flora Bervoix – Heather Shipp
Annina – Martha Jones
Speaking to London's Evening Standard Daniel Kramer said: 'The production might well have been radically deconstructed but as ENO artistic director I want to dazzle a commercial audience and tell the story clearly, so I've gone back to my American show business roots to make sure that when that curtain goes up it'll be the party of the century. There's a bit of Bob Fosse in there, a bit of Cabaret, there's a romantic duet that puts all musicals to shame, and an 11-minute aria that's one of the greatest monologues in operatic history.' He is also quoted elsewhere as saying: 'As our world continues to confront the treatment of women in our society we have worked to share the story of a woman who, despite her heartbreaking circumstances, rises above the judgmental and abusive world around her and passes through her life with integrity and grace.' In my humble opinion this La traviata is 'deconstructed', not told 'clearly' and nor is Violetta's allowed much 'integrity and grace'.
The opera's budget was presumably busted by the opening 35 minutes and Lizzie Clachan's mirrored – and dazzlingly white – 1930s' Paris setting for Act I that perversely reminded me most of a show lounge on a cruise ship. Weimar Germany and Cabaret comes later, this is all Busby Berkeley, with fancy-dress and added sexual shenanigans. Men lose their trousers and part the way through Aled Hall's Gaston makes an undignified exit and there is much plainly played for laughs. Violetta above all else seems to be a hysterical drama queen, rarely still, yet often faltering due to her illness.
With money running out the remaining acts look to be from an entirely different production; Act II takes place on a greensward with a flower border and a 'swing hammock' in the form of double bed. Apart from this the stage is bare apart from curtains around the sides. Alfredo plants a flowering shrub – which doesn't look like a Camellia – before later pulling it up. Violetta after confronting Giorgio Germont, Alfredo's father, with a knife – or are they secateurs? – soon pulls up some of the grass carpeting and covers herself with it for some reason. Act III begins in full-on Cabaret mode, more fancy dress, a little bit of bondage thrown in, as well as, more stripping, mercifully stopping short of 'the full monty'! Another clear influence on Kramer and his colleagues is the work of Barrie Kosky. Like most of his productions this Traviata also begins to run out of steam and so becomes all the better for it.
The final Act II confrontation between Alfredo, Violetta and Giorgio Germont is fairly static and has more impact than anything that came before it. Violetta is soon to succumb during Act III in a field of soiled mattresses atmospherically resembling flattened tombstones and she is – zombie-like – digging her own grave. How this is supposed to show how she has risen 'above the judgmental and abusive world around her' and passed 'through her life with integrity and grace' is anyone's guess. Kramer seems to suggest Violetta deserves all she gets because of her hedonistic lifestyle and this is not the best thing to take away from this opera in the current #MeToo world!
It wouldn't really have matter if at the centre of the well-known story of the courtesan and her lover in a disapproving world there had been anything like genuine human emotion portrayed on stage, but there wasn't. Eyes were often fully engaged puzzling over what we were being shown but heartstrings were left untugged. Strangely for all the silliness they were involved in, the trio of principals often relied too much on stock operatic emoting.
Martin Fitzpatrick's eminently singeable – if colourless and unpoetic – English translation did not help the proceedings and the diction of the cast was variable. Sadly, it was not often possible to discern what language the miscast Claudia Boyle was singing in. Undoubtedly, she would be wonderful in soubrette roles, but she is not a Verdi soprano, and despite the anguish of her later scenes revealing more lyrico-spinto quality, Boyle's voice was always a size too small for the vast London Coliseum.
Lukhanyo Moyake brought a charming innocence to Alfredo. To his credit he was able to show how his character's immature anger grew into the uncontrollable fury that leads him to act unforgivably. He is obviously not the finished article though his singing has great potential and hopefully he will benefit soon from joining the Wiener Staatsoper.
Every word Alan Opie sang could be heard and reminded those old enough in the audience of how things used to be watching English National Opera. Opie is celebrating 50 years with ENO and I first saw him sing Giorgio Germont 30 years ago. As much as Kramer allowed him, his portrayal of Alfredo's – initially heartless though eventually regretful – father was a masterclass. 'Di Provenza il mar, il suol' – here sung, I believe, as 'Why turn your heart, from the sanctuary of home' – was beautifully nuanced, conveying parental love, melancholy and severity by turns. Only the merest hint of gravel in his smooth baritone was the evidence of Opie's long and distinguished career.
Aled Hall was an extravagantly coiffured sexually ambiguous figure who has much fun as Gaston, Alfredo's friend. No other characters made any impact and it was only Benjamin Bevan as Violetta's protector, Baron Douphol, whose voice really stood out.
As clear-textured, refined and admirable as Leo McFall's conducting was it lacked tension and warmth. He was carefully accompanying the singing rather than driving the performance forward. I was left wondering why the ENO's music director Martyn Brabbins was not leading this important new production. McFall was valiantly supported by an excellent orchestra and chorus even if there was some first-night insecurity between pit and stage.
Previously seen at Theatre Basel sadly Kramer's La traviata will not fill the London Coliseum for its run of ten performances and this must put in doubt how successful any future revival could be.
Jim Pritchard
For more about what is on at ENO click here.