United Kingdom Scarlatti, Haydn, Bacewicz, Chopin: Filip Michalak (piano), The Keyboard Charitable Trust at Steinway Hall, London. 21.3.2018 (JB)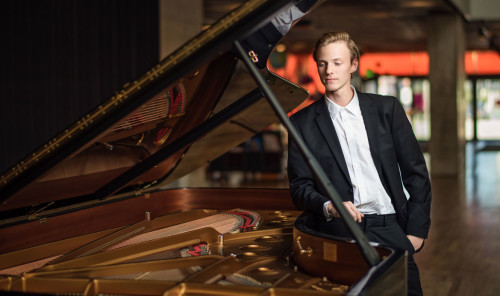 Scarlatti –  Sonatas in D minor, K1 and K10
Haydn – Sonata No.53 in E minor, HobXV1:34
Grazyna Bacewicz – Sonata II
Chopin – Sonata No.3 in B minor
During the 1980s I was enormously privileged in being invited to participate in the jury in successive years of the Toti Dal Monte Singing competition, whose Chair was Magda Olivero.  I learned more about singing under Magda's tutelage than at any other time in my life. On one occasion a young woman in the own-choice category had sung Cilea's 'Io son l'umile ancella' from Adriana Lecouvreur. At the end of the morning the young woman came to Magda to apologize for having chosen this aria. But why? asked Magda, it's rather a good aria.    The girl agreed but said she would not have chosen it if she had known that Magda was on the jury. [Olivero was a friend of Cilea, who said he wrote the aria with her voice in mind.] But the girl was so bold as to ask what Olivero thought about her performance. Magda looked at her notes and said, Signorina, there are hundreds of voices like yours and until you can find inside yourself that vocal quality which is yours alone, you will never have a career. (my underlining.)
When John Leech and his pianist wife, Noretta Conci-Leech, started The Keyboard Charitable Trust, I immediately vowed to help them in assisting the launch of careers in the overcrowded field of piano playing with those of talent starting out. The question in my mind as I take my seat for these performances is always the Olivero challenge to the young singer (tonight it's obviously a pianist): has this performer found a pianistic voice which is theirs alone?
You may think that that is too big a question to ask of 23-year-old Filip Michalak, a Dane, who now studies in Sweden with Julia Mustonen-Dahlkvist at Musikhögskolan Ingesund. He has been playing the piano since he was 8.  I can see that the programme will be providing me with some interesting answers, however. It's extraordinarily exposed for such reception.  Possibly unwittingly so. And if so, all the better for that.
Nothing could ever be so exposed as a sonata of Domenico Scarlatti. The plucked keyboard instruments of Scarlatti's day had nothing like the pianistic colours which the modern piano can produce. And that is before you start on the colours of the modern Steinway. The choices are enormous here. But the performer gets no indication as to which choice to make, since such choices were unknown to the composer. Pianists usually err either on the side of studiedly rejecting many of the choices and thereby simplifying the choices: the so-much with so-little approach; or else they unreservedly cast the notes into the immense ocean of sound in a see-what-happens approach. These last players tend to sound different at every performance. And for obvious reasons.
Filip Michalak played two sonatas, K1 and K10, both in D minor – a favourite key of the younger Scarlatti, and one which easily invokes pathos in all its shades; a sentiment which much later was such an inspiration to Schubert. Tonight's programme says K1 Allegro and K10 Presto. That difference was adhered to.
Michalak used some of both approaches: simplifying the choices, which certainly was arresting; but also thrusting the sound into the great ocean of the latest Steinway magnificence. I'm not sure that the combination works. This is rather like trying to be a devout Catholic and a convinced atheist in the same breath.
The clarity of all the Michalak voices was impressive. But the fortes had a nasty stabbing noise to them which made too much of a contrast to the exceptional beauty of the piano sounds. It's all too easy to make a fine beautiful sound playing the piano quietly. But to make a fine loud sound is much more of a challenge. And in Scarlatti Filip failed with this.
He doesn't need me to tell him that this is a question of cushioning the sound; getting the instrument's hammers to not so much to strike the strings as to roll over them. I know this is an illusion, but it is one which every pianist has to grapple with. And for the moment, Michalak withholds it from Scarlatti.   
 I'd better add a cautionary tale from personal experience. Some thirty years ago when Clifford Curzon came to play a Mozart concerto with Rome's Santa Cecilia Orchestra, he asked me to get him to the hall an hour ahead of the rehearsal, as he wanted to try the piano. This was a moment when S Cecilia had just acquired a new Steinway. Sir Clifford then pointed to the back of the orchestra where there was another piano. He asked me what it was. It turned out it was the Steinway which had been put aside to make place for the new one. He went over to try it, then he said, Please arrange for these two pianos to be changed over. I like a piano that I play, not one that plays me. We'll leave that new Steinway to the young lions. Enough said?
For the Haydn sonata it sounded as though the pianist had forgotten to change composer.  And Haydn played as Scarlatti wears thin. The three movements are Presto – Adagio -Vivace molto.  Two Haydn-defining qualities were missing: charm and ease. Michalak laboured the notes. Sure enough, all the i's were dotted and all the t's crossed, but in all this (unnecessary) effort, Haydn's charm and gentle humour got left out in the cold.
That was in sharp contrast with Grazyna Bacewicz's Sonata II: Maestoso -Largo -Toccata were the three movements. The composer, who was the leader of the Polish Radio Orchestra for many years, also had a solo violin career in Warsaw and Paris, where she then studied (composition) with Nadia Boulanger. Leslie Howard praised this sonata to the skies for its pianistic expressiveness when he spoke briefly at the short interval.  I have to bow to pianistic minds much greater than mine, here. Those nasty stabbing sounds were to the fore that had cast shadows over some bars of Scarlatti. To my ears, this sonata gave pain in the most fundamental sense of that word.
The final work of the programme, the Chopin B minor Sonata, Op.58, will live in my mind's ears for the rest of my life. Filip Michalak even rivalled Percy Grainger's 1925 first commercial electric recording. Yes, the little lad was sometimes in battle with his instrument, just like Grainger, but he brought his audience with him into that war. Steinway and Sons didn't have a chance. You think you can outdo me? he seemed to say to his instrument. This was Churchill's blood, sweat and tears translated into pianism. It was soulful. And soul had not made an appearance until now. That made it all the more thrilling when it arrived.
So, I have now answered the question with which I began. The prolonged applause was begging for an encore. A Chopin nocturne or even a waltz? Nothing. All we got were gracious, smiling, handsome bows. We will have to forgive you Filip. You had already given us your whole. And what a joy it was to receive it.
Jack Buckley
For more about The Keyboard Charitable Trust click here.