United States Gluck, Orpheus and Eurydice: Soloists, Chorus and Orchestra of LA Opera / James Conlon (conductor), Artists of Joffrey Ballet, Dorothy Chandler Pavilion, Los Angeles, 10.3.2018. (JRo)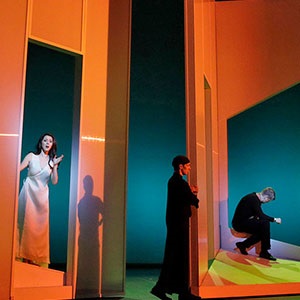 Cast:
Orpheus – Maxim Mironov
Amour – Liv Redpath
Eurydice – Lisette Oropesa
Eurydice double – Victoria Jaiani
Orpheus double – Temur Suluashvili
Production:
Director/Choreographer/ Designer (sets, costumes, lighting) – John Neumeier
Chorus Director – Grant Gershon
Gluck's musical interpretation of the myth of Orpheus and Eurydice is surely the 'stuff that dreams are made on'. Nowhere was that more in evidence than in LA Opera's sublime rendering of Gluck's otherworldly score. The trio of principals – Maxim Mironov as Orpheus, Lisette Oropesa as Eurydice and Liv Redpath as Amour – were remarkable for their vocal dexterity; the chorus produced a feast of sound; and the orchestra, under the incomparable James Conlon, was at its ravishing best.
Since this was Gluck's 1774 French version, Orphée et Eurydice, and the Parisians insisted on dance with their opera, the Joffrey Ballet partnered with the LA Opera (as it did recently with Lyric Opera of Chicago) in John Neumeier's interpretation of Raniero de' Calzabigi's libretto as adapted by Pierre-Louis Moline. Overturning both the Italian and French version's happy ending (a crowd pleaser in its day), Neumeier leaves the mythological ending intact. Eurydice is lost to Orpheus. Her spirit lives on, inspiring Orpheus to create his art – art, in this case, being the art of dance.
Neumeier, who directed, choreographed and designed the sets and costumes, conceives of Orpheus as a choreographer rehearsing his new ballet. He quarrels with his wife, a prima ballerina, who dashes from the studio, is hit by a car and dies. Orpheus, nursed by his assistant, Amour, descends into madness, imagining himself in the Underworld on a quest to return his wife to the land of the living. Though Neumeier's plot device creates certain problems within the opera, his attempt to give a dramatic foundation to the long passages of instrumental music written for dance is understandable.
Appearing as Spirits, Furies, Shadows and Orpheus's ballet company members, the Joffrey dancers took center stage, while the three singers sometimes found themselves tucked into an apron on stage right. Focusing the eye, whether on dancers, principal singers or the machinations of the scenery, was a challenge, as it often is when ballet partners with opera.
There was beauty everywhere – from the limpid grace of the spirits and Neumeier's modernist sets in the mode of Robert Wilson to a backdrop depicting Arnold Böcklin's painting, 'Isle of the Dead', and evocative lighting created by the director. He is surely a consummate visual artist as well as a choreographer. His crashed car of Act 1 had the raw power of Edward Kienholz's 'Back Seat Dodge '38', and his movable cubicle rooms with tilted perspective could take their place in any museum collection.
Yoshihisa Arai, Dylan Gutierrez and Alberto Velazquez, wearing mesh leotards overlaid with metallic squares from head to toe, ferociously danced the role of Cerberus – the three-headed dog guarding the gates of the Underworld. Victoria Jaiani and Temur Suluashvili as the dancing doubles of Eurydice and Orpheus captured the essence of their suffering characters. On the negative side, the occasional clatter of running feet clad in point shoes distracted from the music, and though Neumeier managed to create a dance counterpart to Gluck's ethereal score, Act 2's choreography for the spirits grew repetitious.
Orpheus and Eurydice is noted for being the earliest attempt at Gesamtkunstwerk, the synthesizing of opera, dance and art to create a total work of art. However, it is as opera where, to my mind, the most concentrated beauty lies.
Maxim Mironov succeeded so masterfully in meeting the demands of the high tenor role that even the constant movement on stage couldn't distract from his interpretation. When he mourned Eurydice, calling for his love in Act I, or sang his heartrending aria, 'I have lost my Eurydice', it was transporting. Lisette Oropesa was a lovely and determined Eurydice, caressing every vocal line with a delicacy underpinned with sensuality. Liv Redpath was a honey-voiced and expressive Amour.
The chorus, singing from the pit, was thrilling, particularly when raging 'No!' to Orpheus's request to enter Hades, or when singing as a chorus of demons – their voices tumultuous at first, then growing hushed and peaceful. And persuading us that Gluck created a masterpiece to stir the mind and heart, James Conlon and the LA Opera Orchestra gave this mythological text and hypnotic score all the beauty and grace needed to subdue the Furies and elevate the Spirits.
Jane Rosenberg
For an interview with Lisette Oropesa click here.