United Kingdom Britten, A Midsummer Night's Dream: Soloists, Trinity Boys Choir, Royal College of Music Opera Orchestra / Michael Rosewell (conductor).  Britten Theatre, Royal College of Music London.  5.3.2018.  (JB)
Cast:
Oberon – Timothy Morgan
Tytania – Harriet Eyley
Hermia – Lauren Joyanne Morris
Helena – Josephine Goddard
Lysander – Joel Williams
Demetrius – Kieran Rayner
Bottom – Timothy Edlin
Quince – Hugo Herman-Wilson
Snout – Robert Forrest
Snug – Conall O'Neill
Flute – Thomas Erlank
Starveling – Dan D'Souza
Theseus – Peter Edge
Hippolyta – Ida Ränzlöv
Puck – George Longworth
Fairies – Trinity Boys Choir
Production:
Stage director and choreographer – Liam Steel
Set and Costume designer – Michael Pavelka
Lighting designer – Andy Purves
It's hard to know who had the most fun: William Shakespeare in writing A Midsummer Night's Dream or Benjamin Britten in creating his opera on it. Every work of Britten's, either overtly or slightly, has a theme of innocent suffering running through it. In the Dream  the slight and the overt intermingle, sometimes as charming bedfellows.
Ernest Newman used to say of La bohème that it worked so well because it laughed as well as it wept.  Unlikely bedfellows too. But that is so often the art of great theatre, going right back to the world's first-ever comedies of Aristophanes: the improbable is more probable than you might think; all that is necessary is to give it a neat, appropriate twist. The Importance of Being Earnest is about as important as a speck of dust. Wilde's bravura was a timely Victorian evocation of Aristophanes' wit.
I've seen this opera scores of times, but never before now, with surtitles. The libretto was written by the composer with his lifetime partner, Peter Pears. What an accomplishment it is, before you start on the ingenuity and charm of the music. The text frequently retains Shakespeare's iambic pentameter and the rhyming couplets which close each short scene between the acts. Britten found himself in a marriage with Shakespeare in the proper sense of matrimony.
No production of A Midsummer Night's Dream will ever surpass Lindsay Kemp's for pure inventiveness, even though he marginalises Shakespeare. Asked about the bard, Kemp said, Well it's all right, but there ARE too many words. He obviously hadn't seen Britten and Pears's handling of the words.  And he also had the advantage of Carlos Miranda as his music director, who rescored Mendelssohn's incidental music for a Music Hall Band. Mendelssohn would have approved. This was the spirit of MND like never before. In it, the changeling boy becomes the star of the show, round whom all battles are fought and all relationships made (a very young, naked François Testory who later became Kemp's choreographer).
When the RCM's stage director, Liam Steel, is operating as a choreographer, he too is at his best and most inventive. But the changeling boy is only ever seen as a bundle of swaddling clothes. That is plain boring, dear Liam.
It also happens that the finest voice on stage was also the finest dancer and actor: the Bottom of Timothy Edlin. I have already reported on Mr Edlin's outstanding vocal accomplishments in my piece on Gwyneth Jones's Masterclass in this same theatre. Here, the Edlin diction shaped every phrase, nay, rather the nuance of every phrase. He doesn't play Bottom as a fool or a country bumpkin, but as someone who has something to learn from puzzling situations in which he finds himself. His take on learning is highly infectious, and enjoyable for that reason. I have never seen nor am likely to see a more engaging playing of this role. You would ask this Bottom from where he graduated, so alive is he to every nuance. But he would only stare at you blankly (Edlin has a very good stare). Search me, over to you, is what this character replies, without resource to words.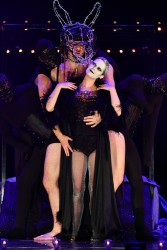 Liam Steel fully realised the acting and choreographic possibilities of Edlin. His athleticism is perfectly informed by an innate musicianship. As the ass, he is bare from the waist upwards, but blackened out below waist; to his right, but often in front of him, is his right leg, which walks, wriggles, jumps as an independent hyperactive limb. Same for the left leg. The two women playing these roles should have been given a curtain call. Legs aside, they were enveloped in black cloaks and dress. Two women?  I checked this with the RCM press officer.  She replied, I haven't been able to get through to the opera department, but that leg on the left is definitely male (and so it shows up in the photo).  So is this just my overactive imagination playing tricks with me? If so, all the more fun to the staging.
A word of praise too for Michael Pavelka's creation of the Byzantine headgear for the ass. You know you can't ask this mask from where it graduated. But you would like to. It would only respond with another elegant shake of the 'head'. Mr Edlin's face is not visible through this mask, but his handsome torso is. However long did it take them to arrange this hugely enjoyable choreography?
This whole show is a tease on gender ambiguities, inherent in Shakespeare, but never overtly stated. Take us as you find us is the tease.
I was less convinced by Steel's choreography of the fairies. The Trinity Boys Choir have performed these parts (all trebles, as Britten commands) all over the country. I have no idea if they are on at the ENO's current Dream, but if they are, it would have to be a different group of boys. They sang with angelic projection as they always do. But Ugh! All wore morning suits and sported beards! Comic? Not for me. Though I dare say that Aristophanes would have approved. He liked nothing more than bawdy takes. For that very reason his plays were prohibited in Victorian England. Liam Steel in a programme note cites the absurdity of old spoilsport Philip Stubb's writing about May Day and Midsummer Eve activities in the reign of Elizabeth !: All the young men and maids run gadding over night to the woods………..I have heard credibly reported that of  a hundred maids going to the woods over night, there have scarcely a third part of them returned home undefiled. 
That mention of the woods brings me to the orchestra. The two themes which open the opera are richly chromatic (not atonal as some critics have suggested; charm would have to go out of the window with that) but in chromatics, every hint of key centre is immediately challenged by the following notes. There is certainly a hint of rustling leaves in those two motifs. This is as close as Britten ever comes to a leitmotif. You could make a good case for the forest being the protagonist of the opera. It all takes place therein, except for the final scene.
I found Michael Rosewell's tempi in the first act, somewhat ponderous, if not stodgy. But his baton was far more comfortable (and so were we) in the other two acts with accelerated tempi. However, I would like to give profound thanks to the fine horn playing of Jack Pilcher (principal horn), the bassoon of Kristina Hedley and the celeste of Kelly Lenahan. They were major contributors to the magic of the forest. I empathised with all these in Act I.
Harriet Eyley has a pretty enough voice for the Queen of the Fairies. And her coloratura is secure. Perhaps a bit too secure for the conundrums in which Tytania finds herself. She can occasionally snatch at a high note inside of facilitating it within her magnificent technique. This may just have been opening night nervousness. She was at her best – and very memorable indeed – when the ass was wooing her.
George Longworth was a graceful and witty Puck, a speaking role to be played by an acrobat. I liked the acrobatics but would have liked even more to show that sense of Puck being more powerful than Oberon. This is the quintessential Pulcinella role: half puppet, half human, half spirit. And if that is too many halves then that is also part of Britten's and Shakespeare's puzzles. I did, however, feel that Liam Steel had not thoroughly incorporated Puck into his admirable production. Lindsay Kemp avoided that error by playing Puck himself.
The four lovers or four humans present a particular problem. Humans in the collective are not particularly interesting, compared to fairies, workmen, aristocrats, the other three groups that make up the story. As in real life, four lovers can be pretty boring unless you do something with them, especially when they are made up of two, apparently  heterosexual, couples. That is as boring as The Daily Telegraph. But the alert reader will point out that this is only apparently. Lots of scope for exploration here. It seems to me that the stage director and the conductor rather let down the four characters by not exploring these paths. Kemp, I recall had them on skates in one scene, and of course, confusing men for women. Only a merest hint of this last from Liam Steel's direction.
I did much enjoy Steele's romp with the aristocrats where the 'normal' love-hate relationship between the two nobles (Theseus and Hippolyata, played by Peter Edge and Ida Ränzlöv) looked as though the love had hardly got going before the hate started to chop it into pieces.
But back to the hapless four lovers, they sang well enough: Lauren Joyanne Morris (Hernia), Josephine Goddard (Helena), Joel Williams (Lysander) and Kieran Rayner (Demetrius). But the problem here is that well enough is simply not good enough with an opera of these potential sparks.
There are further performances of this fine opera on 8 and 10 March at 7pm at the Britten Theatre, though not with the cast which I have reviewed here. Please be advised that the underground tunnel from Kensington South tube, which leads you close to the Royal College of Music (it's signposted) is not open after the performance at 22.15, approximately three hours, fifteen minutes, including two short intervals. This means you will have a further seven-hundred yards to schlepp after the show.
Jack Buckley 
For more about what is on at the RCM click here.