United Kingdom Ballet Black – The Suit and A Dream Within A Midsummer Night's Dream: Barbican Theatre, London, 16.3.2018. (JO'D)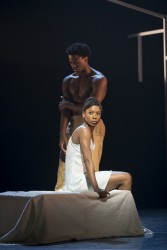 Dancers – Cira Robinson, José Alves, Mthuthuzeli November, Isabela Coracy, Sayaka Ichikawa, Marie
Astrid Mence and Ebony Thomas
The Suit
Director/Choreographer – Cathy Marston
Design – Jane Heather
Lighting design – David Plater
Dramaturg – Ed Kemp
A Dream Within A Midsummer Night's Dream
Director/Choreographer – Arthur Pita
Design – Jean-Marc Puissant
Lighting design – David Plater
'2018 is proving to be a year of change for BB,' writes Ballet Black's founder and artistic director, Cassa Pancho, in the programme to this dance-theatre double bill. A new home; a larger studio; membership of the Arts Council's National Portfolio (NPO) from April: this might explain a new glossiness coming off the Barbican stage at the start of Cathy Marston's The Suit. The company's seven dancers are revealed wearing light, expensive-looking fabrics, in the fashions of the 1950s, that contrast with the immediately brooding atmosphere of the piece.
Cathy Marston, who recently created a version of Jane Eyre for Northern Ballet, takes inspiration from a short story by the South African author, Can Themba. The Suit is a domestic drama in which a husband discovers his wife in bed with her lover. The lover hurriedly departs in his underwear, leaving the rest of his clothes behind. The wife begs to be forgiven. The husband coldly arranges the lover's shirt, suit and tie (of yellow silk) on a hanger and uses them to taunt his wife with the memory of her infidelity.
If the piece is ultimately thin on narrative, its inventive choreography to frequently changing dance music seems to double the number of performers and exploit what each one does best: Cira Robinson as the tormented wife; Mthuthuzeli November as her sinuous lover; José Alves as the initially likeable, then abusive husband. Among other vignettes, Ebony Thomas lounges with hands in pockets as a street boy on the make; the young Marie Astrid Mence is perfect as an old lady with a walking stick, crossing a road.
As in Marston's Witch-hunt at the Royal Opera House's Linbury Theatre in 2013, pas de deux are presented from the female partner's point of view. Similarly effective is the use of a handful of dancers as chorus or corps. Here they manipulate the suit so that the wife dances with it, is lifted and pulled across the floor by it. Eventually, though, she carries the suit by herself, wherever she goes, like an albatross.
Arthur Pita's A Dream Within A Midsummer Night's Dream was premiered by Ballet Black, at the Linbury, in 2014. Sprinkled with stardust by Isabela Coracy's supremely assured, green-bearded Puck, several other characters from Shakespeare's play temporarily break free from classical ballet's rigid inexpressiveness (as it is presented here) to form new and unexpected, same-sex relationships. The music of Handel is exchanged for recordings by Eartha Kitt, Barbra Streisand, Jeff Buckley and Antony & the Johnsons.
In 2014, the piece seemed to contain more musical and cinematic references than it could bear. One of those, at least, has been removed. Cira Robinson (Titania) no longer appears in a belted raincoat like that worn by Audrey Hepburn in Charade. Pita's choreography allows the dancers to show their versatility (their 'routine' to Eartha Kitts' Let's Do It is a high point), but what holds one's attention, above all, are the often really beautiful images created through the combination of costume, lighting and stage design.
John O'Dwyer