United States Brahms, Tchaikovsky: Julia Fischer (violin), Daniel Müller-Schott (cello), Bayerisches Staatsorchester / Kirill Petrenko (conductor), Carnegie Hall, New York, 28.3.2018. (RP)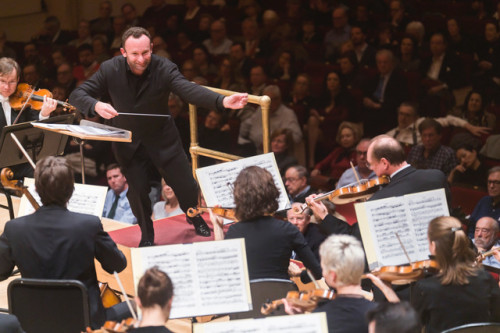 Brahms – Double Concerto in A minor, Op.102
Tchaikovsky – Manfred Symphony, Op.58
Anticipation ran high for the Carnegie Hall debut of the Bayerisches Staatsorchester and its musical director, Kirill Petrenko. He is no stranger to New York audiences, having made his debut with the Metropolitan Opera in 2004, but he is a conductor who sticks close to home. Perhaps his nurturing instincts are one reason why some of my globe-trotting, opera-loving friends consider the Bayerische Staatsoper to be the best company in the world.
Julia Fischer and Daniel Müller-Schott, both born in Munich, joined a spring tour that started in Munich and continued with performances in Hamburg at the Elbphilharmonie, before ending with two concerts in New York. It was a marketing tour-de-force, as the programs garnered the interest of not only musical 'special interest' groups, but also their respective German and Russian fan bases. There was glamour, excitement and a sense of occasion in the hall.
The violinist and cellist have known each other since their student days and recorded the Brahms over ten years ago. Müller-Schott's gutsy, edgy playing set the tone, both contrasting and complementing Fischer's more fluid style. They were so comfortable together, completing each other's musical thoughts and beautifully spinning Brahms' melodies. Petrenko paints with a broad dynamic brush, so some of the segues between soloist and orchestra began with more of an exclamation point than a comma. It was passionate red-blooded Brahms, so who would complain?
For an encore, Fischer and Müller-Schott played Halvorsen's Passacaglia, a virtuoso tour de force based on a theme from the finale movement of Handel's Suite No.7 in G minor. They dazzled the audience as they zipped through the Passacaglia's double and triple stops and chords on their instruments, propelling each variation forward to an electrifying close.
The Bayerisches Staatsorchester spends most of its time in an opera pit and it shows, although I mean that as a compliment. It has a compact, almost sinewy sound that can blossom in the softest, shimmering pianissimos or burst forth in fiery climaxes. Its principal players are used to the spotlight and are world class. And no less than their leader, the orchestra revels in a bit of drama. Is it any wonder Petrenko programmed Tchaikovsky's Manfred Symphony?
The work has engendered a fair bit of disdain. If contemporary critics and audiences were expecting more of the same, Tchaikovsky was intent on blazing a new path. I was transported to the Swiss Alps, where the composer was inspired to portray Byron's anti-hero in music and where I have spent a fair bit of time. It made me homesick for a part of the world that I love so.
Manfred has sweeping melodies, some worthy of Swan Lake, but Berlioz was his model, and the symphony-tone poem is full of musical special effects. The violas sounded magnificent in the opening movement, and the evocative solos by the bass clarinetist ached with despair. The second moment was remarkable for swarms of scintillating sound that made me think of the almost imperceptible flapping of dragonfly wings, with the same iridescent beauty. Horn calls and peasant dances transported me back to the mountain villages in the third.
The final movement was an amazing orgy of sound: dazzling brass, energetic klezmer-like dances, a massive fugue in the strings, harp arpeggios and, of course, the famous organ hymn. (Carnegie Hall does not have a symphonic pipe organ but makes do with a Rodgers electronic one. It's an inexplicable New York thing.) The symphony ended abruptly and quietly, which surprised some members of the audience.
Petrenko could have finessed that a bit better. There was room for doubt as he held his arms aloft, and the pauses in the symphony had been as profound as the fiercest climaxes. A trickle of applause broke the silence, and a few people rushed to the exits. Hopefully they didn't make it out the door, because the Entr'acte from Act III of Lady Macbeth of Mtsensk followed. With Shostakovich's manic, mechanical and brilliant music, a beaming Petrenko and his orchestra ended their triumphant Carnegie Hall debut with a bang.
Rick Perdian