United States Prokofiev, Romeo and Juliet: Artists of the Joffrey Ballet, Krzysztof Pastor (choreographer), Scott Speck (conductor), Dorothy Chandler Pavilion, Los Angeles, 9.3.2018. (JRo)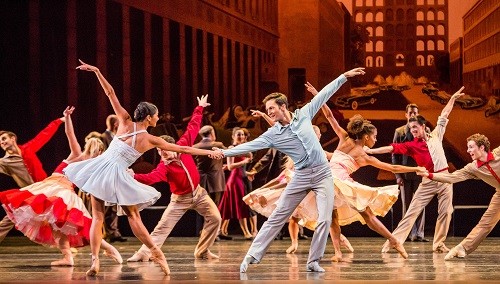 Cast:
Juliet – Christine Rocas
Romeo – Rory Hohenstein
Mercutio – Yoshihisa Arai
Benvolio – Alberto Velazquez
Capulet – Fabrice Calmels
His wife – April Daly
Tybalt – Temur Suluashvili
Friar Lawrence – Dylan Gutierrez
Juliet's friends – Amanda Assucena, Jeraldine Mendoza
Paris – Graham Maverick
Production:
Choreography – Krzysztof Pastor
Dramaturge – Willem Bruls
Set and Costume Design – Tatyana Walsum
Lighting Design – Bert Dalhuysen
When a ballet as ubiquitous as Romeo and Juliet produces an evening of revelatory moments, it's significant. With its twentieth-century setting, Krzysztof Pastor's version, performed by the Joffrey Ballet, straddles the 1930s, 1950s and 1990s of Italian politics. In the process the ballet comments not only on the price the younger generation pays for the tribalism of their elders, but also the price, on a wider stage, the young pay when nation states send their children off to die in wars.
Fierce and uncompromising, Pastor's choreography startles and seduces. Danced convincingly by the elegant Rory Hohenstein and Christine Rocas as Romeo and Juliet and supported by a strong cast of principals and soloists, the ballet is a fresh look at a familiar piece.
Lavrovsky, Ashton, MacMillan, Nureyev, Cranko, Neumeier and Ratmansky have all had a turn at Shakespeare's drama set to Prokofiev's glorious score. My personal favorite is MacMillan's; but Pastor, in shrugging off the ballet's Renaissance setting, digs deep to tell a tale that casts a wide net across time and, in so doing, sheds new light on both the tale and the music.
The production opens in 1930s Italy. The Capulets, dressed in military black before a backdrop of Mussolini era buildings, are far more threatening than the sunnier Montagues. In clever cinematic period style, costumes and backdrop are colored in blacks, whites and greys. It is in this atmosphere that Romeo meets Juliet at her family's ball. The setting follows the pair to the end of the balcony scene. When we meet them in the second act, the tale resumes in the 1950s. Black and white is exchanged for color and the world turns golden hued. The costumes are identical in pattern and form but with sepia, oranges and reds replacing greys. Vespas have supplanted cars on the backdrop, but the Capulets still appear militarized and formidable. Act III inhabits the 1990s, which finds Romeo and Juliet in the bedroom scene and ends with the death of the lovers. Interiors prevail, and the city recedes.
It's a daring idea that pays off in some ways and fails in others. The time changes are subtler than one would imagine and never intrude on the drama or the dance. Instead they serve to reinforce the mythic proportions of the story – that of a tragic feud that reverberates through generations. Where it loses momentum is in the final setting when the drama unfolds in largely interior spaces and the updated time frame seems unresolved. Then, as the action coalesces around Juliet's room, whose minimal set serves as deathbed and tomb, the narrative speeds to a conclusion. There is a rushed feeling about the final scenes, though one understands that Pastor's modern interpretation seeks to abandon a more traditional approach.
The Joffrey corps and soloists embrace their roles as Capulets, Montagues, townspeople and soldiers, creating a believable world that morphs through the decades. The imposing Fabrice Calmels was formidable as the embattled Lord Capulet (here simply called Capulet). Huge of stature, his rage, depicted with jutting knees, pointed fingertips and shooting arms, propelled much of the drama and seemed to overpower Tybalt's role as vengeful brother to Juliet. In fact, Juliet's parents were central to the action. Her mother, danced so sympathetically by April Daly, became a loving witness to Juliet's sorrow when forced to choose a husband. In a touching Act III pas de deux of mother and daughter, one sensed the helplessness of Lady Capulet's position. It was no accident that I imagined an abused wife, powerless to thwart her overbearing husband.
Omitting the roles of the Montague parents was a puzzling decision. This left Mercutio, Romeo and Benvolio alone to carry the standard for family Montague. Yoshihisa Arai's Mercutio was appropriately mischievous and belligerent, dancing with humor and easy grace. Alberto Velazquez's Benvolio added luster to the trio's many lighthearted romps about the town square.
As Tybalt, Temur Suluashvili was particularly compelling in his fight scene with Hohenstein's Romeo as the two thrashed, kicked and leapt at one another. Friar Lawrence, danced by Dylan Gutierrez, functioned as both priest and peacemaker, resulting in a more danceable part than is usually seen.
The nurse's role was replaced by the twin characters of Juliet's friends. Pastor created delightful choreography for two girls who are often partnered by Mercutio and Benvolio and who accompany Juliet to her secret wedding. Danced charmingly by Amanda Assucena and Jeraldine Mendoza, they added a touch of verisimilitude to the more contemporary settings, adding, to my mind, an Elena Ferrante-like touch to a coming of age (and death) story.
But any ballet of Romeo and Juliet rests on the shoulders of its star-crossed lovers. In Hohenstein and Rocas, Pastor had an ideal couple. Hohenstein was a marvelous partner, supporting, in understated fashion, his Juliet. It was this understated elegance that conveyed his love and admiration for Juliet and his desire to make peace between the raging families. Rocas, a beautiful, expressive dancer, walked just the right line in her portrayal of Juliet – youthful zest and innocence married with the steely resolve of a more mature woman.
Conducted by Scott Speck, the orchestra of local Los Angeles musicians did justice to Prokofiev's timeless score, which sounds as thrilling today as it most assuredly did in 1935 when it was written.
Jane Rosenberg