United Kingdom Beethoven, Louise Farrenc: Alexandra Conunova (violin), Natalie Clein (cello), Elisabeth Brauss (piano), Insula Orchestra / Laurence Equilbey (conductor). Barbican Hall, London, 8.3.2018. (CC)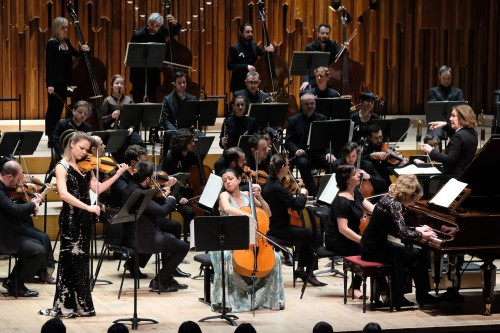 Beethoven –Triple Concerto in C, Op.56
Farrenc – Symphony No.3 in G minor, Op.36
Pre-concert event – Farrenc: Trio in E flat, Op.44 (Anna Besson, flute; Emmanuel Jacques, cello; Nathanael Goulin, piano); Sextet in C minor, Op.40 (Anna Besson, flute; Jean-Marc Philippe, oboe; Alvaro Iborra, clarinet; François Charruyer, bassoon; Jeroen Billiet, horn; Nathanael Gouin, piano)
To celebrate International Women's Day, the Insula Orchestra under Laurence Equilbey performed Beethoven's Triple Concerto with three female soloists (suffragette tricolour ribbons by the original manufacturer Toye, Kennings & Spencer were in evidence). This was a repeat of a programme given recently at La Seine Musicale in Paris (review), but with a change of soloist. Originally the high-profile Alice Sara Ott was to have replaced David Kadouch to bring about an all-female soloist line-up; the eventual pianist was the excellent young Hamburg-born Elisabeth Brauss.
The three London soloists found a better balance than had been the case in Paris. Brauss (playing on an Erard, c1880) was far more musical and sensitive than Kadouch, and far more attuned not only to her fellow soloists but also to Beethoven's mode of expression. The orchestral sound was a touch more homogenous from the stalls of the Barbican; it felt more characterful in France. The timpanist (Koen Plaetinck) again made his presence felt, focused but thankfully gunshot-free. Elisabeth Brauss, who has won a string of competitions over the last decade, found meaning in the simplest of phrases that completely eluded Kadouch. Conunova was just as excellent as in Paris, her tuning impeccable and her tone just as sweet in the higher registers. Thankfully Natalie Clein had a much better day, far more secure this time round, her solo that opens the central Largo eloquent as opposed to strained. If only Klein emoted less in her facial gestures, which are off-putting and end up leaning towards caricature. Close one's eyes and the musicality is far more obvious. Conunova seemed stronger on this occasion in the finale, more determined, while Brauss' staccato touch was a continual bringer of joy.
The Insula Orchestra's contribution was finely honed by Equilbey, whose gestures were ever meaningful and suave. With antiphonal strings and double-basses forming a grounding group at the back of the orchestra facing outwards, there was a near-chamber music element to much of this performance.
Farrenc's symphony omits trumpets in its scoring. It is a varied, serious piece that veers away from a major-key ending. The more one listens, the more one finds to intrigue: no missing the Beethoven influences in the first movement, certainly, but this time the debt to the Egmont Overture seemed keener. Powerful and lean, the opening Allegro formed a proper contrast to the melting Adagio cantabile, with its hymnic horns and its long-limbed string lines, so exquisitely moulded by Equilbey. While the militaristic interlude made its point, it was the radiance of the lyricism that was most memorable; a Gallic grace offering a complement to Beethovenian backbone, perhaps.
The sheer discipline of performance of the Scherzo equalled that of the Paris performance; both performances, too, oozed a sense of Mendelssohnian fairy delight. Perhaps there was a touch more of a folksy element to the Trio at the Barbican; the finale, with its Schumannesque dark clouds, daring contrasts and dramatic use of silence carried huge energy, an energy that was fully unleashed in the work's coda. A superb performance of sweeping power, beautifully balanced and structurally cogent.
Auber's Domino noir again furnished the encore, deliciously turned out. A professor at the Paris Conservatoire, Auber had offered support for equal wages between men and women, making him a perfect choice for Women's Day.
The pre-concert event was longer than most of its ilk, and deliciously so. Farrenc's Trio in E flat, Op.44, published by her husband's firm (Editions Farrenc) in 1861, is superbly crafted and lasts in the region of half and hour. Performed at A = 438 Hz, the work begins with an Andante of expansive lyricism, showcasing the expressive cello of Emmanuel Jacques (as did the slow movement proper). Usually performed by clarinet, here we heard it via the beautiful flute of Anna Besson. The influence of Weber on the wind writing is heard more easily when the solo instrument is a clarinet, while the shadow of Beethoven surfaces in the Adagio. Nathanael Gouin was the nimble-fingered pianist.
The Sextet for wind quintet plus piano is another extended work, packed with invention. There is a real feel of outdoor Harmoniemusik to the first movement and a splendidly beautiful and fluent central Andante sostenuto (eloquent solos from horn player Jeroen Billet). The clouds of the finale come as a surprise, but the movement's serious demeanour actually mirrors the last movement of Farrenc's Third Symphony, to the extent of closing in a similarly emphatic manner.
Forthcoming recordings of Insula under Laurence Equilbey include Beethoven's Fourth and Fifth Piano Concertos with Nicolas Angelich (Autumn 2018) and the Beethoven Triple Concerto and Choral Fantasy in Spring 2019, soloists Bertrand Chamayou, David Kadouch, pianos; Alexandra Conunova, violin; Natalie Clein, cello (Spring 2019). Both releases will be on Warner Classics Erato.
Colin Clarke
Laurence Equilbey in conversation about this very programme plus La Seine Musicale is available here.