United Kingdom Verdi, Macbeth: Soloists, Royal Opera Chorus and Orchestra of the Royal Opera House / Sir Antonio Pappano (conductor). Royal Opera House, Covent Garden, London, 25.3.2018. (JPr)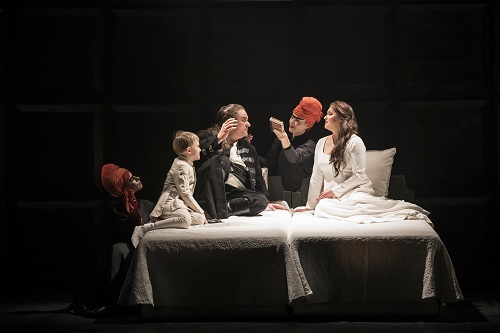 Production:
Director – Phyllida Lloyd
Designer – Anthony Ward
Lighting designer – Paule Constable
Choreography – Michael Keegan-Dolan
Cast included:
Macbeth – Željko Lučić
Lady Macbeth – Anna Netrebko
Banquo – Ildebrando D'Arcangelo
Macduff – Yusif Eyvazov
Lady-in-waiting – Francesca Chiejina
Malcolm – Konu Kim
Doctor – Simon Shibambu
In a letter Verdi wrote to librettist Francesco Maria Piave concerning Macbeth he describes the tragedy as 'one of the greatest human creations! … If we can't do something great, let us at least try to do something out of the ordinary.' Verdi had discovered Shakespeare several years earlier through the Italian prose translations of Carlo Rusconi and this was the first of his operas to be based on the work of The Bard. It is considered that through composing Macbeth in 1847 Verdi took a big step forward in his development.
This is the third revival of Phyllida Lloyd's 2002 production and it has been revived by Daniel Dooner. The score used is based on David Lawton's 2006 critical edition which draws together Verdi's earliest thoughts along with the revised version he prepared for Paris in 1865. Macbeth's 1847 death scene has been reinstated though this had been jettisoned in Paris for a concluding hymn of victory. Strangely therefore the opera seems to stop-start-then stop again, and this does not dispel the thought – after 2½ hours of music – that what we have heard is all a bit of a mishmash and the mix of monologues, duet and ensembles is nothing really 'out of the ordinary' for Verdi at this time of his career. Thankfully it all came together – musically if not dramatically – this Sunday afternoon and there was nowhere I would have rather have been than in the Royal Opera House watching this performance. If you cannot get a ticket for Covent Garden – especially with Anna Netrebko singing – then you can see her when the opera is relayed live to cinemas around the world on 4 April.
Whilst there are some arresting images, the sliding panelled walls of Anthony Ward's Glamis Castle setting become overfamiliar during this Macbeth. We see little more than a couple of other visual motifs such as a large bed and this is often used very effectively particularly when we are shown how things might have been like for the Macbeths. At one point they are the epitome of a happy family surrounded by young children before the bed is split in two and we get an insight into their real childless, loveless, and estranged life. These children are brought to the bed by the witches and their role in Phyllida Lloyd's Macbeth as not just the foretellers of events but also as the instruments of fate is one of the highlights of her staging.
Hinting at a middle eastern setting the witches' blood red turbans – reflecting the gory events we will see unfold – and their costumes make them look rather like Whirling Dervishes at times. Although they are sometimes bizarrely choreographed, they are an all-pervading presence and a witch takes Macbeth's letter to his wife's bed whilst another engineers Fleance's escape from Macbeth's assassins. There is another thought-provoking moment as Act II ends – which resonates as much in 2018 as it must have done in 2002 – when the guests who have witnessed Macbeth's ravings morph into a mass of refugees covered by blankets and trudge through gently falling snow. When they return lamenting the misery of war at the start of Act IV the Pilgrims' Chorus from Wagner's Tannhäuser – first staged less than two years before Macbeth was composed – seems to have been a strong influence on Verdi!
Perhaps to my shame, I have never seen Macbeth as a straight play and I doubt whether even the greatest performance of the opera would be on a dramatic par with a version of Shakespeare's play in the theatre or on TV. I am surprised -when checking back on some records I have of my early opera-going days that I saw the opera several times at Covent Garden and English National Opera – but not in the opera house since 1990 apparently. The Macbeths included Sherrill Milnes, Renato Bruson and Jonathan Summers and a couple of the Lady Macbeths were Grace Bumbry and Renata Scotto. As hinted above, for me, Verdi's better efforts were still to come: although there is much stirring music in Macbeth it is simply one set-piece followed by another, although it is clear the composer – who had already written nine operas – was undoubtedly striving for some greater sense of flowing music-drama. 
Anna Netrebko is mightily impressive as Lady Macbeth. Her performance – and to be truthful that of the other principals – was a throwback to what brought me back time and again to Covent Garden or the London Coliseum in my formative years. This was the complete antithesis to English National Opera's current woefully miscast La traviata. This can belto approach may not be to everyone's taste, but it was great to be thrilled by a voice that could have been heard outside the theatre by passers-by in Floral Street. Netrebko uses her vast vocal range and all the effects she has at her command to explore her unhinged character's moral turpitude. Initially she brings a perverse sexual allure to Lady Macbeth's ruthlessness, and her ultimate decline is pitiable. Her scenes threatened to stop the show and drew long and well-merited applause from the sold-out matinee audience especially for the famous 'La luce langue' aria in Act II and her concluding sleep-walking scene ('Una macchia è qui tuttora') in Act IV. I hope I can be in Bayreuth next year to hear her sing Elsa though her current voice and stage persona suggests Ortrud would be the most appropriate role for her in Lohengrin.
Željko Lučić's hangdog Macbeth was an equally towering portrayal but – side by side with Netrebko – he was rather stoic and just willingly bent in the direction of his wife's domineering force. One blood-soaked act leads to another until he is a broken man with only a fragile grasp on reality. In the last two acts this Macbeth is clearly someone on a pre-destined path he has absolutely no control over. Lučić – singing resolutely throughout – got warm applause for his deeply-affecting aria 'Pietà, rispetto, amore' where he reflects morosely on what has becomes of his life.
Verdi's Macbeth is essentially a two-hander and nobody else gets much chance to impress. Nevertheless, Ildebrando D'Arcangelo was an exceptionally vivid presence as Banquo and Konu Kim did the best he could with what little Verdi gives him as Malcolm, who Phyllida Lloyd shows becomes a somewhat reluctant King. Yusif Eyvazov as Macduff was sharing the stage with his wife Anna Netrebko and he gave an ardent, full-throated account of 'Ah, la paterno mano', a lament for the death of his children – and of determination to defeat Macbeth – which was full of grief but also suitably rousing.
Backing up his star singers and the magnificent chorus who have rarely – if ever – sounded better, was the presence of Antonio Pappano on the podium who seemed to help lift the whole occasion. He relished the duality of the very uneven score that veers wildly from demonic impulses to patriotic choruses and – by illuminating as many subtleties and imaginative touches as possible – it was a totally authoritative account from a conductor who is at his very best with Verdi. Pappano brought out all the blood and thunder in high definition and that is how those cinema audiences can appreciate it on 4 April.
Jim Pritchard
For more about what is on at the Royal Opera House click here.