Parry and His Pupils: A Centenary Celebration in Gloucester
A number of centenaries will be marked in 2018, not least the commemoration of the end of World War I. One important musical anniversary will be the centenary of the death of Sir Hubert Parry (1848-1918).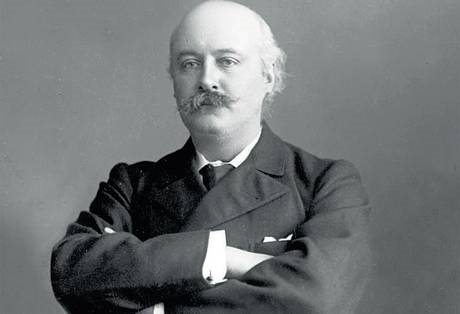 Parry was a figure of great importance in British music life in the late nineteenth and early twentieth centuries and though much of his career was London-centred he had strong links with the city of Gloucester. The Parry family owned an imposing country house at Highnam Court just outside the city. Young Hubert lived there as a child. Parry's father, Thomas Gambier Parry, painted the many murals in the Church of the Holy Innocents close to Highnam Court. Hubert Parry came to be an important figure in the annals of the Three Choirs Festival: his works were frequently performed at the Festival during his lifetime – including several premieres – and his music still features in Festival programmes.
Parry was the honorary President of Gloucester Choral Society so it's fitting that the choir and their conductor, Adrian Partington should have planned an ambitious weekend Festival to honour Parry in his centenary year. The weekend will focus on the music not just of Parry but also on music by some of his most illustrious pupils, including Vaughan Williams, Holst and Ireland.
The celebrations run from 4-7 May 2018, beginning with a screening of the BBC film The Prince and the Composer, the documentary about Parry by Prince Charles. On 5 May there'll be a welcome return to Gloucester by Ashley Grote, the former Assistant Director of Music at Gloucester Cathedral. Mr Grote, who is now Master of Music at Norwich Cathedral, will give a lunchtime organ recital on the fine instrument in St Peter's Roman Catholic church. He'll play music by Parry and by several other English composers. Choral Eucharist and Choral Evensong on Sunday 6 May in Gloucester Cathedral, both sung by the Cathedral Choir, will feature music by Parry, Vaughan Williams and Howells. Parry's masterly Songs of Farewell will be the centrepiece of an evening concert by the St Cecilia Singers.
Monday 7 May, which, happily, is a Bank Holiday, will be Highnam Day. Events will include an illustrated talk about Parry's choral music by the composer's biographer, Jeremy Dibble. There'll also be a service of Choral Evensong when Holy Innocents Church will resound to music by Parry and Vaughan Williams sung by members of Gloucester Choral Society.
At the heart of the weekend will be the Gala Concert in Gloucester Cathedral on Saturday 5 May when Adrian Partington will conduct the combined forces of Gloucester Choral Society, the Oxford Bach Choir and the Philharmonia Orchestra in a mouth-watering programme. On the bill will be Vaughan Williams' 'Tallis' Fantasia and Holst's blazingly original Hymn of Jesus Best of all, there'll be an all-too-rare chance to hear Parry's magnificent Ode on the Nativity. This was composed for the 1912 Three Choirs Festival. It was most recently revived, to excellent effect, by Adrian Partington at the 2010 Three Choirs (review).  If you can't get to Gloucester you may like to know that on May 10 these performers will give substantially the same programme in London's Royal Festival Hall.
For English music devotees this long weekend in Gloucester is an unmissable event. Full details are available on the Gloucester Choral Society website. There you'll also find details of the Parry Pass: for just £125 the Pass gives admission to all ticketed events throughout the weekend. Individual event booking is either online via the Three Choirs Festival website or by telephone on 01452 768928.
John Quinn