United Kingdom Verdi, Un ballo in maschera: Soloists, Chorus and Orchestra of Opera North / Richard Farnes (conductor), The Lowry, Salford Quays, 10.3.2018. (RJF)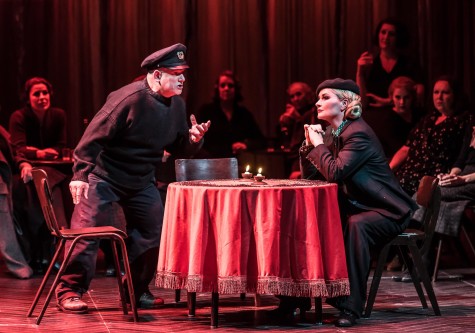 Cast:

Gustav, King of Sweden – Rafael Rojas
Count Anckarström – Phillip Rhodes
Amelia – Adrienn Miksch
Ulrika Arvidson – Patricia Bardon
Oscar – Tereza Gevorgyan
Count Ribbing – Dean Robinson
Count Horn – John Savournin
Christian – Richard Mosley-Evans
Production:

Director – Tim Albery
Set & Costume Designer – Hannah Clark
Lighting Designer – Thomas C. Hase
Choreography – Laïla Diallo
By the time of the composition of Un ballo in maschera, Verdi was rich, powerful and famous. He had purchased an estate at Sant'Agata near his birthplace and found peace and great pleasure in its development. He no longer needed to write two operas each year and only agreed a contract if location, singers and subject appealed to him. In 1857 he wanted to write an opera based on Shakespeare's King Lear. However, when the Teatro San Carlo in Naples approached him Verdi did not believe the house soprano to be suitable for his vision of Cordelia. Instead, Verdi chose the subject of Un ballo in maschera based on the true story of the assassination of Gustavus, King of Sweden, at a ball. Verdi asked the poet Antonio Somma to prepare a libretto. When the libretto was submitted to the censor in Naples they made seven major objections that involved no fewer than 297 lines, nearly one third of the text! Their objections involved the assassination of a king, the location in northern Europe, the inclusion of sorcery and the use of firearms on stage. Poet and composer agreed the transfer of location to Boston, America, the king to become a duke and the assassination to be a stabbing not shooting. Still the censor was not satisfied and Verdi cast around for another theatre. The censor in Rome was more accommodating and the opera saw its first performance at the Teatro Apollo with the original king becoming Riccardo, Earl of Warwick, an English colonial governor, and the Swedish Count Anckarström, becoming Renato his secretary. It is in this latter form that the work is usually staged today.
Opera North's choice of Verdi's earlier format, and then updating it to either side of World War II is inexplicable and adds nothing to the story, in fact it detracts from it specifically in respect of costumes and setting. I eulogised about the set, costumes and the felicitous details that director Albery, and his designer, brought to Madama Butterfly seen a few night before (review) at this Opera North season at The Lowry.  I regret there are no such virtues in the primitive shoebox stage set and the regular moving of benches about in this performance. The opening scene, as courtiers arrive, looks more like the arrival of members of a Lodge of Freemasons as they hang up their trilbies and gabardine coats before the arrival of Oscar the King's page, a travesty role superbly portrayed by Armenian Tereza Gevorgyan, who unaccountably appears in a ball gown at the final ball in Act III. Some kind of perverse double-double take on the story that I certainly missed! The missed opportunity for setting a scene to the story was also the case when the King, in disguise, goes to Ulrika to have his fortune told. Verdi's atmospheric introductory music is wholly wasted with no atmosphere created by the table at which the fortune teller sits, she could have been anybody in the crowd; neither her costume nor the setting matched the eeriness of the music whilst her invocation of Satan went for nothing in this staging. Similarly, the Act II opening is also a missed opportunity for the stage setting, which in no manner enhances Verdi's music nor the words that are sung.
Staging matters were a little better for Anckarström's threatening of his wife and the drawing of lots for the proposed assassination of the King, at which point I had better address the singing and orchestral contribution under Richard Farnes, the former Music Director of Opera North, on his first return to the Company after his much-regretted departure. His feel for a Verdian line and pacing was evident throughout, with the orchestral playing and the chorus singing being outstanding in every respect. The soloist singing was more variable. As the King, Opera North went back a decade or more to their then regular for Italian tenor roles, Rafael Rojas. Time has not been kind to his voice, which was often effortful and course, substituting volume for the kind of vocal elegance that the role and Verdi's music calls for. Listen to Pavarotti or Bergonzi, the latter I was fortunate enough to see on stage. Neither singer were great actors, but they could caress a Verdian phrase at either forte or mezza voce and bring out the nuances of the words, skills totally absent from Rojas's current vocal repertoire. Fortunately, Adrienn Miksch, as Amelia, had a voice that could soar on the Verdian line whilst acting the part with sincerity. Likewise, Phillip Rhodes as Anckarström sang with tonal power and created a meaningful character well. His temper at his wife was nicely contrasted with his agonizing at the death of the King as he questioned himself.
There is a strange synchronism about the current repertoire of Britain's two major regional opera companies, Opera North and Welsh National Opera, presenting seasons of Don Giovanni alongside a Verdi opera and one of Puccini's big three. In its forty years, Opera North has never before presented Un ballo in maschera. By the time of its composition, Verdi was termed The Glory of Italy, with his capacity of matching sublime music and subject. However, one of his works has not has not featured in Opera North's repertoire since 2014 as it has developed production of musicals and delved into various other operatic backwaters.
I regret this production, especially with the former musical director on the rostrum, fails to match the composer's mature genius. Maybe Opera North are afflicted with the Regietheater and concept production bug, like too many European houses and even our Royal Opera House if recent offerings are anything to go by. I can but hope that is not the case.
Robert J Farr