The Cleveland Orchestra Announces Its 2018-19 Season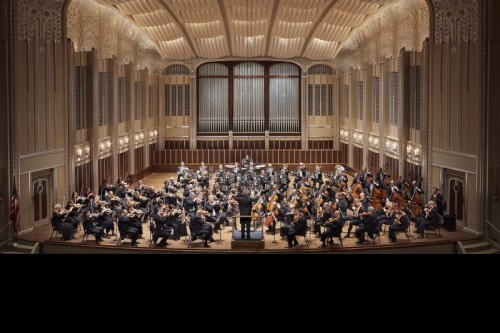 On 11 December 1918, the Cleveland Orchestra gave its first concert, under the direction of its founding music director, Nikolai Sokoloff. As the ensemble embarks on its second century, the Orchestra has announced a lively season to mark the occasion. Franz Welser-Möst, the ensemble's seventh music director, will oversee a year of audience-pleasing favorites mixed with enterprising new works and neglected classics.
'Each year, we are on a journey, striving for excellence and to present extraordinary musical experiences,' Welser-Möst said. 'The Centennial is just one more step forward. Every season I focus on composers and programs that extend and expand the Orchestra's artistic quality and which, in turn, make for a rich experience for our great Cleveland audiences.'
The coming season will highlight Welser-Möst's acclaim as a Richard Strauss conductor with Ein Heldenleben, Aus Italien, the 'Die Frau Ohne Schatten' Fantasy, the Symphony for Winds ('Fröhliche Werkstett'), and in January 2019, a staged performance of the opera Ariadne auf Naxos, directed by Frederic Lake-Walker and featuring vocalists Tamara Wilson, Andreas Schager, Daniela Fally, and Kate Lindsey. Other Welser-Möst concerts will include Mahler's Symphony No.2, Prokofiev's Third, Tchaikovsky's Suite from Swan Lake and Fifth Symphony, and Schubert's Mass No.6.
The venerated Herbert Blomstedt will continue his relationship with the orchestra in a concert pairing Beethoven's Pastoral Symphony with Mendelssohn's Scottish. Other returning conductors include Semyon Bychkov (selections from Smetana's Ma Vlast, perhaps reflecting his success as the new music director of the Czech Philharmonic), Matthias Pintscher (Bartók's complete ballet The Wooden Prince), Stéphane Denève (Debussy's Prelude to the Afternoon of a Faun and Scriabin's Poem of Ecstasy), Jakub Hrůša (Shostakovich's Symphony No.5), Jane Glover (Handel's Messiah), Harry Bicket in an all-Mozart program, Alan Gilbert (Haydn's Symphony No.100 and Busoni's Piano Concerto), and Ingo Metzmacher in Schoenberg's Pelléas und Melisande.
Michail Jurowski will be making his U.S. debut, conducting Shostakovich's Symphony No.11, The Year 1905. François-Xavier Roth will make his Cleveland debut with Stravinsky's Petrushka, while Gustavo Gimeno will make his Severance Hall debut with Rimsky-Korsakov's Scheherazade.
The season will open with the world premiere of Jeffrey Rathbun's Pantheon, a Cleveland Orchestra commission, led by Welser-Möst in a concert that also includes the U.S. premiere of the piano concerto Left, Alone by Hans Abrahamsen, with pianist Alexandre Tharaud in his Cleveland debut. In another concert, Welser-Möst will lead Bernd Richard Deutsch's Okeanos (with Paul Jacobs at the organ). Alain Altinoglu will lead the U.S. premiere of Pintscher's Transir for flute and orchestra, with the orchestra's own Joshua Smith as soloist. Bychkov will lead the U.S. premiere of Detlev Glanert's Distant Land: Music with Brahms, as well as the Cleveland premiere of Martinů's Concerto for Two Pianos with Katia and Marielle Labèque as soloists.
Other Cleveland premieres include Alberto Ginastera's Cello Concerto (with the orchestra's Mark Kosower as soloist), Miloslav Kabeláč's Mystery of Time, John Adams' Scherherazade.2 (led by the composer with violinist Leila Josefowicz), and Peter Eötvös' Seven (with violinist Patricia Kopatchinskaja in her Cleveland Orchestra debut). Roth will lead the Eötvös work and will also lead Philippe Manoury's reconstruction of Debussy's 'Rêve,' from the abandoned Première Suite d'Orchestre. Also new to the orchestra will be James MacMillan's Piano Concerto No.3, The Mysteries of Light with Jean-Yves Thibaudet, led by Denève in the same concert with the orchestra's first reading of Jennifer Higdon's acclaimed blue cathedral.
The roster of prominent guest soloists will be headed by Lang Lang, joining the orchestra for the official 100th Anniversary Gala Concert in Mozart's Piano Concerto No.24. Long-time collaborator Yefim Bronfman will return in Bartók's Piano Concerto No.2. Another frequent visitor over the years has been Garrick Ohlsson, who will be joined by the men of the Cleveland Orchestra Chorus in Busoni's remarkable Piano Concerto. Emmanuel Ax will appear in Stravinsky's Capriccio for Piano and Orchestra, Christian Tetzlaff will be the soloist in Berg's Violin Concerto, Mitsuko Uchida will play Bartók's Piano Concerto No.3, and pianist Kirill Gerstein returns with the mighty Rachmaninoff Third.
The brilliant Vadim Gluzman, familiar to Ohio audiences as creative partner and principal guest artist of the Pro Musica Chamber Orchestra in Columbus, will play Tchaikovsky's ever-popular Violin Concerto. Simon Keenlyside will be heard in songs by Sibelius, as well as Schubert's Die Winterreise in the exquisite Reinberger Chamber Hall, located in the Severance Hall basement.
Cleveland Orchestra players will be featured as soloists throughout the season. The orchestra's formidable concertmaster, William Preucil, will lead Vivaldi's The Four Seasons on a program that includes Schumann's Rhenish Symphony. English hornist Robert Walters and trumpeter Michael Sachs will be featured in Copland's Quiet City. The orchestra's chorus will be featured in Schubert's Mass No.6, as well as in Handel's Messiah, the Busoni Piano Concerto, and Mahler's Resurrection Symphony.
The 100th Anniversary Gala Concert will take place on 29 September 2018, with Franz Welser-Möst conducting Ravel's La Valse, the Wiener Blut Waltz by Johann Strauss Jr., the Die Frau Ohne Schatten Fantasy by Richard Strauss, and Lang Lang in the aforementioned Mozart. The orchestra will continue its 'Fridays at 7' series of short concerts with after-parties. For a screening of Gene Kelly's classic film, An American in Paris, Brett Mitchell will conduct a live performance of the Gershwin score.
Finally, the orchestra will embark on a major tour of China, while continuing residencies in Miami and at Indiana University.
Mark Sebastian Jordan
For further information click here.