United Kingdom Bernstein at 100: Jazz at Lincoln Center Orchestra with Wynton Marsalis (trumpet) Barbican Hall, London, 28.2.2018. (CC)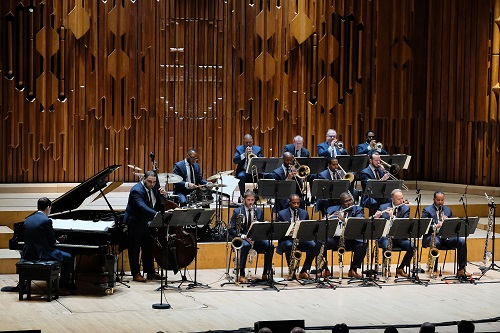 Overture to Candide (arr. Victor Goines)
'Cool' (West Side Story, arr. Richard DeRosa)
'It's Love' (Wonderful Town, arr. Vincent Gardner)
'Ain't Got No Tears Left' (On The Town, arr. Gardner)
'Conversation Piece' (Wonderful Town, arr. Gardner)
'Mambo' (Dance at the Gym) from West Side Story (arr. Carlos Henriquez)
'Lucky to Be Me' (On the Town, arr. DeRosa)
Lamentation (Symphony No. 1, arr. Gardner)
Gloria in excelsis (Mass, arr. Gardner)
Medley (Touches/Lonely Town/Somewhere, arr. DeRosa)
'Some Other Time' (On The Town)
It's wonderful to welcome the Jazz at Lincoln Center Orchestra to the Barbican for its mini-residency. This was the second concert of the present stint, prefaced the night before by an evening devoted to Benny Goodman ('King of Swing') and concluded the next night by 'Miles Ahead'. Here, though, it was Leonard Bernstein in the spotlight, a musician who had a special relationship to London (through the LSO, in particular perhaps a 1986 concert in front of the Queen) and indeed the Barbican (a Concertgebouw Mahler 9 that I for one will never forget). Here we celebrated the centenary of his birth via his music.
The 8pm concert, the main event, had been prefaced by a number of performances in the performing space in the public area by, amongst others, the youth performers associated with Jazz at Lincoln Center. Music by the likes of Herbie Hancock and Charlie Parker emerged freshly minted. There was such joy there that one just knows the future of this music is in safe hands. And it is surely impossible to imagine safer hands than those of the Jazz at Lincoln Center Orchestra itself. Technically impeccable and playing as if soul brothers, this this was Bernstein performance at its very best. The Overture to Candide, arranged by Victor Goines, was a celebration in sound, and a celebration of unanimity too. This orchestra plays with preternatural accuracy and the clear eye contact between players indicated a real chamber music basis to their activities, no matter how loud or raucous the result.
Some of Bernstein's most famous numbers were here: 'Cool' from West Side Story needs no introduction, its stealthy gait brilliantly projected. Less well known perhaps is 'It's Love' from Wonderful Town – not to be confused with On the Town, which furnished both 'Aint' Got No Tears Left', sung in the original by that work's 'nightclub singer'. Bluesy and mournful, this arrangement by Gardner paid conscious tribute to Count Basie. There could hardly be greater contrast than to 'Conversation Piece' from Wonderful Town, a depiction of an awkward moment infused with comedy and infectious vigour. A great way to end the first half.
While the 'Mambo' from West Side Story is one of Bernstein's most famous pieces, it needs and deserves white-hot energy. Clear as a bell trumpets blazed throughout, none more so that the preternaturally clear Wynton Marsalis (it's important to notice this is not the Wynton Marsalis Show by any means – the emphasis was clearly on Bernstein and, indeed, on his fellow musicians). It was interesting to hear 'Lucky to Be Me' from On the Town in a swing version (contrast Jessye Norman's nocturnal version on Philips); and how wonderful to hear some of Bernstein's symphonic output represented in the 'Lamentation' from the First Symphony, featuring the superb trumpet of Marcus Printup. The 'Gloria' from Mass seemed a reasonable partner, with its habañera-like rhythm and its jazz that tends towards the modern – superb double-bass breaks from Carlos Henriquez.
Most fascinating of all perhaps was Richard DeRosa's medley, marrying the little-known Touches (originally a piano piece) to the famous 'Somewhere' via 'Lonely Town'. A superb journey, started by the piano of Dan Nimmer (whose excellence we had more suspected than felt up to this point). Finally, Marsalis brought style and panache to his trumpet contributions in 'Some Other Time' (from On the Town).
A memorable evening indeed, crowned by a quintet performance of Gershwin's Oh, Lady, Be Good.
Colin Clarke