United States Hasse, Piramo e Tisbe: Soloists, New Vintage Baroque / Elliot Figg (conductor), the little OPERA theatre of ny, Baruch Performing Arts Center, New York, 24.3.2018. (RP)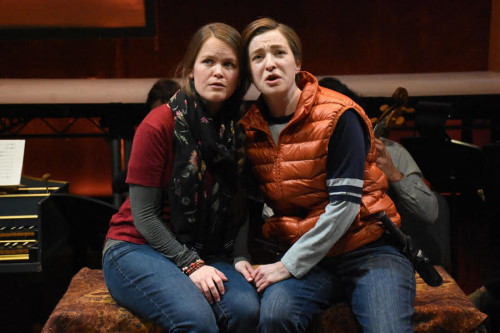 Cast:
Piramo – Kristin Gornstein
Tisbe – Kelly Curtin
Padre – Brian Downen
Production:
Director – Philip Shneidman
Set Designers – Neil Patel, Cate McCrea
Costume Designer – Lara De Bruijn
Lighting Designer – Grant W. S. Yeager
Projection Designer – Alex Basco Koch
Fight Director – Brad Lemons
Production Manager – Robert Airhart
Faranelli and the King, a play about the Spanish King Philip V who had the famed countertenor sing the same arias every night to him for ten years to ease his melancholy, is playing on Broadway. Some of the arias that the famed castrato sang nightly were by Johann Adolf Hasse, who wrote many of the hit tunes popular in Europe during the first half of the eighteenth century. From what I understand, there is no Hasse to be heard in the play, and that's a pity.
For almost 30 years Hasse served as court kapellmeister for the Electors of Saxony and propelled the Dresden Opera to glory. He penned Piramo e Tisbe in 1768, a few years after the court had been dissolved. It was Hasse's last work for the lyric stage, and he ranked it as one of his best, styling it an intermezzo tragico. First performed at a country estate near Vienna, it was revised by Hasse when it was later heard at Laxenburg, where the Hapsburgs summered. This was its New York premiere
Marco Coltellini provided librettos for the great composers of the day, including Gluck, Salieri and Mozart, as well as Hasse. He based the libretto for Piramo e Tisbe on one of the tales from Ovid's Metamorphoses that also attracted Chaucer, Dante, Boccaccio and Shakespeare. It is a sad story.
Forbidden by her father to marry Piramo, Tisbe agrees to run away with him. When Tisbe is delayed, Piramo fears the worst, and he kills himself. She finds him as he is taking his last breath and stabs herself. Upon discovering the dead lovers, Tisbe's father slits his throat.
Set in Persia, then and now, the set was simple, a two-tiered platform that surrounded the orchestra. Burnt orange and deep blue were the predominant colors, with the gradual appearance of red foreshadowing the tragic end. In the final scene, the water in the well where the lovers were to meet slowly changed color, a nod to the ending of Ovid's story where the gods, so moved by Tisbe's lament, decreed that the color of the mulberry fruit be stained with Piramo's blood forevermore.
Mezzo-soprano Kristin Gornstein as Piramo captured the impetuosity of youth and the bright flame of love both physically and vocally. Her coloratura was clear and effortless, while she sculpted Hasse's lengthy, spinning lines brilliantly.
As Tisbe, soprano Kelly Curtin displayed a lovely lyric soprano that was just as beautiful and expressive. Under pressure her high notes could become a tad screechy. When she let them float, however, they bloomed effortlessly. Curtin is a fighter; with a couple of swift kicks and a few blows of her arms she bested her father's two goons in seconds.
The lovers were dressed almost identically, in blue jeans and tops, with Piramo sporting an orange quilted vest and Tisbe a scarf. A bit of variation would have made for more visual interest and helped to delineate their characters. One of the colorful, beautiful Hijabs that Muslim women wear, but that are so seldom seen in the media, would have been evocative for Tisbe.
In a black suit, white shirt and tie, Brian Downen as Padre, Tisbe's father, had the gravitas and dramatic chops to make his unsympathetic character three dimensional, not just a stock villain. His lyric tenor was equally at home in the fiery music with which he does battle with his daughter as in the tragic lament that ends the opera. Like the others, he spent a lot of time singing on his knees.
The period band New Vintage Baroque was led by Elliot Figg at the harpsichord. His conducting was brisk and lucid, while his continuo playing was subtle and refined. The sound of concertmaster Toma Illiev's violin intertwining with Gornstein's voice was magical. The entire ensemble was excellent, but cellist Anthony Albrecht's dramatic flair and the sweet sound of flutist David Ross were especially noteworthy.
New York is home to some brave, wonderful opera companies, and the little OPERA theater of ny is one of them. This rarity, so splendidly and lovingly performed, was fit for a king.
Rick Perdian