United Kingdom Various composers, Mid Century Modern: Richard Alston Dance Company, Sadler's Wells, London, 23.3.2018. (JO'D)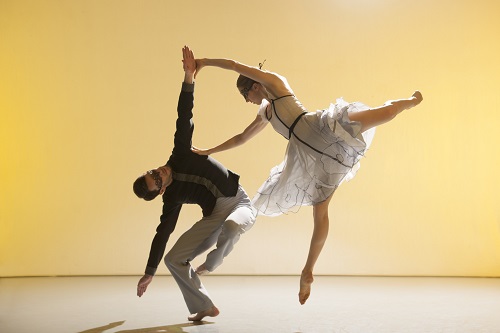 Dancers – Ihsaan de Banya, Nicholas Bodych, Elly Braund, Jennifer Hayes, Monique Jonas, James Muller, Liam Riddick, Ellen Yilma, Ania Jurek (apprentice dancer), Nicholas Shikkis (apprentice dancer)
Cut and Run
Choreography – Martin Lawrance
Lighting – Zeynep Kepekli
Costumes – Jeffrey Rogador
Carnaval
Choreography – Richard Alston
Pianist – Jason Ridgway
Lighting – Zeynep Kepekli
Costumes – Fotini Dimou
Mid Century Modern
Choreography – Richard Alston
Restaging – Martin Lawrance
Lighting – Co-ordinated by Kate Elliott
Costumes – Co-ordinated by Inca Jaakson
It was an evening that got better and better as it went on. It began with a slip, or a stumble, some little way in to the 'darkness visible' of Martin Lawrance's Cut and Run (2017). It ended with all the Richard Alston dancers, to a Richard Alston dancer, placing one perfectly-timed foot in a vertical position to bring an extract from Alston's The Signal of a Shake (1999) to a triumphant close.
A programme that focuses on the work of the company's founder over the last five decades opens with a work by its Associate Choreographer that is about now. The murkily-lit Cut and Run is all bowed backs, sharp spins, sudden stops, hard stares. What light there is picks out touches of gold on the black of the costumes. Through the gloom, it is possible to distinguish Liam Riddick (Best Male Dancer in the 2017 National Dance Awards) letting himself be tossed about on cacophonous sound as on a wave. Also in evidence, if you look hard enough, are the partnering skills of Nicholas Bodych.
Carnaval, which follows, is a work by Richard Alston from 2017. Against the background of an onstage pianist playing Schuman, three dancers (Nicholas Bodych, Liam Riddick and Ella Braund) represent that composer's 'double persona' and his 'sweetheart', Clara Wieck, at a masked ball. Not having read the programme beforehand, I took it to be a ménage à trois with a happy outcome. I also thought of the 'Emeralds' section in Balanchine's Jewels (the drama of men and women on the stage; the women's sudden dash into the wings). Jennifer Hayes, compelling in all that she does, was like the Second Woman in the Balanchine. The costumes of black and light-grey are redolent of the commedia dell'arte. All the dancers show to advantage. But five lampshades that look like they come from IKEA hang incongruously over the stage.
After the second interval, Richard Alston stepped out from between the closed curtains to address the audience. 'Mid Century Modern is me,' he said in reference to his fifty years as a choreographer. It may have been his presence. It may have been his calling out 'Are you there?' to the dancer (and choreographer) Siobhan Davies, one of the performers, in 1968, of Alston's first work. It may have been her calling back 'Yes' from somewhere in the auditorium. Whatever the reason, the audience seemed to give increased attention to the seven pieces of work, and extracts from work, which followed.
'I was a very fierce young man, with an eye for integrity,' Alston said of himself. There is certainly an almost academic rigour to the first two extracts, from Rainbow Bandit (1977) and Nowhere Slowly (1970). The stage is completely bare; the dancers have all the space and all the time necessary to extend their arms as they investigate 'sterner truths than beauty' (to borrow dance writer Deborah Jowitt's memorable phrase) in slow bends and balances.
In the programme's 'Welcome' note Richard Alston mentions Ashton, Tudor and Cunningham as choreographers from whom he learnt. It might have been of Ashton's 'Meditation' from Thaïs he was thinking when he created his most recent work, Syrinx (2018), for the Kathak-trained Vidya Patel: a softly-lit expanse of stage; sensuous music (Debussy's solo for flute, in this case); a dancer whose movements merge with the sound.
Dutiful Ducks (1982), made as a present for Michael Clark, gives Liam Riddick the chance to display his 'feet of Mercury' again, to spontaneous applause. Perhaps only Richard Alston could choreograph a collective shaking of the fists to the music of Handel, in The Signal of Shake, twice. The words 'joyous' and 'joyful' came to mind. It was no surprise to read in the programme notes that Richard Alston still believes 'profoundly in the life-enhancing joy of dance'.
John O'Dwyer