United Kingdom Puccini – Il tabarro and Gianni Schicchi, and Mozart – Le nozze di Figaro: Soloists, Orchestra of English Touring Opera / Michael Rosewell and Christopher Stark (conductors). Hackney Empire Theatre, London, 2 and 3.3 2018. (MB)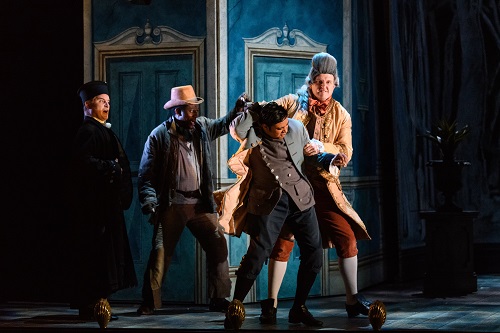 Il tabarro
Michele – Craig Smith
Giorgetta – Sarah-Jane Lewis
Luigi – Charne Rochford
Talpa – Timothy Dawkins
Tinca – Andrew Glover
Frugola – Clarissa Meek
Young lovers – Galina Averina, Luciano Botelho
Stevedores – Luciano Botelho, Ed Ballard, Ian Beadle, Maciek O'Shea, Jamie Rock, Bradley Travis
Song Vendor, Stevedore – Dominic Walsh
Gianni Schicchi
Gianni Schicchi – Andrew Slater
Lauretta – Galina Averina
Zita – Clarissa Meek
Rinuccio – Luciano Botelho
Gherardo – Andrew Glover
Nella – Joanna Skillett
Betto – Bradley Travis
Simone – Timothy Dawkins
Marco – Ed Ballard
La Ciesca – Emma Watkinson
Maestro Spinelloccio – Maciek O'Shea
Ser Amantio – Dominic Walsh
Witnesses – Ian Beadle, Jamie Rock
Le nozze di Figaro
Countess Almaviva – Nadine Benjamin
Count Almaviva – Dawid Kimberg
Figaro – Ross Ramgobin
Susanna – Rachel Redmond
Cherubino – Katherine Aitken
Marcellina – Gaynor Keeble
Bartolo – Omar Ebrahim
Don Basilio – John-Colyn Gyeantey
Don Curzio – Stuart Haycock
Antonio – Devon Harrison
Barbarina – Abigail Kelly
Productions:
James Conway, Blanche McIntyre, Liam Steel (directors)
Neil Irish (designs)
Rory Beaton, Guy Hoare (lighting)
Rosie Purdie, Rory Fazan (assistant directors)
It is always a joy, or at least has always been to date, to return both to English Touring Opera and to the Hackney Empire. Hellish weather, or rather travel, conditions made the business of returning somewhat less of a joy on this occasion, as did my no longer living in the East End. Once there, however, I was treated once again to two delightful evenings, more than recompense for the travails of the first night in particular.
Two of Puccini's Trittico were on offer first. Doubtless some would have been moaning about the loss of Suor Angelica, but then, some will moan about anything: let them. The performance of Il tabarro confirmed my sense that this is one of Puccini's finest achievements: a perfect tragedy in miniature, penetrating far deeper than many realise. The realism of James Conway's production struck just the right – or at least a right – aesthetic for the work. We need not set it on the Moon just for the sake of doing so. Hints of an external, Zola-like world are there, but the emphasis lies upon character and action, quite rightly so. And there is no character more important, of course, than the Seine: somehow both the colours of score, orchestral performance, and stage alike seemed specifically to speak of that river, not just a generic one. (Or perhaps it was that anywhere, let alone Paris, would have seemed better than London in one of its collective fits of transport hysteria.)
At any rate, Michael Rosewell's direction of the excellent orchestra – a little short on strings, perhaps, by the standards of a 'large' house, yet hardly the worse for it – proved uncommonly attentive to the barcarolle that is there even when it is not, to the Seine, not unlike the castle in Bartók's Bluebeard, as the most important character of all. All the while, its flow formed and bound the horizons, the possibilities, the ambitions of those we saw on stage, leaving us with the inevitable conclusion that their lives were always fated to be lived and to end in misery. Not that the lighter moments went unnoticed: who can fail to smile at the quotation from La bohème? In any case, darkness without even the possibility of light will often struggle to be darkness at all. Charne Rochford and Sarah-Jane Lewis made for an ardent pair of lovers, hopeful and thus all the more hopeless. Craig Smith sealed their fate with due sadism. A fine 'supporting' cast greatly enhanced the chiaroscuro, even as the dramatic scales were ever more tilted towards the 'scuro'.
Rosewell and the orchestra seemed equally at home in the scherzo that is Gianni Schicchi. How often does one hear, say, Stravinsky there, thus marvelling at Puccini's receptivity to the art of his younger colleagues, only to wonder whether one has it the wrong way around? The sharpness of Liam Steel's staging, holding in equipoise, like the opera itself, the style and fashions of the early twentieth century and the age-old traditions of the commedia dell'arte. 'Period' (to Puccini) clothes with clown faces that were both of the time and of another seemed to me an excellent prism through which to conduct, in more than one sense, the drama. No, the 'joke' itself is not nearly so hilarious as some seem to think, but who cares? It is the beginning, not the endpoint, of Puccini's play, as the cast seemed very well to understand. Andrew Slater's comic timing in the title role did not preclude a sense of something deeper, yet not too deep, beneath the glittering surface. Galina Averina proved quite a discovery as Schicchi's daughter, Lauretta, she and Luciano Botelho finely matched as a fresh-toned pair of lovers. Again, there was not, as the cliché has it, a weak link in the cast. And more, perhaps than in any performance I have previously seen, Steel, his assistant director, Rosie Purdie, and the cast as a whole showed an affectionate awareness of just what, and what is not, placed in inverted commas here. Thank goodness 'O mio babbino caro' fell into the former category: a fleeting moment the more touching for its unquestionable irony. Puccini is so much better than 'great' opera houses will generally allow…
So too, of course, is Mozart, infinitely so: doomed always to fail in performance, since he demands perfection. If conducting Puccini is a difficult task, its true difficulty only revealed on those few occasions when the music has properly taken flight, then conducting Mozart verges upon the impossible. More depressingly still, the fashion now has become for conductors to inflict themselves upon the score, to insert sub-Harnoncourt roadbumps like moles upon the Mona Lisa, and to receive admiring plaudits for the 'revelations' such idiocies have afforded to a cast of audience fashion victims. (René who? It is apparently now all about the preposterous Teodor Currentzis.) On the morning of the Puccini performance, I had led an undergraduate class on The Magic Flute, and had found it especially moving to welcome back Sir Colin Davis on DVD to lead the excerpts we watched and to which we listened. It was thus an especial joy, not only to take some of my students to so estimable a Figaro, but to hear it conducted with a warmth and, yes, a wisdom of which Sir Colin himself would surely have approved. Not once did Christopher Stark draw attention to himself; he let the music, however apparently, speak and breathe for itself. The orchestra, again, on excellent form, seemed to love playing for him – just as it should have done. Tempi were broadly 'traditional', yet never staid; there were one or two surprises, never unreasonably so, always justifiable within the greater framework of work and performance. Cuts in this work are always regrettable; here we must sacrifice the choruses too. We survived though, as did Mozart. Such losses are a price eminently worth paying for a production that will tour parts of this country far less fortunate, musically or otherwise, than our capital city, snowridden or not.
One might object that Blanche McIntyre's production is a little on the basic side, but again, one needs to remember that ETO plays to considerably smaller theatres than this. After an initial flourish to the metatheatrical – singers dressing on stage during the Overture – the story is told faithfully, lovingly, and without undue fuss. There is much to be said for that, from time to time. (Not that I should ever want to be without, say, Claus Guth.) Again, the emphasis falls upon the characters and indeed upon the performances – which brings me perhaps to ETO's signal achievement here. A sparkling cast, with, I think, a majority of non-white faces offered a standing rebuke to the casting practices of pretty much every house in the world, large or small. There were no 'allowances' to be made; indeed, it is surely past time to realise that allowances are being made every day to those in a position of privilege. The diversity of the cast certainly did not go unnoticed amongst my students, for which many thanks indeed!
I have enjoyed watching Ross Ramgobin's artistic development for a few years now. He shone at the Royal Academy, and here he shone for ETO as Figaro, in a performance imbued both with good humour and with something deeper, more complicated. His Susanna, Rachel Redmond did likewise, in as graceful and as intelligent an assumption of the role as anyone could have asked for. Nadine Benjamin's Countess went deeper, of course, as her character must; one truly felt her pain, her dashed hopes, but also the ambivalent joys inscribed upon the other side of the Mozartian coin. McIntyre seemed oddly concerned to present the Count as a stock character, very much in the line of the eighteenth-century commedia dell'arte. I could not really understand why, in what was otherwise a non-interventionist staging. Dawid Kimberg's performance sometimes seemed a little blunted by that relative neutering, but there was nevertheless much to admire in it. And Katherine Aitken's Cherubino proved unambiguously a joy, a joy to be experienced in all its youthful, lusting fullness. Once again, there was a true sense of company, not just to the performances narrowly considered, but to the valiant, in many cases life-changing enterprise that is English Touring Opera. If ever a company deserved our support, it is this.
Mark Berry
For more about ETO click here.