Spain Parra, Bartók: Orquesta Nacional de España / David Afkham (conductor), Auditorio de Música, Madrid, 21.4.2018. (JMI)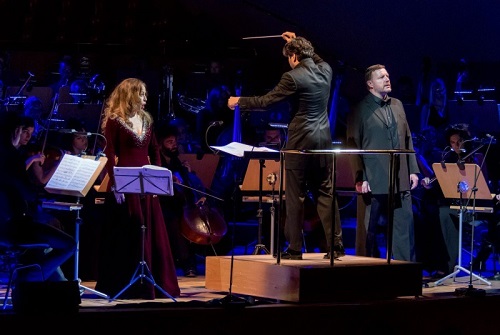 Parra – Avant la fin…vers où? (world premiere) 
Bartók – Bluebeard's Castle (concert performance)
Cast:
Bluebeard – Bálint Szabó
Judith – Elena Zhidkova
Narrator – Káldi Kiss András
In recent years, the Orquesta Nacional de España (ONE) has programmed several semi-staged operas that have been well received by critics and the public alike. On this occasion, the opera offered was Béla Bartók's Bluebeard's Castle, and it was brilliantly done.
This is the only opera that Bartók composed, and it is an authentic masterpiece, not only in the composer's catalogue but in the history of music as well. The work has ceased to be a rarity, and one sees it announced in opera houses more and more frequently. Its quality is unquestionable: whoever listens to this opera for the first time will not easily forget the superb music Bartók wrote for the opening of the fifth door.
Conductor David Afkham's performances with the Orquesta Nacional are always successful. His reading here was energetic and had some magnificent moments – in particular, the opening of that fifth door. His authority with the orchestra is unquestionable, and they were magnificent under his baton; the only problem was an occasional excess of volume which created some problems for the soloists. Afkham has a brilliant future, but I am afraid we will miss him at the ONE in the not-too-distant future.
The role of Bluebeard was sung by Bálint Szabó, a true specialist in the part. He gave a convincing performance, although his vocal volume is somewhat reduced, and his voice can be tight on the high notes.
Mezzo-soprano Elena Zhidkova in the part of Judith was also very good. She knows the opera well, having sung the part on several earlier occasions. Her performance was impressive both vocally and dramatically – she barely made use of the score.
The brief part of the Narrator was nicely covered by Káldi Kiss András.
The first part of the concert featured a work by the Catalan composer Héctor Parra, which was commissioned by the Spanish National Orchestra. The piece has the usual characteristics of contemporary compositions: a rich orchestration and a melody that is seldom present.
José M. Irurzun